Cool NYC companies: Behind the scenes at Central Park Conservancy
We went to the Central Park Conservancy to find out what's involved with taking care of the park, and what it's like to work for this cool NYC company.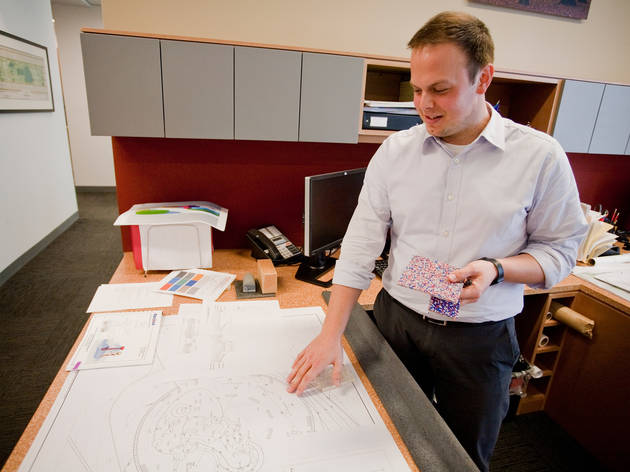 1/11
Photograph: Beth Levendis
Landscape architect Stephen Wilkinson, who has worked at the Conservancy for six years, starts his day with a walk across Central Park South to the organization's office on East 60th Street. "I refuse to take the bus since I can walk through the park," say Wilkinson, who interned at the Conservancy in 2003 before working at private design firms. "The main reason I wanted to come back was to work in the public space," he explains. "Those were always the projects that I had the most passion for, and there's really no better public space in New York City than Central Park."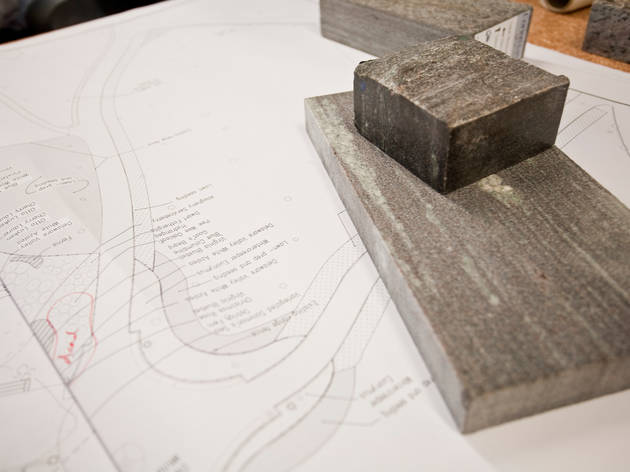 2/11
Photograph: Beth Levendis
Wilkinson is comparing samples of Adirondack granite that will be placed on the path at the park's East 69th Street entrance.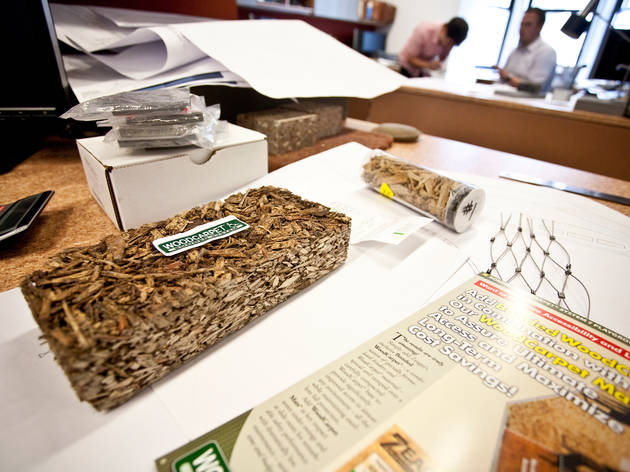 3/11
Photograph: Beth Levendis
This rubberized mulch, which minimizes harm if kids fall, will be used on a path at the East 110th Street Playground.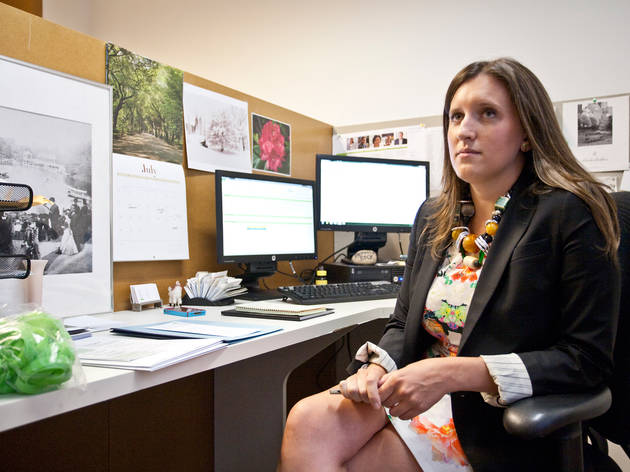 4/11
Photograph: Beth Levendis
Hannah Parker describes her job, associate director of community engagement, as a combination of "fund-raising and visitor experience." The green bracelets on her desk are for individuals who sign up for a Conservancy membership, which starts at $50.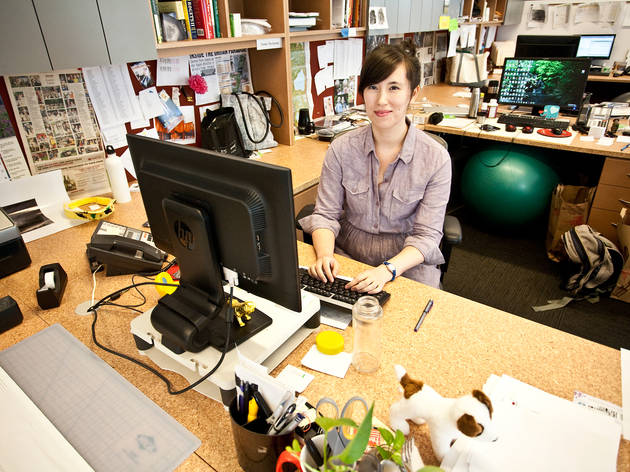 5/11
Photograph: Beth Levendis
As a Web marketer, Susan Buchanan posts content to the Conservancy's website, drafts its e-mail newsletters and responds to questions sent in through the site. (Yes, you can have your wedding in the park, she says: "It's only $25. We won't put together your reception, though.") She likes the position because of the diversity of work involved. "I get to write, do graphic design, and work on cool projects like our style and branding guide."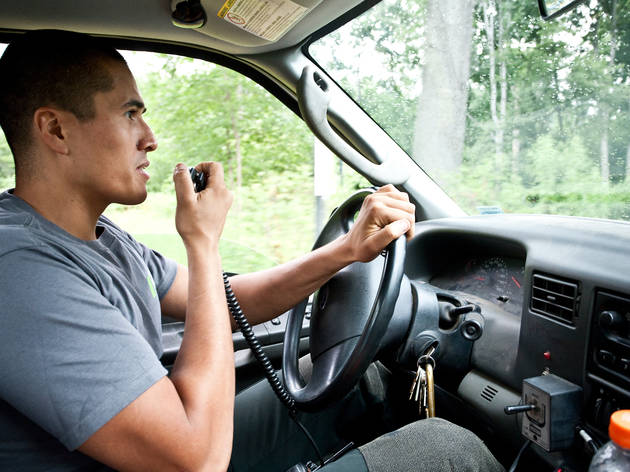 6/11
Photograph: Beth Levendis
Francisco Davila prunes and maintains the park's 21,500 trees as part of the Conservancy's three-man arborist crew. He says he came to tree care by chance. "I started working for the Parks Department because I wanted a tree planted outside of my house," says Davila. He taught climbing and pruning at the department's MillionTreesNYC Training Program before coming to the Conservancy.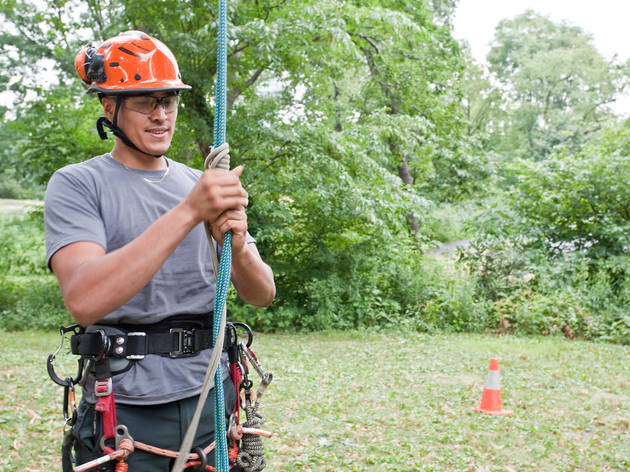 7/11
Photograph: Beth Levendis
"If somebody sees something that might be broken or damaged, our inspector comes out and puts in our database. It either gets allocated to a contractor or to the in-house tree crew," explains Davila. The team members uses a rope and saddle, or a 55-foot bucket truck, to get into the trees. As a result of climbing the ropes every day, Davila says that his weight dropped from 240 to 190 pounds. "I couldn't really tie into the places I wanted to because of my weight. I would have to tie into much bigger branches further below, so I couldn't work the tree the way that I wanted to," he notes. "Ten or 20 pounds makes a difference to the tops of the trees."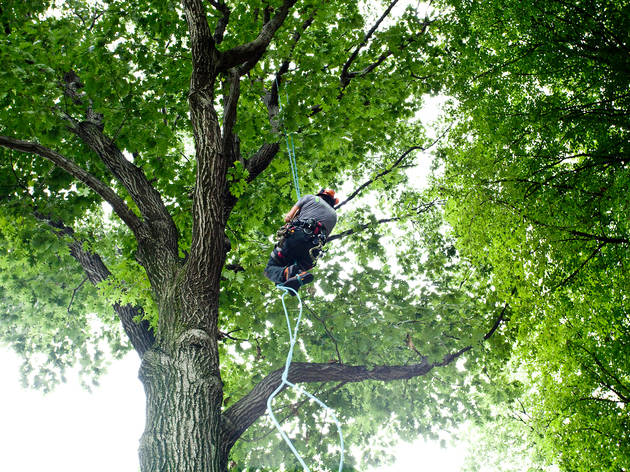 8/11
Photograph: Beth Levendis
During weather emergencies, such as Hurricane Irene and the October 2011 snowstorm, Davila and the rest of the tree crew are on call. "I was driving into the park [during that snowstorm], and all you could hear was cracks. Branches were dropping everywhere. Afterwards, you're tying into the trees, and you get to the top and realize that you just tied into a cracked limb. It was scary," says Davila. "[We had to] get out there and make everything safe first. And then we went back to reprune the trees to make them pretty."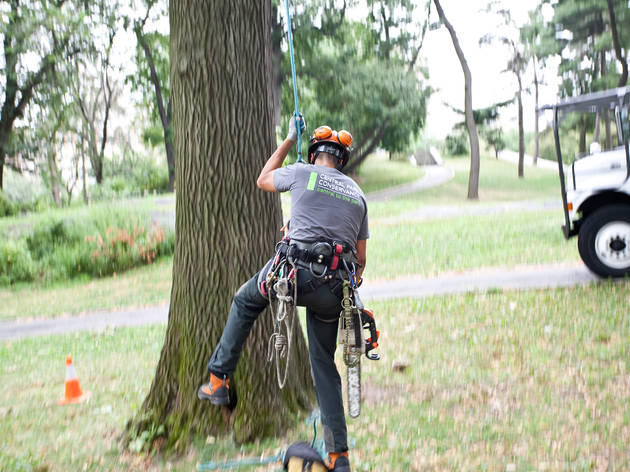 9/11
Photograph: Beth Levendis
"It's a different world once you're up [in a tree]," says Davila. "Whatever concerns you had on the ground [are gone]. With my crew, we've gotten so used to each other that it's like I'm literally putting my life in their hands, so you get this camaraderie. We're all on the same page, where we just look at each other and know what the other person needs. That takes a long time to build."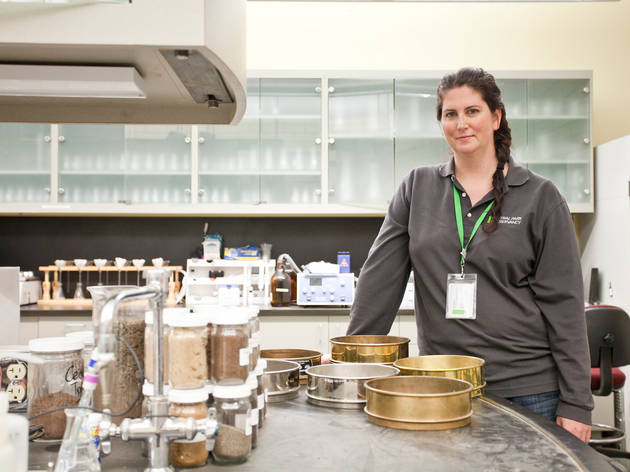 10/11
Photograph: Beth Levendis
Tina Nelson, who has worked at the park for six years, runs the Soil, Water & Ecology Lab, which regularly tests its water bodies and other ecosystems to monitor for changes or abnormalities. "I've always known that I wanted to be in the environmental field," says Nelson. "I get to go out, spend time in the field—if I wasn't able to get out, I'd probably go stir-crazy."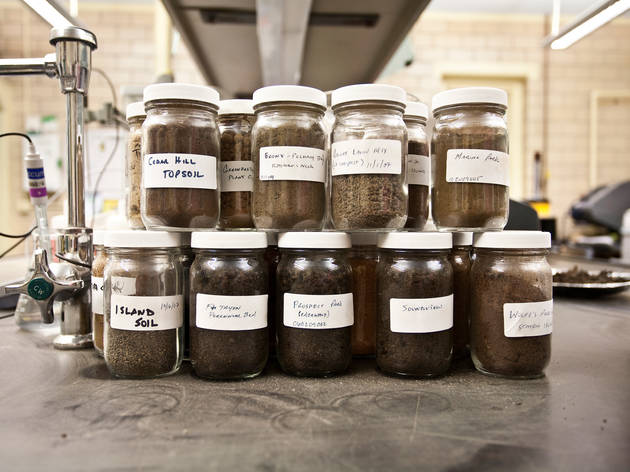 11/11
Photograph: Beth Levendis
Nelson performs physical and chemical tests on the soil to check its composition and nutrients. These soil samples are from inside the park and around the city. She also brews partially decomposed leaf matter into compost tea, which she spreads in the park's flower beds, and is in charge of releasing thousands of ladybugs, which serve as an organic way to control pests like aphids.


When a group of New Yorkers founded the Central Park Conservancy (centralparknyc.org) in 1980, the 120-year-old green space was in rough shape. The Great Lawn and other fields were undermaintained and worn from overuse, many of the park's statues and monuments were in disrepair, and its iconic fountains had dried up. But the Conservancy has restored much of Central Park's glory and is now responsible for its day-to-day maintenance. Aesthetic improvements are just one aspect of the nonprofit's work; less-visible projects, such as soil- and water-quality testing and installing new drainage and irrigation systems, are also a large part of its purview. To pay for the upkeep, the Conservancy, which employs 346 full-time and seasonal staffers, raises more than 85 percent of the park's $42.4 million annual budget. The group is able to take a long-term approach to care and maintenance, says Stephen Wilkinson, one of 12 landscape architects charged with conceiving and implementing improvements. "We get to see exactly how our designs work. We have this weird living laboratory that most designers don't have," he says. "New Yorkers are vocal people and give feedback. The expectation is that we will provide them with something they are going to love, and I think we do." We went behind the scenes—and into the field—to see how the organization maintains this beloved space.
Wanna work here?
The Central Park Conservancy is currently hiring several positions, including landscape architect, graphic-design manager, volunteer-program associate, development coordinator and gardener. Applicants should have an appreciation for the park and a desire to preserve it for future generations. The group also hires high-school students for 25 paid summer internship positions and welcomes volunteers on an as-needed basis. The park's approximately 450 volunteers assist in jobs that include administrative tasks, gardening and leading guided tours. Open positions are listed on the Conservancy's website.
Career advice from the Central Park Conservancy crew
"You have to be creative, because the solution to a challenge might not be the same thing twice. Every time we design something, it's unique because the park, users, neighborhoods and materials change."—Stephen Wilkinson, landscape architect
"[Development] is a great position for anyone who likes working with people. My day, every day, is talking with people. For anyone that has great communication skills, it's a pretty transferable skill from job to job. Really it's [about] being passionate about something and being able to share that with someone and convince them to get on board."—Hannah Parker, associate director of community engagement
"The best advice I could give would be to think twice and make sure this is what you really want to do. There are still days where I'm actually afraid when I'm up there. It's one of those things that if you don't really like it, you can't convince yourself you're going to like it."—Francisco Davila, arborist
"If someone really wants to get into [environmental work] in New York City, I would say volunteer, become an intern and really experience what's out there. That's the only way you're going to learn what's available to you and what the city has to offer as far as green space and nature."—Tina Nelson, Soil, Water & Ecology Laboratory coordinator
You might also like
Central Park in New York: The ultimate guide to NYC's backyard
Ten things you must do in Central Park
Central Park: An Anthology
See more in Things to Do
Sponsored listing
Rustik
This neighborhood tavern has something for everyone: beers, cocktails, wines, food and a rotating roster of entertainment. Stop by on Tuesday nights for an open mike—sometimes music, sometimes poetry—or listen to the DJ's selection on Friday nights.
Venue says: "Date Night every Tues - Sun (6p-10p) - join us for 1 shared starter, 2 entrees, 1 shared dessert & a bottle of wine - $35 per person"