Cool NYC companies: Behind-the-scenes office tour of NY1
We spent a morning at cable channel NY1 and hung out with anchors Pat Kiernan and Jamie Shupak to find out what it's like to work for this cool NYC company.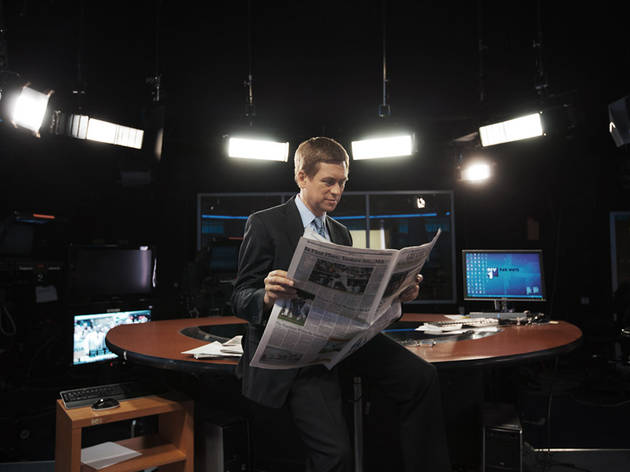 1/10
"The brand of NY1 is that we're real New Yorkers," says morning anchor Pat Kiernan. "We're out in the city. We're journalists who understand the stories, who understand the city. We make the assumption that often isn't made in television news—that people are tuning in to watch the news rather than tuning in to be entertained. We are happy to entertain them along the way, but if there's a really cool story or a crime story, we aren't going to hide that." Kiernan started his career at another division of Time Warner Cable (which owns NY1), and one of his duties was to anchor a business report that the corporation syndicated to NY1. A year later, he was asked to take over the channel's early shift.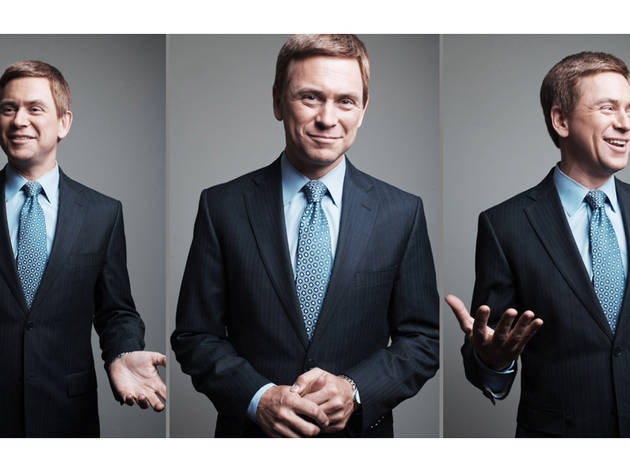 2/10
"In this particular form of journalism that I'm in, there's a performance aspect. You're getting up at 3:15am and are here for six hours. There's some days when you're better at it than others for whatever reason, with how much sleep or what else is on your mind," says Kiernan. "Probably the most difficult thing about the job—not just at this hour, but at any hour—is managing to bring that performance, what the audience expects and what you expect yourself to deliver, so you don't hinder the delivery of the story."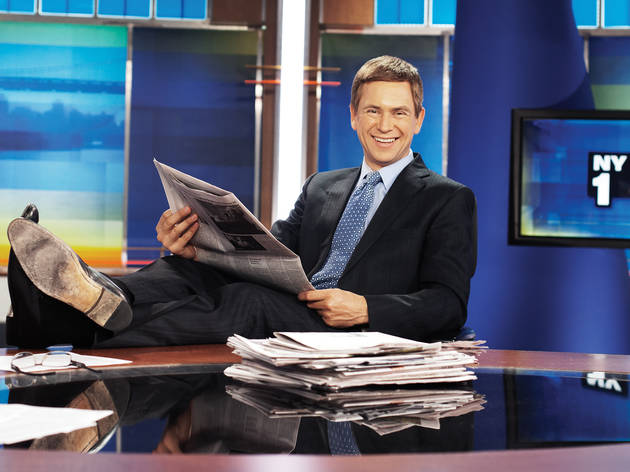 3/10
Kiernan considers NY1 an innovative and flexible environment, particularly because it encourages people in the newsroom, regardless of their backgrounds, to break out of their specialities and pursue different tracks. "[When NY1 started, people were] like, 'What do you mean, reporters are [filming] their own stories? (a) that's not how it's done, (b) the video would be horrible, and (c) that's laughable that you guys can't afford to hire the big production cameramen and soundmen,' " says Kiernan. Now employees benefit from the network's do-it-all spirit. "If somebody comes with a technical background, they have a chance to move into an editorial job. If somebody comes from a newspaper background, we have the ability to teach them television skills," he adds.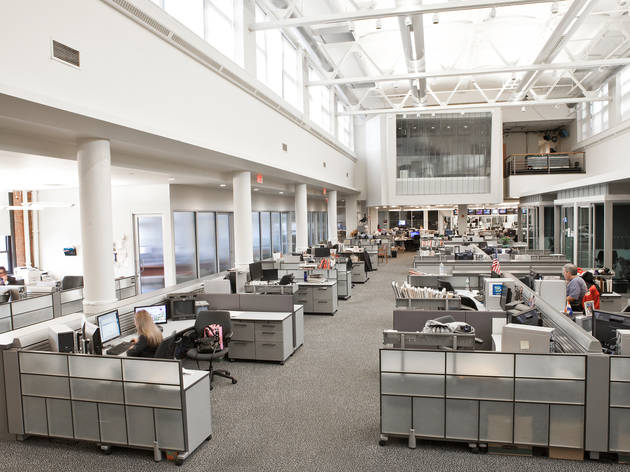 4/10
Photograph: Jakob N. Layman
"In the Papers," Kiernan's eight-minute newscast, is told using a number of daily newspapers. He quotes from and comments on pieces ranging from smutty tabloid blowups in the New York Post to hard-hitting investigations that break on the front page of The New York Times. The segment was three or four minutes when he took it over. "It's one of the things that I love about this job: that someone's paying me to go through and say what I like and what I didn't like in the newspaper," he says with a laugh. "The producers know that if they gave me 25 minutes to read the papers, I would take it." Kiernan says it's one of the two things that viewers comment on the most; the other is the weather report. "It's meant to be this cross section of the papers, not just the front-page headlines, but a little bit from inside. I have fun with that." Kiernan admits he'll have to figure out a way to work in the news from blogs "sometime soon," but for now, "In the Papers" exists as a snapshot of the past 24 hours.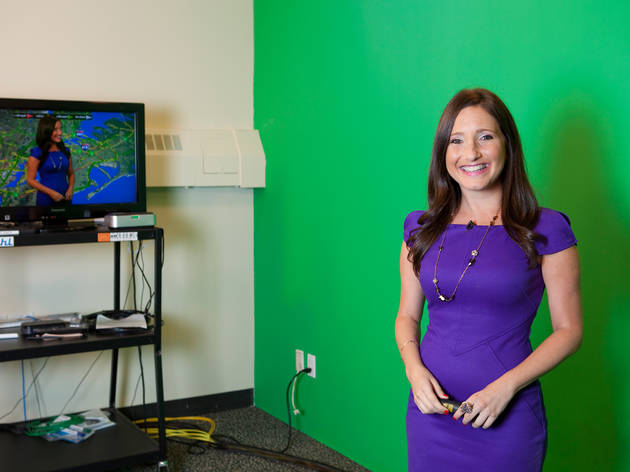 5/10
Photograph: Jakob N. Layman
"I always wanted to be a reporter," says Jamie Shupak, who has been NY1's traffic reporter since May 2010, after filling in at WNBC. "[A former boss] said I was too smiley, too happy," she says, laughing. "I stuck with traffic, and it's been really good to me." Shupak says that working with Kiernan is "a dream," and calls her morning cohort "a professional from beginning to end" who delivers every single day. "Here comes this girl that wants to give him a little bit of a hard time, and he's been a good sport about joking around," says Shupak. "Sometimes, I think I push him a little bit outside of his comfort zone, but he's become a good friend over the last two years."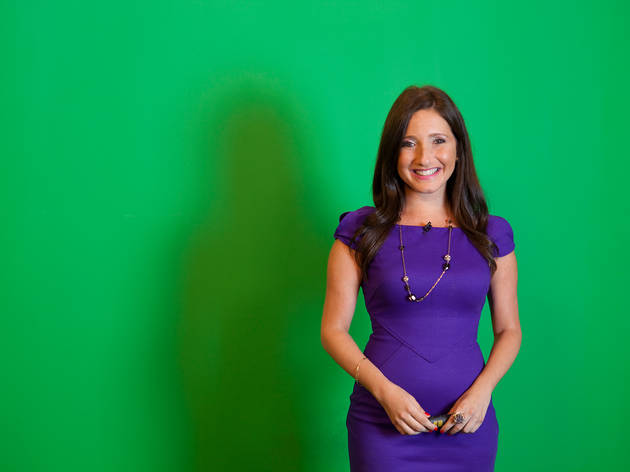 6/10
Photograph: Jakob N. Layman
Two Christmases ago, Shupak reported from the studio for several days in a row on how a massive snowstorm affected the subways and roads. "I don't hope for any big disaster or accident in the morning, but it's fun when traffic is the lead story and the thing that everyone wants to know about," she says. "I love the traffic because it's information that people need. Everyone here in New York has some kind of commute, whether they drive or take the subway. The whole other part of it that keeps me excited is that every day I get to sort of show my personality and chitchat a little with Pat." According to Shupak, waking up at 3 in the morning isn't the hardest part of her job; "anyone can do that," she says. Slipping into "full Saturday-night glam" gear at the crack of dawn, is tougher. She keeps everything in check by planning ahead as much as possible. "I have a blast every day. I always say that the day I hate it is the day I'll stop, because you can't wake up at this hour if you hate it," she says with a laugh. "But it's fun—it's traffic, it's not brain surgery."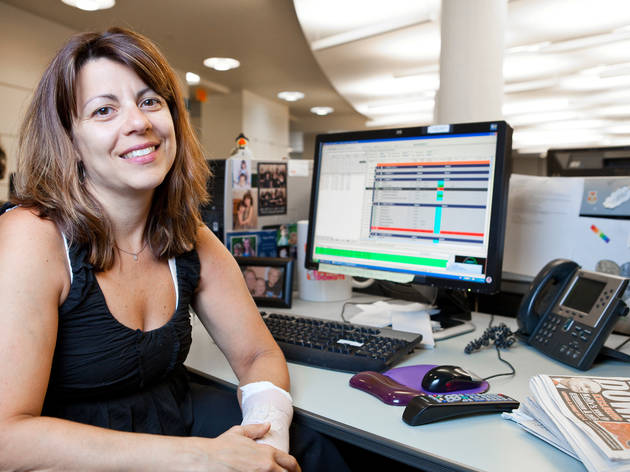 7/10
Photograph: Jakob N. Layman
"It's very exciting to come here and to be a part of New York, especially right when [the city] is getting started," says executive producer Leslie Martelli-Hines. She's at the studio by 3 in the morning, and is responsible for setting up reporter assignments, making sure breaking news is being covered live and coordinating all the elements of various stories, from the writing to the spec tape (footage purchased from independent contractors). "I have an excellent crew in the morning—very high energy level, with very good senses of humor, because that's key. It's very fast. People always say, 'Well, what do you do? Do you get tired?' There's so much to do, we're always moving. There's never a lull." Martelli-Hines says the motivation of her colleagues is the one thing that inspires her most on the job. "The drive to be the best is always there, and I think we come through 99.9…[Laughs]…no, 100 percent of the time!" she says. "We know a lot of people tune in and rely on us for so many important things."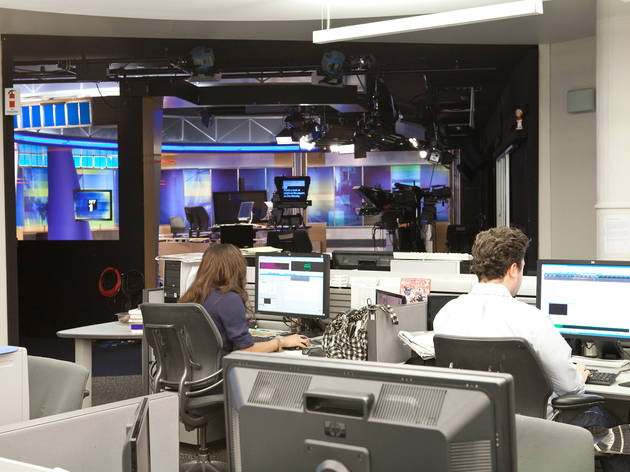 8/10
Photograph: Jakob N. Layman
NY1 will celebrate its 20th anniversary this September, and Martelli-Hines, who has been with the station for 16 years, is thrilled with how the station has grown. "In the last five years, we've really started adding things to make us even more approachable. You turn on the TV, and you see Pat and Jamie, and you think, Oh, they have this great rapport! It just works. Even the breaking-news reporter, even if it's [a] serious [piece], there's some kind of interaction with them where you see they're not just on TV. They're human beings, and they're showing their own reaction to the story. If we can keep that momentum up, and be that place that people have relied on for so many years, we're going to do okay," she says.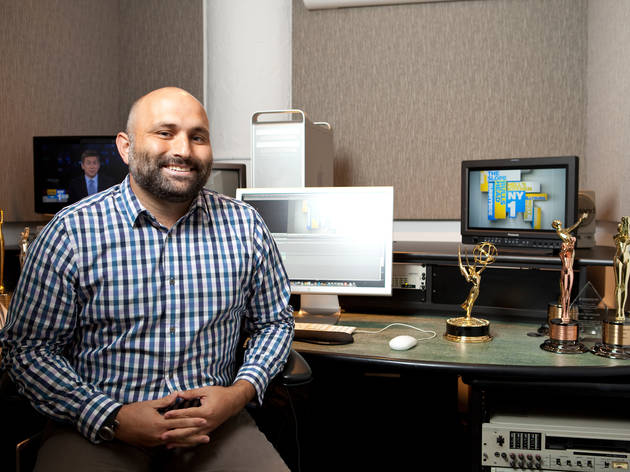 9/10
Photograph: Jakob N. Layman
"Basically, I describe my job as the creative agency for NY1," says executive producer for creative services Alex Gonzalez, who has been at NY1 for nine years. He manages the production and creation of the station's Web graphics, print ads and on-air promos. "We're kind of like an internal ad agency for any of NY1's needs and [for] NY1 Noticias, which is our Spanish-language station. So if they need a graphic, if they're promoting a series, if they have a special coming up…we have things built into the year, like Fashion Week, our debates, Pride Week—all of those have to be packaged in some way." One of the Emmys on Gonzalez's desk is for design work that he did on a public-affairs initiative called Connect a Million Minds. "You have to adjust with the technology. So the challenge is knowing that the news can change at any time," he says.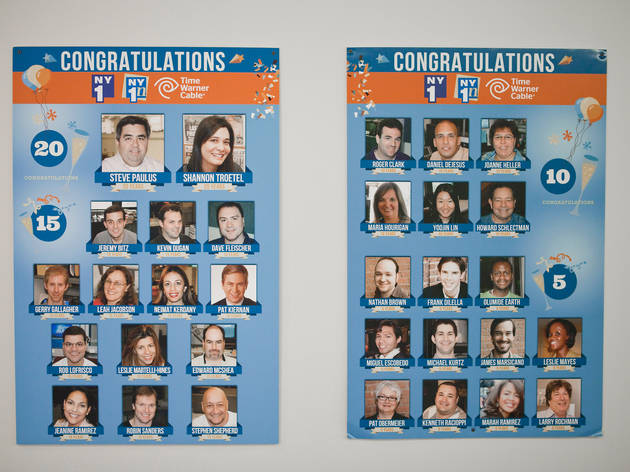 10/10
Photograph: Jakob N. Layman
Gonzalez says he's received the most feedback from viewers on one of last year's campaigns, "The Real New Yorker," a humorous series that played off insider jokes that distinguish New Yorkers from tourists or recent transplants. "I respect the product that comes out of here. I respect that NY1 has respect for journalism. I like the people I work with," he enthuses. "I think that NY1 is such a part of New York, and being able to say that I'm a part of this organization is cool. It's definitely like the I HEART NY sign or the WE ARE HAPPY TO SERVE YOU coffee cup. It's a part of the fabric of the city."
Though it's two decades old, local cable channel NY1 (ny1.com) is still among the youngest TV news operations in the city. The station's low-budget aesthetic is a welcome contrast with the bells and whistles on network news: Beat reporters are known for bringing their own cameras and battery packs into the field, and the information you need is delivered reliably. "Weather on the 1s," for example, airs every ten minutes. But it's only in the past few years that the station has gained a kind of cachet, due in part to the increased exposure of morning anchor Pat Kiernan. Since he took over the position 15 years ago, the native Canadian has become a beloved local celebrity; he's often seen hosting trivia events in Brooklyn, and is diligent about replying to his legion of Twitter followers, who comment on that day's "In the Papers" segment. The daily series, which begins at 7:42am, has long been a favorite of media hounds and busy nine-to-fivers who look forward to Kiernan's commentary on (and dry delivery of ) the day's news. Many full-time reporters and producers have been with the station for nearly ten years, a rarity in the musical-chairs game of the media world. And while NY1 prides itself on its breaking-news reportage, the channel also offers a wide variety of programs that cover politics, culture, sports and entertainment, including The Call, On Stage and Inside City Hall. We peeked behind the curtain one morning last month.

Wanna work here?
"We are constantly looking for new talent," says NY1 human-resources recruiter, Thomas Sanchez. There's a higher level of turnover in editorial and technical freelance roles, mostly due to the number of hours they're allotted in the calendar year. But people at NY1, regardless of their career track, tend to hang on to their full-time positions for many years, as evidenced by the employees we interviewed. "Our employees see opportunities here as a benchmark in their careers," explains Sanchez. The company looks for strong skill sets, but it also wants to find the right fit for the culture. "We look for eager, driven people who want to make an impact within the journalism industry," says Sanchez. Over the past year, the station totaled close to 200 new freelance and full-time hires. Sanchez encourages prospective NY1ers to browse Time Warner Cable's career site (jobs.timewarnercable.com) for openings, which range from entry-level to managerial positions. Intern hopefuls can also apply here; NY1 hires anywhere from 25 to 35 interns each term and posts the openings one to two months in advance. "Our news and programming departments have expanded rapidly over the past few years, and our plan is to continue down that same path," notes Sanchez. "As the demand for our news grows, so will our demand for new employees. That could be you!"
Career advice from the NY1 crew
"I think you have to come in without a lot of preconceived ideas about what your role is gonna be. You have to be flexible, be prepared to do whatever people ask you and prove yourself to the organization. It gives you the opportunity to get into the newsroom. I think you want to take that opportunity—regardless of the level of seniority, the caliber, the specialty you're looking for—especially if it's a larger company where there's room to move around. Get in, meet people and do the job."—Pat Kiernan, morning anchor
"Don't wait for someone to pay you to start. Don't wait for the first job to start. I had to wait until I had an internship and built a relationship with a reporter who would let me use their cameraman for five minutes to make some fake demo. But I think you really just have to do it: Get stuff on tape. And even then, besides making tapes and making websites, get a Tumblr. There are so many outlets now to get your work out to everyone that you can. You have to stick with it. Say yes to everything. I didn't say no for years. I worked around the clock, whatever station, whatever assignment, whatever anything. And you have to stay positive. I've been told so many times, 'You're too young-looking. You're too happy-looking. You're voice is too high. Your hair is too long.' It's always something, and you have to be open to the criticism, but at the same time, stick to your guns and just keep doing it. It's not easy, but I've been really lucky to land at such a good place. I have great bosses, a great team."—Jamie Shupak, traffic reporter
"My advice would be, always have a sense of humor, because that always works for me! Never think you're going to work nine-to-five—because [Laughs] I don't think that ever happens! Be prepared for the unexpected. You never know what your assignment is going to bring you that day. Being an intern here, being a news assistant here—if you're new to the city, what a way to see the city. It's a learning experience, every day. Even for me. Never feel afraid. Ask as many questions as you want. You never know—it could change your life!"—Leslie Martelli-Hines, executive producer
"I think the biggest piece of advice is to be flexible—and learn everything! When I started, I knew a little tape-to-tape editing and [I] picked it up. Now you can edit from home. Your office can be a coffeeshop. I know that if I need to do something quick, I can edit it on my laptop at home and send it in through a FileZilla type of program. Learn as much as you can in terms of the programs you need to know. If you wanna be in graphics, [it's] After Effects and Adobe Photoshop suite. If you want to be a producer, Final Cut is really the forefront for what we do."—Alex Gonzalez, executive producer for creative services.