Heads up! We're working hard to be accurate – but these are unusual times, so please always check before heading out.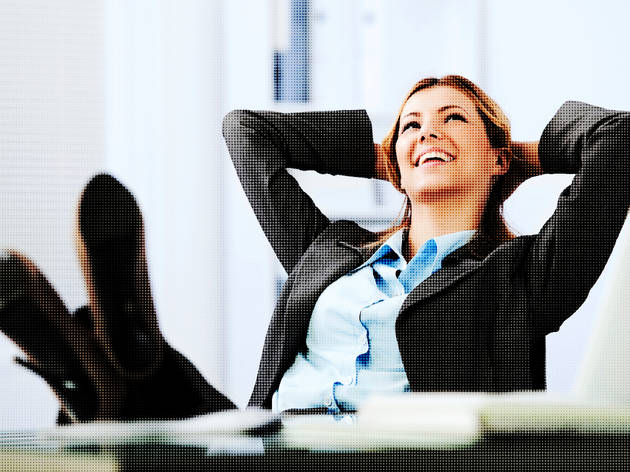 Four New Yorkers offer advice on how to start your own business
If you want to leave the daily grind behind and start your own business, check out advice from four New York entrepreneurs who became their own bosses.
Everyone dreams of taking the plunge to start their own business. Meet four New Yorkers who actually did it: We spoke with these entrepreneurs to get advice on how to start your own business, and what you need to know to build a successful company.
Christine Cameron
31, wardrobe consultant, fashion blogger and stylist
Cameron, who pens the fashion blog My Style Pill (mystylepill.com), dispenses style advice to both individuals and brands such as Steve Madden. Previously she worked as an editor at various home publications, and gained experience styling for photo shoots. Cameron launched her personal fashion blog as a creative outlet in 2008, but when the recession eliminated her job, she used her website as a springboard for creating her one-woman styling business. If you're just starting out, she suggests getting hands-on experience by assisting a stylist, working on windows or mannequins for retailers, or practicing on loved ones. "Start treating yourself as a stylist," she suggests. "You didn't get a degree in it, so it's very hard to say, 'I'm self-employed and calling myself this because it's what I want to do.' It's something you need to mentally wrap your head around. Be confident." Like any consulting job, the key to success is putting yourself out there; one way to do that is by following Cameron's lead and starting a website to showcase your fashion know-how. "The blog acts as a platform for what I do and shows my style and personality," she explains.
Lauren "L-Boogie" Goldberg
33, personal trainer
Goldberg, a lifelong athlete, worked as a trainer at a corporate gym for seven months after moving to New York before launching her own company, L-Boogie Fitness (lboogiefit.com). Now she splits her time between working at Flatiron's Peak Performance gym (peakperformancenyc.com) and leading individual sessions at homes and gyms, and via webcam, with anywhere from eight to ten clients per day. For those who want to try being a personal trainer, she recommends logging hours at a fitness center first to make contacts. "[You have to] take a leap of faith that your clients will stay with you," she explains. "It's a field where you see positive results, so clients are a walking billboard for your business." In addition to building your networking skills, you'll also need to get certified through organizations such as the National Academy of Sports Medicine (nasm.org) and the International Sports Sciences Association (issaonline.edu). Fitness is an ever-changing field, so continuing your training postcertification is also a must.
Jonathan Spiel
43, CEO and franchise owner of Tea Lounge
Spiel opened Tea Lounge, a homey Park Slope café, 12 years ago with the hope of expanding the brand worldwide. That dream was set in motion earlier this year, when Spiel started a franchise program that allows partners to run their own offshoots. (The first outpost will open in Kuwait later this year.) Becoming a franchise owner is hard work—in addition to learning about the company you're working with, the process involves communicating with customers, running numbers, publicity and everything in between. But, Spiel notes, there are perks: "All the legwork—from concept to implementation—is already done for you." He suggests checking out the International Franchise Expo (June 14–16, 2013; ifeinfo.com) to see what brands and parent companies speak to your sensibility. You'll also need to stockpile cash—for example, Tea Lounge franchisees must have $140,000–$300,000 to open their own shop. It's also helpful to check with the New York Better Business Bureau (newyork.bbb.org) to learn about construction permits, Department of Buildings approval and other local laws.
Lara Pomerantz
30, owner and CEO of City Paws
Hanging out with dogs is a career dream come true for Pomerantz, who started pet-care service City Paws in March. A lifelong animal lover, Pomerantz worked at the Greenburgh Nature Center in Scarsdale, New York, where she studied animal behavior, in addition to handling and caring for various critters. When she decided to parlay this experience into professional pet care, she took a grassroots approach: She chatted with fellow dog-owners while taking pups out for walks, and placed business cards at pet stores, veterinary offices and other local businesses. But, she warns, the job isn't as easy as it may sound: "It's more than just walking," she notes. "There are a lot of nuances to every dog." Pomerantz recommends getting hands-on experience with animals before going solo: City shelters such as the Brooklyn Animal Resource Coalition (barcshelter.org) give volunteers the opportunity to take pups out on walks. Once you're confident in your canine-handling abilities, you'll need to become insured, bonded, and pet-CPR and first-aid certified, which takes two to five hours; the organization Pet Sitters International (petsit.com) will help you with all the necessary paperwork and classes.
You might also like
Successful start-up stories
Who is hiring now?
Job boards and websites
See more in Things to Do