How to prepare for the second annual Smallest Penis in Brooklyn competition
Your little dick could win a prize this summer!
By Matthew Love Mon Apr 14 2014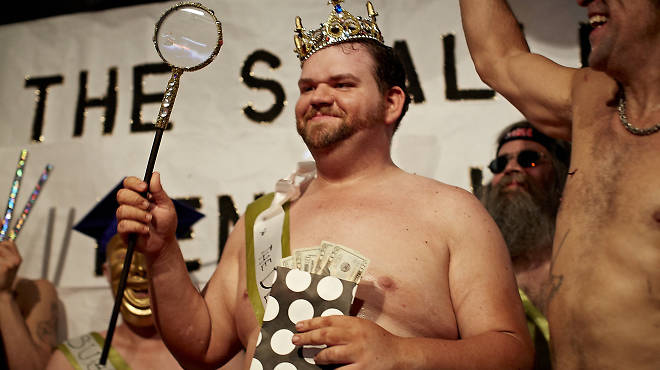 Smallest Penis in Brooklyn Pageant Photograph: Constance & Eric

July 2013 saw the arrival of the first annual Smallest Penis in Brooklyn contest. Last week, organizers announced that the event will return to Kings County Bar on June 14. Forget beach-body prep—Time Out has a few suggestions for would-be contestants on how to shrink down that dinky dong before the big (little) battle.
Splash cold water x 2
Sure, everybody knows about cold-water baths, but may we suggest lining the bottom of your tub with pictures of your mother or the Pope (sans phallic hat)? Your little dude will try to find a way to crawl back inside you!*
Think small!
Sure, our overachieving world keeps telling you the opposite. But that's small-minded! How can you be wee if you don't think wee? How can you be punier than the other itty-bitty guys if you don't think teeny-tiny thoughts? Imagine your snail as a snail's shell—an ever-diminishing whorl, a receding fractal. If you can dream it, you can achieve it.*
FTF = Fire That Fluffer
Srsly. No effing around—you need to prepare. Don't let your fluffer give you some sob story about "feeding the kids"; there's always some other whining wang out there in need of preperformance prep. Plus: Fluffers actually make ol' Johnson permanently gain length—each month of fluffing adds one millimeter of growth.*
Get tight and white
As they say, "Dress for the job you want, not the job you have." Get a dozen pairs of briefs two sizes too small. As House of Pain probably said, "Pack it up, pack it in, strap it to your skin." After one month of excruciating discomfort, you'll be down an inch; after two, many report penile invisibility.*
Eat raisins, prunes and other shriveled things
"You are what you eat": more good advice. For the next few months, think of yourself as a tiny temple in which Lilliputian priests make minuscule sacrifices to microscopic gods. Eat all that withers and deflates, and your willy will wrinkle alongside it.* (Plus, it'll keep you regular.**)
*Scientific proof pending.
** Science is pretty sure about this one.
You might also like
---
Send tips to:
Editor: Marley Lynch (@marleyasinbob)
marley.lynch@timeout.com
Time Out videos
---
---
@TimeOutNewYork
Subscribe to Time Out New York on Spotify for playlists and recommendations from our Music team.


Check out New York's best restaurants, hottest street style, cool apartments and more.