New York Comic Con postmortem: Photos, bingo and more
We hit the floor of New York Comic Con to see what we could see. And boy, did we see things.
By Jenna Scherer Mon Oct 14 2013
Like a "Choose Your Own Adventure" book or a trip to Sleep No More, no two New York Comic Con experiences are ever the same. Your weekend will be vastly different depending on which panels you attended; which crowd you found yourself trapped in; which artists and celebs you gushed at; and whether your mask or helmet even had eye slits big enough for you to see anything at all.

RECOMMENDED: New York Comic Con guide

We descended into the cosplaying throng on Friday and Saturday to wander the floor and check out a few events. Here's some of the most awesome, most bizarre stuff we witnessed. Plus, we got a row in Comic Con bingo! Check out all the details (with bonus Instagram shots) below.
Weirdest/most hilarious costumes:
• A strip of bacon
• Batman carrying a "Superman Is Clark Kent" sign
• Quailman(Doug)
• A panda with a leaf in its mouth
• A Labrador retriever dressed as Captain America
• The Greendale Human Being (Community)
• '80s rapper Darth Vader
• Professor Chaos (South Park)
• The "What Does the Fox Say?" fox
• An entire family of Imperial Stormtroopers
• A girl wrapped in just cellophane
• Maybe Walter White from Breaking Bad, or maybe just a guy with a goatee and a death stare…?
• Cap'n Crunch, of breakfast-cereal fame

Coolest/strangest stuff for sale:
• A Rorschach mask with inkblots that change shape when you breathe
• Dalek cufflinks
• A baby onesie that says "The Stallion Who Mounts the World"
• Snuggies that look like Hogwarts house uniforms (with some deeply unhappy-looking models)


Seen and heard:
• "The sword is up! It is a beacon to you!"—A guy on his cell phone, wielding a giant sword

• "Toes in the refrigerator are playing a big role."—Comic-book writer John Layman (Chew)
• "I want all the Doctor Who hoodies. All of them."
• A Spider-Man taking a picture of…Spider-Man
• "You ain't got no husband, bitch!"—A Robin to a Batman
• "This is kind of random, but…yesterday was my first time ever having Thai food, and I wondered if you've ever had Thai food and if you like Thai food?"—A question asked at the John Barrowman (Torchwood) panel
• Three loitering Gandalfs (a gaggle of Gandalfs? A fellowship of Gandalfs?)
And finally, here's our bingo card: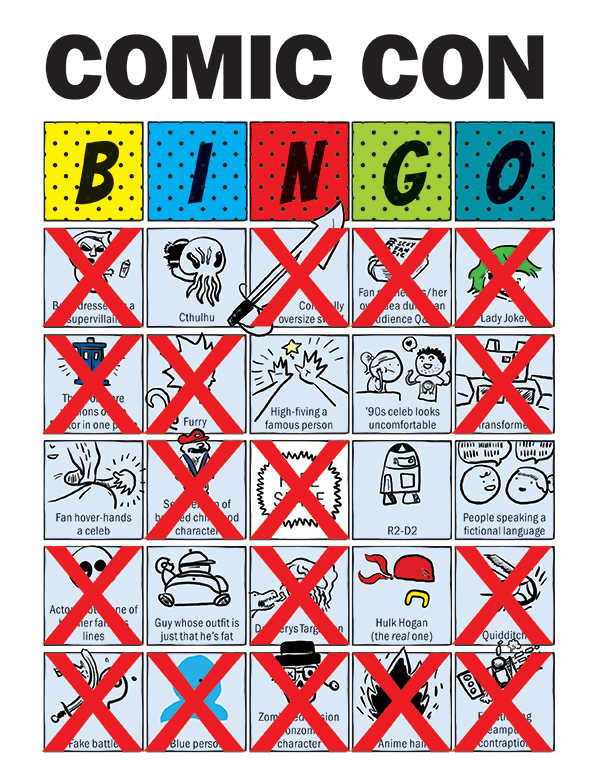 How did you do on bingo? Did you see or hear something otherworldly? Sound off in the comments!
---
What do you think? Tell us below!
Send tips and cat photos to:
Editor: Marley Lynch (@marleyasinbob)
marley.lynch@timeout.com
Time Out videos
---
---
@TimeOutNewYork
Subscribe to Time Out New York on Spotify for playlists and recommendations from our Music team.


Check out New York's best restaurants, hottest street style, cool apartments and more.