Ocean Grove, NJ
Are you there, God? It's me, New Jersey.
By Allison Williams Thu May 29 2008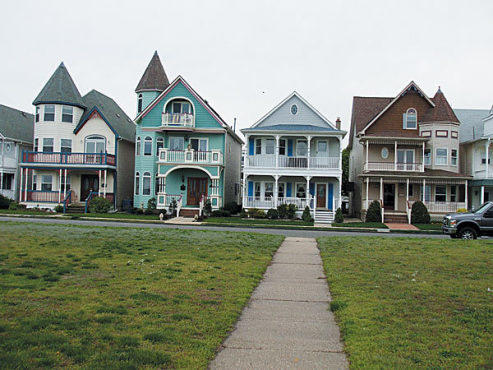 Ocean Grove, New Jersey, is known as "God's Square Mile," a district of dollhouse-style Victorian homes that grew out of the Methodist Camp Meetings of the 1860s. The chipper, precious throwback is plopped in the midst of New Jersey's seedy coast, a short walk from the Asbury Park train station (off-peak tickets are $21 from Penn Station), and there's no alcohol for sale in this dry town. As bland as it sounds, there are ways to get your heathen on in this Pleasantville; the hardy ne'er-do-well can manage to commit all seven deadly sins in a village with a street called "Heck Avenue."
LUST

Repression does wonders for the libido, and Ocean Grove's Victorian prudishness is the stuff bodice rippers are made of. Just wait until you're curled up on an antique four-poster bed, with a gas fireplace roaring and waves crashing below your private terrace, at the beachside Laingdon Hotel (8 Ocean Ave; 732-774-7974, laingdonhotel.com; summer rooms start at $159). It doesn't get much hotter than that.
GREED

Instead of hustling innocent vacationers by hawking fake beach badges, save dough at one of the many remarkably affordable inns, none more than a stumble from the beach—rooms at the Henry Richard Inn (16 Main Ave; 732-776-7346, henryrichardinn.com) start at $75. If you're hell-bent on returning to the city with more greenbacks than you left with, take a 25-minute train ride to Monmouth Park racetrack (monmouthpark.com). Pick your ponies, bet big—but if you lose, watch the potty mouth.
SLOTH

Lounging on the beach has been a time-honored tradition since the days of bathing caps and penny arcades, and Ocean Grove's own stretch of Jersey coastline is fairly pristine—maybe the giant cross protruding from the dunes discourages litterbugs. Beach badges ($7 per day, cheaper when purchased at a hotel) are required for daytime access, and technically no one's allowed out on Sunday until 12:30pm—after church—but the rule isn't heavily enforced. If you absolutely, positively hate the lazy sunbathe, surfboard lessons at Ocean Grove Surf Shop (19 Main Ave; 732-869-1001, ogsurfshop.com; $40) will get you moving like Moondoggie.
WRATH

The sight of sock monkeys, cutesy wall clocks, teacup collections and beach-scene watercolors may make you quiver with rage, but there's plenty of those tchotckes and other grandma bait at Kitch and Kaboodle (76 Main Ave, 732-869-0950). The twee shops here have everything you'll need to ensure she keeps sending you birthday checks.
Asbury Park
PRIDE

Nearby Asbury Park may be the only area spot where God takes second place—to Bruce Springsteen. Locals couldn't be more boastful of the Boss. Join in the pride at The Stone Pony (913 Ocean Ave, Asbury Park, NJ; 732-502-0600, stoneponyonline.com), where Springsteen and his E Streeters once reigned, and where bands like Rooney and moe. now visit.
ENVY

With plenty of spacious homes, it's impossible not to break the "thou shalt not covet thy neighbor's oceanfront vista" commandment. But it's God's own house, the Great Auditorium (Pilgrim Parkway, ogcma.org), that stands tallest, with its giant glowing neon cross—a gift from Woody Allen after he filmed Stardust Memories here. Wandering the canvas-lined streets of the surrounding Tent City, you'll surely long for one of the retro summer abodes, but—perhaps as punishment for your sins—the 114 tents have years-long rental waiting lists.
Nagle's
GLUTTONY

Onetime pharmacy Nagle's Apothecary Café (43 Main Ave, 732-776-9797) is the kind of ice cream joint as indigenous to the shore as saltwater and sandy shoes. A fine meal at Seagrass (68 Main Ave, 732-869-0770) will seem positively cheap without wine on the bill, and you can even bring your own booze. Thirst still not quenched? (You lush.) Like an oasis at the edge of a desert, Clancy's Tavern (25 S Main St, Neptune, NJ; 732-988-4500) lies just steps from Ocean Grove. It's a so-Jersey-it-hurts strip-mall watering hole, complete with its own liquor store and sushi bar.
THE TAB

Two nights, two people
Train $42
Hotel $498
Total $540
Travel time 1 hr 43 mins