Ongoing offers
All of our active offers in one place. Get them before they're gone!
By Time Out editors Thu Dec 1 2011

McKittrick Hotel

Hecate's Valentine after party
This red party isn't your typical February 14 celebration. Find out what the buzz is all about.
---

World Music Institute

Havana to Brooklyn
Half-price tickets to Pedrito Martinez at Roulette in Brooklyn on February 11.
---

Le Poisson Rouge

VIP Tickets to Ray Chen on February 7
Join classical violinist Ray Chen perform at one of Time Out's favorite venues.
---

Museum of Sex

Exclusive after-hours party
Explore the topic of sex and the Internet with the Museum of Sex's new exhibit, The Universe of Desire, at this Time Out party.
---

B Spa Bar

Ayuverdic Yoga Facial
Detoxify your face by removing waste from your skin and leaving you with a vital, healthy flow.
---

Psycho Therapy

Discounted Tickets to the Off Broadway comedy
Check out this insanely funny show during its limited run for 45 percent off! Frank Strausser's new comedy that opens the door to a new option—couples therapy for three.
---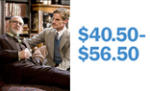 Freud's Last Session

Discounted Tickets to the Off Broadway Hit
Check out Freud's Last Session, the award-winning Off Broadway show that centers on an imaginary meeting between legendary psychoanalyst Dr. Sigmund Freud and a young, little-known professor, C.S. Lewis.
---
Fuerza Bruta

Experience this lively theater-cum-dance party
You'll feel immersed in the action at this show, where audience often winds up dancing to the techno beats while watching the energetic, acrobatic cast perform overhead.
---

Silence! The Musical

The hilarious musical version of the famed thriller
A TONY critic's pick, this parody of Silence of the Lambs is a scream whether or not you've seen the movie.
---


Love, Loss, and What I Wore
Discounted Tickets to the Off Broadway Show
Time Out New York invites you to see the show that dares to ask "Can't we all just stop pretending anything is ever going to be the new black?" and other deep questions.