Heads up! We're working hard to be accurate – but these are unusual times, so please always check before heading out.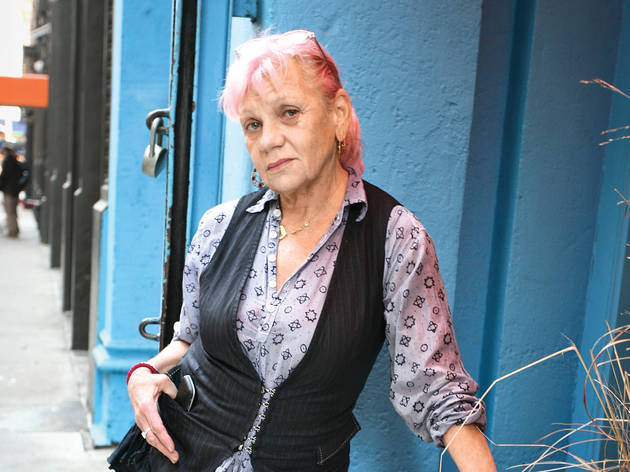 Public eye: Chrystyna Hordijenko, 64
New York street interviews: Stories from the sidewalk as told by real New Yorkers about their lives in the city that never sleeps.
12th St between Broadway and University Pl
Can we take your picture for the Public Eye page? Oh, yes, I've actually done this before, years ago.
Wow, that's like winning the lottery twice! [Laughs] I guess so.
Does it get lonely having pink hair at 64? I'm betting all your contemporaries have gone ahead and aged without you. No, I've had some good role models in my time. I think we all have the same spirit: Patricia Fields, Betsey Johnson, Norma Kamali…you know? Since I returned to India in 1994, I've pretty much stayed with different shades of pink.
What were you doing in India? Originally, when I went in the '80s, I was inspired to go by some friends who were disciples of Rajneesh. He's a guru.
Does he have pink hair? No, but everybody was dressed in pink, salmon, orange, red and purple, and all those colors were hanging in the trees.
What do you do? I own and run the clothing store Ibiza. I opened it with my partner, John Husiak, in 1976.
What possessed you to open an expensive clothing store in the Village back then? Well, the area might have been a bit pioneering at the time, but it was close to the central Village, around 8th Street, and that was an important area to buy clothes.
When I hear Ibiza, I think of Euro-clubbing and hair gel. The original idea of Ibiza was the island in the late '60s, early '70s, which so many free-spirited, creative people were drawn to.
And now it's changed, kind of like the Village. Very much, yes.
Do you lament it? [Laughs] We lament for the whole world, the way it's changed. How can we not? But I try to pick up the positive things happening anywhere. I try to center with that.
Do you remember what you talked about in Public Eye the first time around? They asked me about how many pairs of shoes I had, and what the pieces I was wearing cost.
And? How many shoes do you have? I've lost count. Though now I'm down to just six pairs of sneakers. [Laughs]
More from Chrystyna
"Gardening helps me along in life. It keeps me moving and inspired. It's the ultimate teacher."
You might also like
See more New York stories from the sidewalk
See photos of New York street style
See more in Things to Do