Heads up! We're working hard to be accurate – but these are unusual times, so please always check before heading out.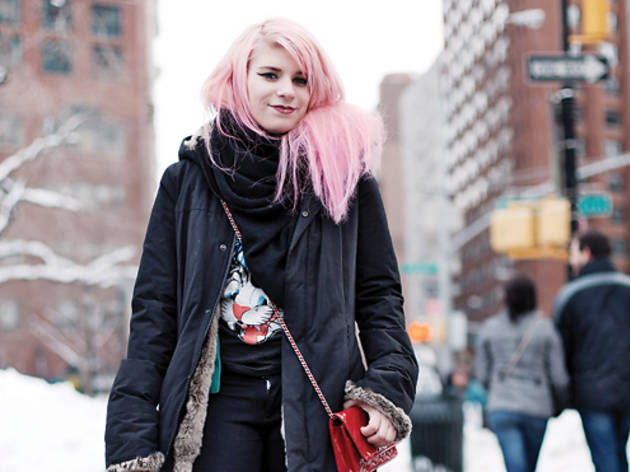 Public eye: Sadie Drucker, 18
New York street interviews: Stories from the sidewalk as told by real New Yorkers about their lives in the city that never sleeps.
14th St between Union Square West and Union Square East
Let's see. I'm getting Pink, Katy Perry or Popple. Do you even know what a Popple is? No, I don't know Popple. But omigosh, the other day someone said I looked like Jem—that cartoon character from the '80s. I had to go home and look it up. I think that's the best one I've gotten.
Are you a student? Yeah, I go to Parsons. I'm a freshman.
So far so good? It's really interesting. I'm from California, so it's completely different from what I'm used to.
Where in California are you from? Laguna Beach.
You look so East Coast goth for someone from the conservative OC. [Laughs] Yeah, I dunno. I'd say where I'm from my family is more Democrat than most. But the biggest difference is that my father is a musician and my whole family is pretty much [made up of] artists. My dad was in an '80s rockabilly band called the Stray Cats. They sang "Rock This Town," which is on Guitar Hero II. So anyway, we were always more rockabilly- and punk-looking than anyone in our town.
What's it like having a hip dad? I love it. My dad is extremely talented. Laguna is a very wealthy community, so I'm glad that I came from a family that's so levelheaded, with what we came from and the success that my dad has had.
Was your mom a groupie? No, no. My dad chased her. My mom's boyfriend took her backstage at one of my dad's shows, and my dad wanted to talk to my mom, and whatever. She was like, No, I have a boyfriend...and then my dad stole her. [Laughs]
Your dad is a rock star. Yeah, he's pretty amazing.
Where'd you get the name Sadie? My great-great-grandmother's name was Sadie, and I think when my mom heard that she really liked it.
Not to be confused with the Yiddish word for "grandfather," zayde. Is it really? Yeah, well, Sadie is a Jewish name—it's the same as Sarah. It means "princess."
Princess! Are you one? Maybe. A little bit. [Laughs]
More from Sadie
"My artwork is surreal. I love Salvador Dali, Hieronymus Bosch and Francis Bacon."
You might also like
See more New York stories from the sidewalk
See photos of New York street style
See more in Things to Do