Public eye: Saeed Alan Siamak, 24
New York street interviews: Stories from the sidewalk as told by real New Yorkers about their lives in the city that never sleeps.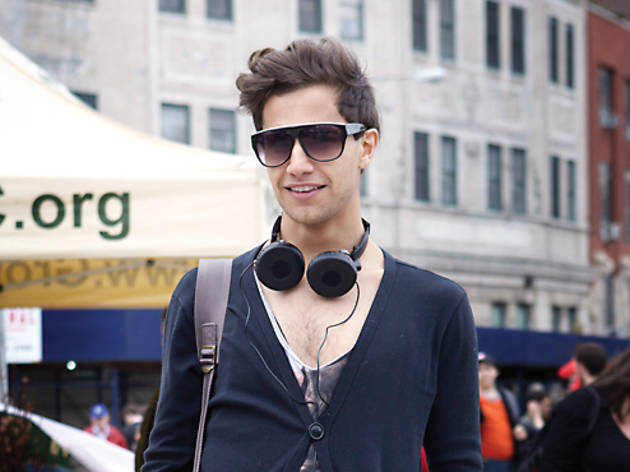 Grand Army Plaza, Prospect Park, Brooklyn
What are you listening to? Nirvana.
You don't have to seem so sheepish about it. Though weren't you, like, five when Kurt Cobain died? I must have been really young. Right now I'm listening to "All Apologies." It's so profound and so sad. You can feel how alone he must have felt.
Somehow I sense we're catching you on a walk of shame. [Laughs] It's not a walk of shame. When I was really little, I had an existential awakening in which I realized that I could either live my life with regret or not. I decided I would just live my life. Regret is often something that doesn't come from us, but rather from society telling us that we're wrong and fucked up.
Whoa, way to avoid the question—your point is that there's no such thing as a walk of shame if you have no regrets? Right.
I see. So what are you up to, then? I'm on my way home to make some coffee and work on my residency applications.
Are you a med student? No, this is for dance residencies.
So basically as far away as you can get from med school. [Laughs] Yeah. Though my mother was a nurse and my grandfather and great uncle were both pediatricians, actually.
How does your medical family feel about dance? Well, I also had a theatrical side in my family—at least on my mom's side in America.
Where is your dad's side? In Iran.
Do you visit Iran? My dad invited me to go this summer—my cousin is getting married. He seems to think it's okay; my mom seems to think that we'd either have to pay some ridiculous bounty for our freedom or they would detain us. And I just found out that I got a ticket to Burning Man for around the same time.
Which would be crazier? [Laughs] I keep thinking it's one and then I realize that the other is crazy too, if not crazier. I think I'll go to Burning Man first, then Iran, so if I do get detained, then at least I will have had that experience.
Wow, how practical. Oh, you know. Just thinking ahead.
More from Saeed
"My choreography is very experimental and avant-garde."
You might also like
See more New York stories from the sidewalk
See photos of New York street style
See more in Things to Do
Sponsored listing
Ayza Wine and Chocolate Bar
There's not much better than sipping wine while nibbling on a quality bar of chocolate, and Ayza Wine and Chocolate Bar has based their business off this perfect pairing. Try something off the restaurant's extensive wine list, or choose from its wide selection of chocolate martinis, ranging from raspberry with chambord and kahlua, to almond with frangelico and a hazelnut truffle, to peppermint with creme de menthe (each $15). For dessert, Ayza not only offers cacao-themed desserts like chocolate pizza ($9) and fondue ($11), but also gourmet chocolate bars from the likes of Jacques Torres ($2.50) and Cioccolada($3). It's not all sweets, either—diners can also choose from assorted cheese plates, charcuterie boards and tapas, or order off the full dinner menu. If you want it all—wine, cheese plates, tapas and chocolates—check out the group dining option, where $60 gives you access to a two-hour open bar and plenty of small plates.   
Venue says: "Our outdoor seating is completely open! Happy Hour is great at the patio. Every weekday, 3-6pm. Join us!"