Sandy Hook, NJ
Pack some sunblock but leave your swimsuit at home: Clothing is optional at this pristine Jersey beach.
By Helen Yun Photos by Helen Yun Thu May 17 2007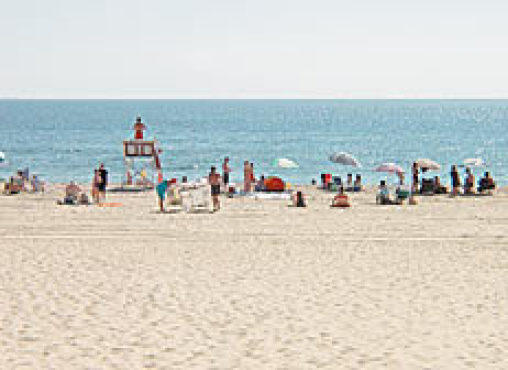 Sandy Hook
"Let's go to Hedonism," a soon-to-be-betrothed friend suggested one recent night as a spot for her bachelorette party. "No tan lines!"
Sure, the trio of notorious Caribbean retreats allows folks to snorkel in their birthday suits, freeing them from the eyesore bikini lines. But I'd rather skip the flight to Jamaica—not to mention a weekend stuck with oversexed types coupling off in cabanas. Luckily, I discovered that you can shed your clothes and inhibitions much closer to home on the Jersey Shore's northern tip: Gunnison Beach (nps.gov/gate) in Sandy Hook, New Jersey, is the Garden State's only sand-laden destination for nudists. Carrying a very light bag, I decided to go solo and hopped aboard the appropriately named Seastreak Ferry ($40 for a roundtrip from Manhattan, seastreak.com) at East 34th Street, which stopped at Wall Street before heading to Conners Point in the sleepy hamlet of Highlands, New Jersey. (A more direct service to Sandy Hook starts June 2 and runs weekends only with free shuttle-bus service to Gunnison Beach.) The hour-long cruise offered pretty views of the Statue of Liberty, which inspired me to fantasize about what exactly lies underneath her gown, and just enough time to knock back a beer or two (the ship's bar serves enormous $6 Heinekens).
After getting back my land legs, I ambled to bed-and-breakfast Grand Lady by the Sea (254 State Route 36, Highlands; grandladybythesea.com), whose Victorian-style digs once served as the home of a Broadway star and later as a maternity ward. One thing to note if you're into making babies: The regal Pompadore Room (from $179 a night) features a mirrored headboard. And the enormous morning repast of eggs, zucchini fritters and sausage should give folks plenty of midnight stamina.
After my meal, I braved the nippy 60-degree weather and headed to the nearby beaches. As the area is bike-friendly and wheels are the best way to get around (you can bring them on the ferry or rent them for $15 a day from the Grand Lady), countless cyclists zipped past me. I was intent, however, on breaking in a pair of borrowed Rollerblades on the recently installed five-mile path that weaves through woods and along the Atlantic Ocean. Sights not to miss while rolling around the national park: Spermacetti Cove (yes, it's named after a large, black sperm whale that washed ashore centuries ago) and Plum Island—both near the southern half of Sandy Hook—should titillate ornithological voyeurs with osprey, purple finches and American pipits. Phallic symbols abound: The venerable Sandy Hook Lighthouse bears the title of the nation's oldest nautical beacon and boasts a beehive-shaped Fresnel lens that penetrates 19 miles. Also, pocket-rocket admirers can tour Fort Hancock's Nike Missile Site(732-872-5970).
The closest thing to genuine peckers on my visit to Gunnison was a sprinkling of fully dressed septuagenarians nodding off in beach chairs despite several signs warning of the presence of nude bathers. Actually, the oceanfront expanse has a long history of male nudity: It was first used by soldiers, who swam sans skivvies. The parks department then decided to honor this tradition when the beach became public domain in 1975. In general, it's not warm enough for skinny-dipping until Memorial Day, at which point, according to Dale Distasio, president of naturist organization Friends of Gunnison Beach, the sun-drenched spot attracts 5,000 people a weekend. If you're thinking of joining the crowds, she suggests that you respect the rules posted on gunnisonbeach.com prohibiting cameras and R-rated behavior. "We don't want every weenie wacker, kid toucher, pervert and gawker in five states coming here for their source of entertainment," she explained.
Of course, the pleasures of the beach involve more than exposing your tender dermis to UV rays: Just a short jaunt south, chow down on burgers while lounging on the deck at Seagulls' Nest (100 South Hartshorne Dr, Sandy Hook; 732-872-0025), the only restaurant in the 1,650-acre park. Across the Shrewsbury River, Off the Hook's breezy bar (1 Navesink Ave, Highlands; 732-872-2006) doles out $3 Dos Equis and views of the water.
Although I managed to abstain from going the full monty, the urge for what Distasio calls "freedom and a ton of vitamin D" is tempting. Not to mention the fact that the area's masculine history and landmarks beg to be tempered by the fairer sex. For folks looking to take it all off for the first time, she suggests "only going as bare as you dare" adding that "many women take their tops off, and that's fine." And lastly, but most importantly: "Wear plenty of sunscreen."
Been somewhere great recently? Tell us where to go at travel@timeoutny.com.
---
THE TAB
One night, one person
Hotel $239
Ferry 40
+ Meals 75
TOTAL
$344
Take the Seastreak Ferry (seastreak.com) from E 34th St and the East River or from Pier 11 near Wall Street and the South Street Seaport to Conner's Ferry Landing in Highlands, NJ, or to Sandy Hook, NJ (starting Jun 2).
TRAVEL TIME
1hr