The 13 coolest secret things to do in NYC
Discover the latest under-the-radar restaurants, bars, gigs, after-hours parties and more. (Just don't tell anyone.)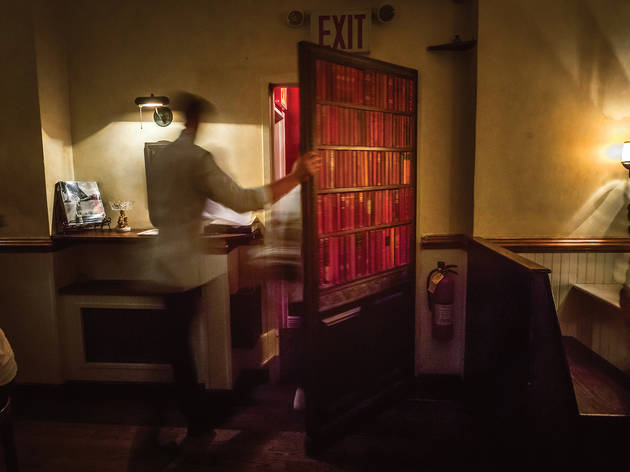 There are many reasons why NYC is the greatest city in the world—its famous New York attractions are known all over the globe. But what if you want to dig a little deeper? There are tons of things New Yorkers do better than anyone else, and throwing the coolest secret parties and cultural happenings are among them. There's a whole world of hush-hush events in New York City, ranging from the sublime to the silly and way beyond that—good thing we're here to show you exactly where to find 'em.
Coolest secret things to do in NYC
1
Secret Loft
So illegal warehouse raves aren't your thing, and the spontaneity of a TBA address isn't as appealing as the comfort of knowing where you're going? We hear you—and so does Secret Loft, a venue that can host a bash—it once had a cat costume soiree, people!—and still has that roving, under-the-radar Bushwick vibe. The real hidden gem here is the free monthly Secret Loft Show, which has a lineup of legit comedians (from Comedy Central and the like), a postshow dance party and free pizza—a true triple threat.
How to get in: Check out Secret Loft's Facebook page for event information, then show up at the McKibbin Street Lofts at showtime to look for other revelers. 255 McKibbin St, Brooklyn (facebook.com/secretloft)

Photograph: Tak Wind Fotografi

2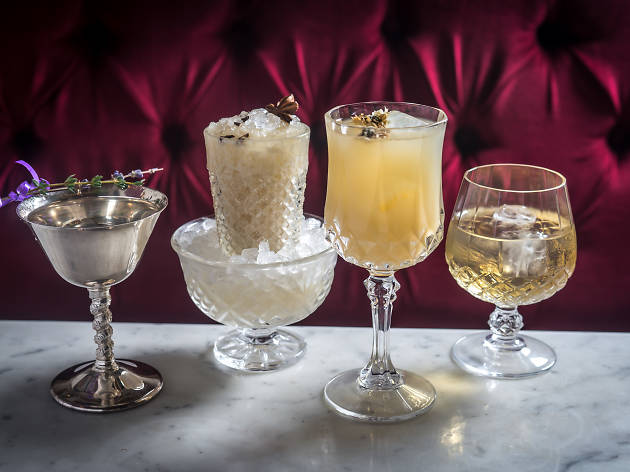 The cellar-speakeasy hidden in the Brooklyn Heights French bistro Chez Moi is a cocktail bar fit for a queen. Modeled after Marie Antoinette's opulent private chambers, Le Boudoir has its historically accurate design down to a T, with plush red-velvet–tufted banquettes, gilded frames, wooden paneling and a ceiling reproduction of the 17th-century parquet de Versailles flooring pattern. After ducking into the secret passage, sip appropriately named cocktails like the absinthe-based Dauphin and the 1793, featuring rye infused with sunflower seeds, served in antique-looking metal goblets, and lounge in a dimly lit grotto while discussing French politics…or something like that.
How to get in: Head through a bookcase door on the left side of Chez Moi, and step down a set of stairs. 135 Atlantic Ave, Brooklyn (347-227-8337, boudoirbk.com)
Read more
3
538 Johnson
Screw all that "DIY is dead" talk. When it comes to off-the-radar concerts and nontraditional venues, Brooklyn is still where it's at. Take the Bushwick loft 538 Johnson, a true house party (people really live there) where hardcore, punk and ripping rock acts (Dawn of Humans and the Men have both performed) reign, show publicity isn't a thing, and sweat pours. Prepare for lots of moshing kids.
How to get in: Ask a crust punk. No, really, word-of-mouth is best. But 538 Johnson does have a Facebook page and occasionally updates on shows. 538 Johnson Ave, Brooklyn

Photograph: Alfredo "sheep" Hernandez

4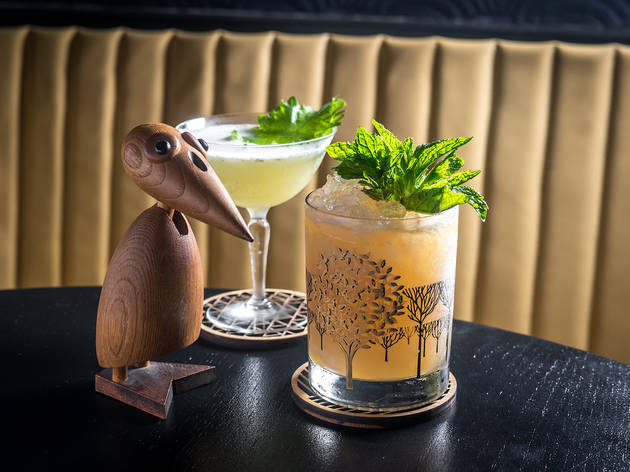 Tucked behind an unmarked door at the back of Fort Greene's beloved eatery Walter's, the open-as-of-May Japanese izakaya, Karasu, is the newest speakeasy on the block. The elegant gastropub has a small but buzzed-about menu (spicy sesame duck wings, to start), but what packs 'em in are the drinks: a top-notch variety of sake, shochu and Japanese whiskey.
How to get in: Head to the back of Walter's and through the unmarked door. Reservations are accepted on Karasu's website. 166 DeKalb Ave, Brooklyn (347-223-4811, karasubk.com)

Photograph: Paul Wagtouicz

Read more
5
Since its inception in 2012, the loft-hopping after-hours affair Sublimate has gone from a sporadically booked treat to a hot monthly party that brings in DJ heavy hitters hailing from Ibiza to Chicago. Come rested: The nights, held in secret locations throughout town, can stretch to the 12-hour mark (the lack of megaclub douches and cheap-ass drinks should keep you perky and in a swell mood) and boast an awesome sound system courtesy of resident spinner Matt Sagotsky, whose aim is to create a diverse, come-one-come-all atmosphere. (Pssst: He tells us Sublimate is planning an extra-special blowout on August 20.)
How to get in: Sign up for Sublimate's mailing list, R.S.V.P. for location details, or purchase tickets on Resident Advisor. sublimate.org

Photograph: Luis Nieto Dickens

Read more
6
Chemistry
Take a peek at what goes on behind NYC's closed doors during Chemistry, an erotic roaming party intended for uninhibited sexual exploration. With themes like "Spanksgiving" and "Garden of Hedon," the Brooklyncentric rendezvous start off as social gatherings, with live jazz and drinks, and then transition to the down and dirty. But before you get, ahem, excited, this isn't a free-for-all: Chemistry partygoers are a curated group of members chosen through a two-part application process.
How to get in: Apply online by answering a questionnaire and submitting a G-rated photo. Couples and single women only; single men are usually not allowed unless they and a FWB (friend with benefits) apply as a couple. If accepted, you'll receive a follow-up email with details regarding upcoming events. chemistry-nyc.com

Photograph: Courtesy Chemistry NYC

7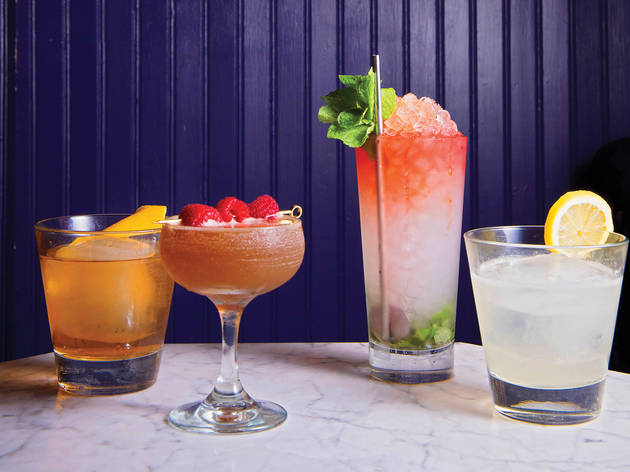 Even though you have to enter through a backroom vault with a secret code, we promise it's all completely legal—quite unlike the embezzling exploits of 1920s bankers Max Garfunkel and Marcus Tauster, whose former office building is the exact location of Garfunkel's, which sits above burger joint the Burgary. (Peep newspaper clippings from the duo's felonious heyday amid the framed vintage photos.) The aesthetic here is old-school glam: Purple tones, velvet couches, tufted club chairs and a wall-engulfing bookcase with novels and knickknacks.
How to get in: Book a reservation online, and you'll receive a code for the vault that's located at the back of the Burgary. Walk-ins are accepted if space allows. 67 Clinton St (212-529-6999, garfunkelsnyc.com)

Photograph: Liz Clayman

Read more
8
80 Clinton Street Recording Studio
This clandestine music space—hidden behind an unassuming Chinese bakery and laundry off Clinton Street—is 10,000 square feet of regal sonic goodness. Housed in the old Clinton Star Theatre, an early-1900s vaudeville venue, this present-day recording studio holds composer-producer J. Ralph's stunningly rare collection of vintage instruments and music equipment: Duke Ellington's 1920s Blüthner Concert grand piano, a '50s Seeburg V200 jukebox and an 1800s cast-iron aquarium home to 30-plus parrot fish. And those are just the furnishings. The old theater has 50-foot ceilings and superb acoustics, ideal for the in-business recording studio—and a swanky night-to-remember bash: Past invite-only ones have been thrown by the likes of Marc Jacobs.
How to get in: You can't! (Sorry.) Unless you have big money—and an in—to throw a party there. Try your luck emailing info@jralph.com for rates and availability. 80 Clinton St
9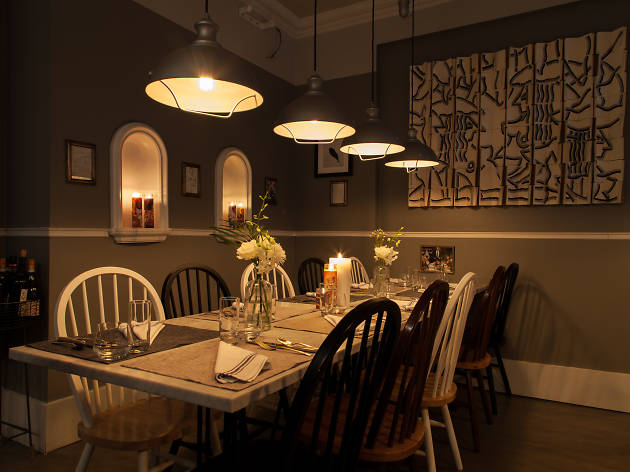 This reverse speakeasy—that is, a restaurant hiding in the back of a drinkery, in this case the Garret East—might sound familiar. (Its sister bar, the Garret, sits above a West Village Five Guys.) With space for only 20 diners, Dinnertable is decorated with wall-mounted planters, oddball prayer candles plastered with celeb faces, and photos of iconic Hollywood dinners. The food is made for sharing, but take one look at the lasagna bolognese, and you might not want to.
How to get in: Behind the curtain at the back of the Garret East, ring a doorbell that reads PRESS FOR FOOD. Dinnertable accepts some reservations on its website, but the majority of seating is set aside for walk-ins. 206 Ave A (dinnertable.nyc)

Photograph: Courtesy Dinnertable

Read more
10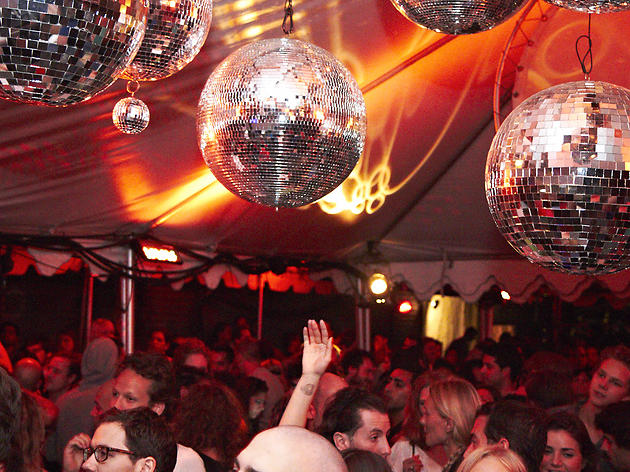 Blkmarket Membership
For the past 10 years, the DJs of Blkmarket Membership have been hosting parties in Brooklyn warehouses, on rooftops and in lofts and have become a go-to for late-night techno- and house-heads. Expect big names like Ben Klock and Michael Mayer.
How to get in: Sign up through residentadvisor.net. Only those they wish to come will be contacted back with the location.

Photograph: Jena Cumbo
11
Featherweight
Need proof that the NYC speakeasy is alive and well—and still, you know, kinda cool? Check out Featherweight, the East Williamsburg cocktail den from the mixology minds of Weather Up, which is hidden above the restaurant Sweet Science. Drawing inspiration from a former boxing gym that occupied the second-floor space, it's an ace spot for sipping drinks with fancy-sounding ingredients (the Patagonia Punch has pisco, rum, Génépy des Alpes and orgeat) in an intimate—but not pretentious—rustic Polynesian-like setting. Lightweight drinkers need not apply.
How to get in: There are two ways to enter: through a door at the back of Sweet Science and on a landing outside. (If you opt for the latter, look for the huge painted mural of a boxer. The door below it with the feather on it is your ticket in.) 135 Graham Ave, Brooklyn (featherweightbk.com)

Photograph: Courtesy Featherweight

12
Bohemian
The bad news: This covert Japanese-influenced restaurant, which sits beyond a butcher shop on Great Jones Street, has no published phone number. And the only surefire way to reserve a spot at this 25-seater is to get its digits from a previous diner. (You can also try your luck by emailing ny-info@playearth.jp with the subject line "Visit Enquiry" for a chance to be selected for a reservation.) The good news: Getting into the super-exclusive space, which was once home to Jean-Michel Basquiat, will give you bragging rights for months. For being so VIP, Bohemian's decor is quite simple—minimalist, with a Zen garden, lounge chairs and plenty of wall art—and its menu is down-to-earth (but delish!), with wagyu beef sliders and mac and cheese.
How to get in: Bohemian shares a storefront with Japan Premium Beef; find the long hallway to the left of the butcher shop, and ring the buzzer at the end of the hall to enter Bohemian. 57 Great Jones St (playearth.jp)

Photograph: Zandy Mangold

13
Quarters
This ain't your Boy Scout troop's overnight camp. Quarters is a new community-based project from Brooklyn artist Thomas Stevenson, the creator of Bivouac, an urban encampment experience that, over the past few years, has taken adventurous New Yorkers to rooftops for off-the-grid camping. (That's right—no smartphones, tablets or any other connected devices are allowed.)Unlike at Bivouac, during which campers sleep in individual tents, Quarters is all about shared space—from the communal dinners right down to the massive multiperson tents where you spend the night. Get ready to get cozy, New York.
How to get in: Quarters occurs on an undisclosed rooftop for one week in mid-July. Check Stevenson's website (thomasjs.com) for more information as it becomes available. bivouacnyc.com
Looking for more things to do in NYC?
Discover the best things to do in NYC with the ultimate insider's guide to restaurants, bars, clubs, museums and more
Read more