Street survey: What's the craziest thing you've seen walking around NYC?
In our latest street survey, we asked eight people tell us the weirdest sight they've stumbled upon while wandering NYC.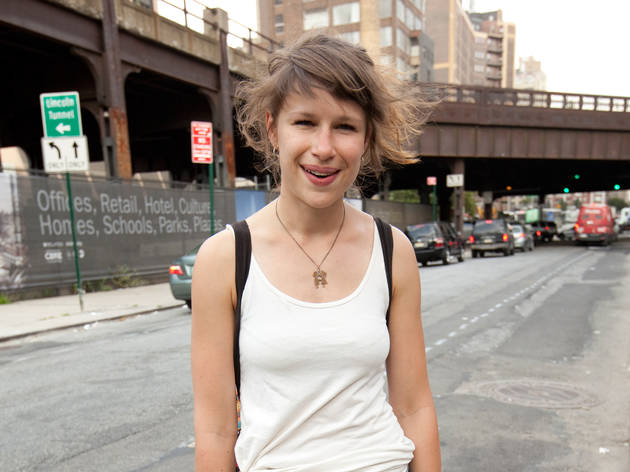 1/8
Photograph: Jessica Lin
Kathrine J., 22; acting student; Cobble Hill, Brooklyn
Our street survey says: "It was last weekend [at the Mermaid Parade]. We were just going to Coney Island for a day off and didn't know that the parade was there. Suddenly we saw these 'mermaids' in all different sizes, all different genders, and we were like, 'What the?' [Laughs] We squeezed around the parade and went to the beach."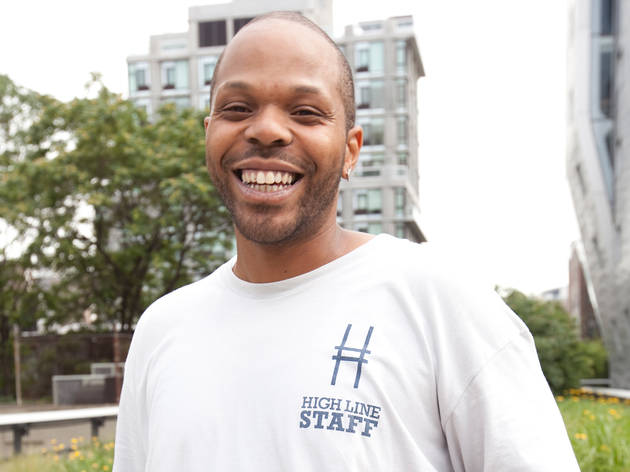 2/8
Photograph: Jessica Lin
Antoine C., 36, maintenance worker, Harlem
Our street survey says: "I once saw a guy wearing nothing but Superman underwear while walking down the street. I guess people are used to it. I'm from Harlem, but I'm not used to stuff like that."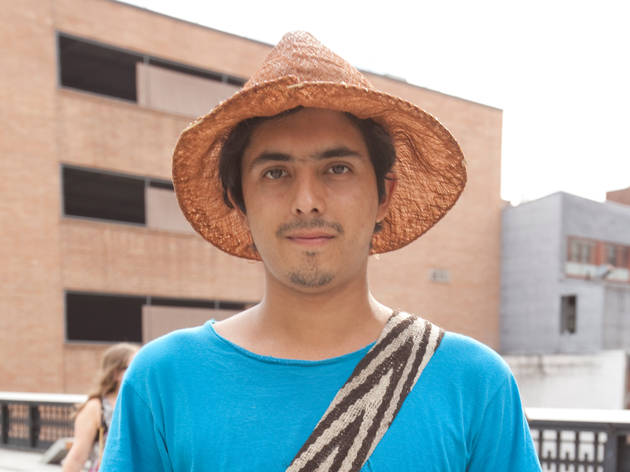 3/8
Photograph: Jessica Lin
Sebastian A., 23; law student; Bogotá, Colombia
Our street survey says: "I saw two men playing Frisbee in the park—completely naked."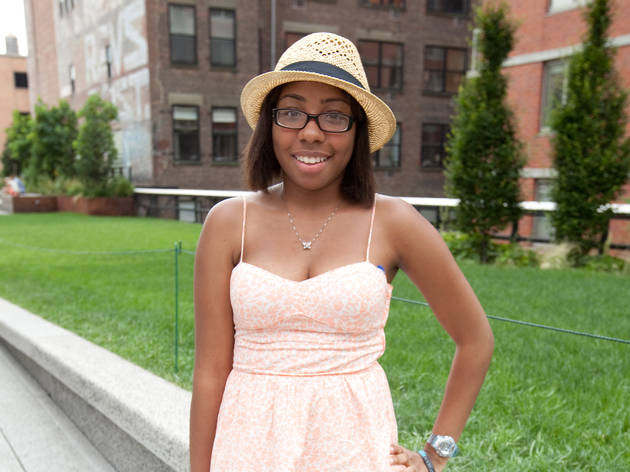 4/8
Photograph: Jessica Lin
Kimberly D., 18, student, South Bronx
Our street survey says: "I saw Spider-Man on the train. He tried to climb upside down on the poles. He had the entire outfit on, minus the shoes. He just had on regular sneakers. I was [thinking], If you're gonna be Spider-Man, be full-out!"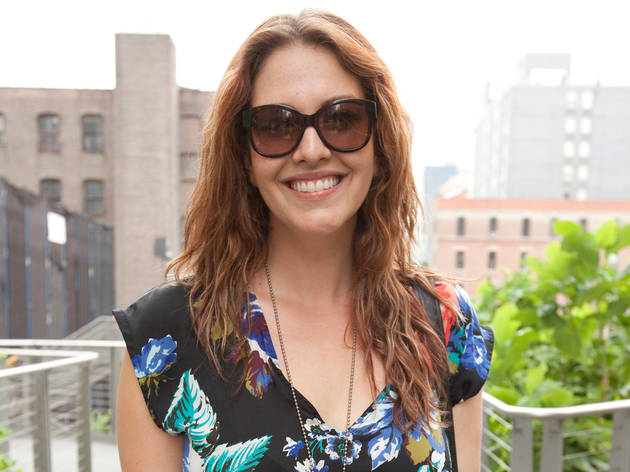 5/8
Photograph: Jessica Lin
Samantha B., 31, marketing director, Nolita
Our street survey says: "This man was naked except for underwear. He was walking down the street with shoes and underwear on—combat boots and tighty-whities."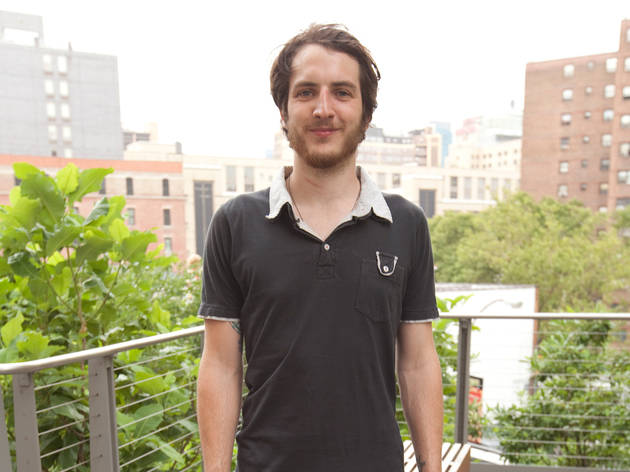 6/8
Photograph: Jessica Lin
Gates B., 30; filmmaker; Willamsburg, Brooklyn
Our street survey says: "In a bar, I definitely saw this girl, who was wasted, in a corner fucking herself while people took photos. And then she threw up."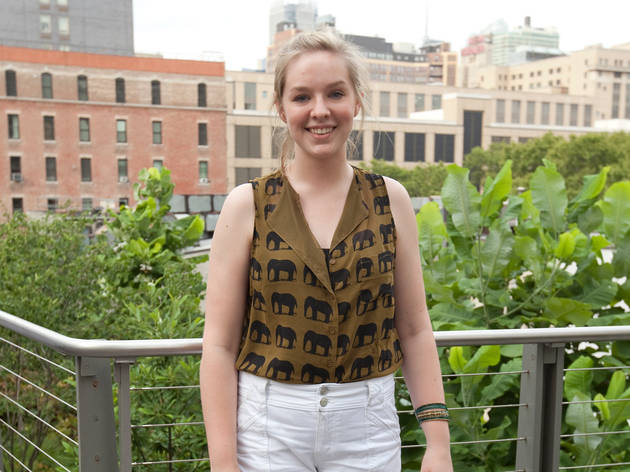 7/8
Photograph: Jessica Lin
Maurie D., 19, student, Philadelphia
Our street survey says: "I saw this man with super-long hair and a long beard wearing a vest and those shoes that have the separate toes; he was holding a bunch of handkerchiefs. I think that's the weirdest thing I've seen today. You know when you give people animals? I'd describe him as a lion—like an alpha lion with the crazy beard."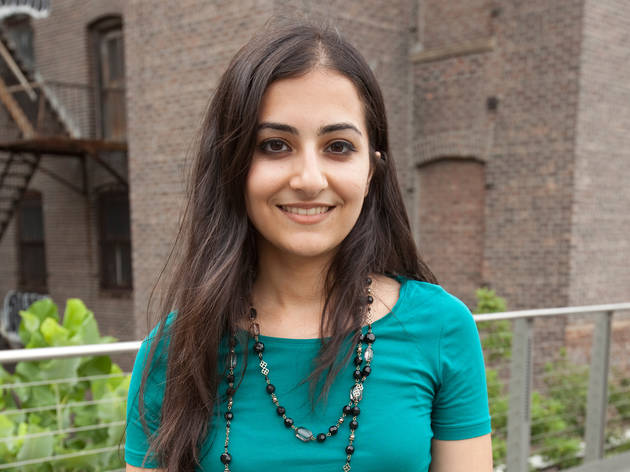 8/8
Photograph: Jessica Lin
Elle F., 24; proofreader; Flatbush, Brooklyn
Our street survey says: "In Union Square, there are always people holding signs. When I was there recently, I saw this guy holding a sign that said "Free Massage by Creepy Guy." I looked at him and was like, Okay, you actually are creepy. On the other side of the sign it said, "Going Topless Is Illegal." So I was just kind of watching and standing there, and was wondering if anyone is actually going to get a massage from this guy. Then I saw this one girl and her boyfriend, and I was thinking, Is she really going to get a massage? Sure enough, she got a massage from him, and her boyfriend took pictures."
Sponsored listing
Bar Six
Attracting a diverse crowd of fashionable young professionals, Bohemian longtimers and local undergrads, Bar Six is a relaxed bistro that would be welcome in any neighborhood, but its classic charm and international edge seem especially suited for the stylish and creative Greenwich Village. The picturesque French boîte turns out bistro standards, Mediterranean staples and North African cuisine with equal flair. Compared to the generous portion of the popular Mussels Provençale ($14), a small dish of Moroccan Spiced Meatballs ($10) is more subtly alluring, with its delicate coriander perfume and understated drape of spiced yogurt and tomato sauce. The Merguez Sandwich ($14) is a bolder lesson in North African flavors, with funky lamb sausage borne atop a golden nest of sweet caramelized onions and peppers. A swaddle of pita and a luxurious cloak of yogurt gently restrain the flavorful glow of the cinnamon and spice-laced sausage. The hanger steak ($25) is equally noteworthy and well-matched with a rich bordelaise sauce, the winey sweetness balancing the tannic notes of the steak's deeply charred crust. The international fare is easily paired with a thoughtful wine list that draws from across the globe, including the lesser-known wines of Morocco. The Ouled Thaleb white blend ($10 per glass) of Clairette and Faranah grapes, an indigenous variety grown only in Morocco, provides neophytes a gentle introduction to North African wine with its honeyed palate and wild grassiness.
Venue says: "Happy Hour: Monday-Friday 4pm-6pm (Discounted Beer, Wine & Snacks)"