Ten ways to make spring awesome
Spring is back in New York! Make this your best one yet with our tips on how to find the best cleaning services, choose spring flowers and be the hero at your next picnic.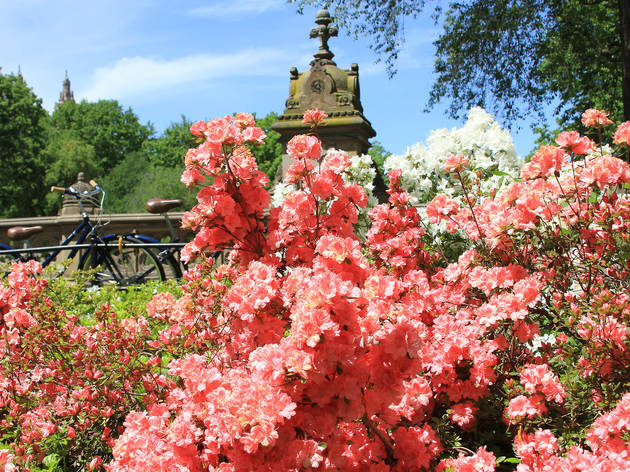 1

Tackle spring cleaning

Hey, you—hibernating in that pile of dirty laundry. The sunshine pouring in through your window means it's time to buckle down and clear away the cobwebs (not to mention all that crap on your floor). Stock up on eco-friendly Mrs. Meyer's cleaning supplies from Village Farm & Grocery and get scrubbing.
2

Don't waste time on laundry—have it picked up and delivered

The last place you want to be on a brilliant spring afternoon is at a laundromat, watching socks suffer through the spin cycle. Save yourself the trouble with by-the-pound Wash & Fold service from Symphony Cleaners in midtown, Next Cleaners in the Village or Clean Chic Cleaners in Brooklyn. They'll pick up and drop off your duds at a time of your choosing, fully folded, so you can spend your time doing something much more awesome.
3

Shave off the winter beard

Finally, you no longer have to insulate your face against the cold winds screaming down the avenues. Get rid of the winter chin tickler with upscale grooming supplies from MiN New York, like Miller Harris Feuilles de Tabac Shave Cream, a Silver Tip Ivory Handle Shave Brush and Taylor of Old Bond Street Sandalwood Aftershave to finish it off. Now don't you look handsome.
4

Break the junk-food cycle

It's easy to stuff your face with artery-clogging comfort foods when it's freezing outside, but now that it's warm, maybe it's time to get those toxins out of your system and start fresh. Try out a juice cleanse from the wellness experts at the Squeeze, delivered right to your door. Opt for the 6-day Soft Squeeze or the 30-day Main Squeeze if you're feeling ambitious.
5

Be the hero of your picnic

Don't be that guy (or girl) who rolls up at a picnic with soggy baloney sandwiches. Before you head to the park, get tasty warm-weather eats from local favorites. Imagine all the high fives you'll get if you show up with a bucket of spicy Buffalo wings from Atomic Wings or hot dogs from Crif Dogs. So many high fives.
6

Have wine or beer ready to go for the party

You've got a breezy rooftop shindig to make an entrance at, and no time to stop for booze along the way. Brooklynites can check out Pier Wines; beer lovers can order from Astoria's Tri-Boro Beverage, where you can order bottles, cans or kegs.
7

Skip the brunch lines

The Sunday-morning-hangover crowds emerge in droves on spring Sundays for a late (real late) breakfast, meaning you often get stuck with an hour-long wait for a table. Invite your buds to your place instead and get brunch delivered from the Upper West Side's Sugar and Plumm. Try weekend-AM delicacies like a Cajeta caramel waffle or eggs benedict with house-smoked salmon. Brooklynites can order in from Lodge, which offers options like an herb-marinated hangar steak with eggs.
8

Scream for ice cream

Nothing goes with warm temperatures quite like the creamy cold stuff. And why wait around for the Good Humor truck to go ringing by when you can get scoops sent straight to you? Try yogurt from Pinkberry with all the toppings you desire, or all-natural popsicles from PopBar in flavors like dark-chocolate-dipped banana gelato and kiwi sorbet. Consumption while sunning yourself on your front stoop recommended.
9

Fill your apartment with fresh flowers

So you don't have a yard to plant a garden in. Who wants to get their hands dirty, anyway? Order a bouquet (or three) of fragrant blooms from Flowers by Richard, and fill your living room with color. Opt for the Easter-egg-colored Garden Basket or the ever-changing Seasonl Potpourri. You don't even have to wait for the April showers to pass!
10

Throw a fiesta

Okay, so it isn't quite Mexico-warm here in New York, but you can approximate that South of the Border vibe with a well-placed piñata and plenty of salsa. Get the margaritas flowing and order up tacos, quesadillas and guacamole from San Fran–style Mexican spot Blockheads. Or try a carne asada quesadilla from Dos Toros. ¡Olé!