The best things to do in Chelsea
Whether you want to explore art, lounge in greenery or bar hop, Chelsea has everything you need for an exciting day out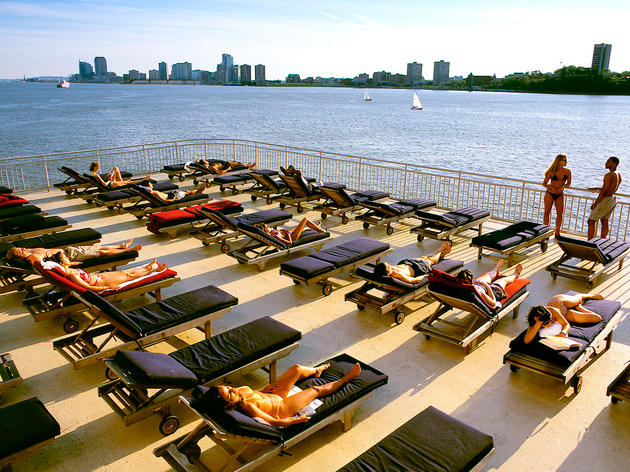 Chelsea certainly puts the art in the heart of New York. The neighborhood is home to dozens of galleries with the best free art in NYC on view—from Gagosian to David Zwirner galleries—and the newly minted Whitney Museum of American Art, one of the best museums in the city. Once you've had your fill, head to the High Line to lounge on tree-lined paths with views of the river, then head to one of the best Chelsea restaurants or bars, like Del Posto and the NoMad. The sky's the limit in this neighborhood!
RECOMMENDED: Full guide to Chelsea, New York
The best things to do in Chelsea
To untimely rip and paraphrase a line from Macbeth: Our eyes are made the fools of the other senses, or else worth all the rest. A multitude of searing sights crowd the spectator's gaze at the bedazzling and uncanny theater installation Sleep No More. Your sense of space and depth---already compromised by the half mask that audience members must don---is further blurred as you wend through more than 90 discrete spaces, ranging from a cloistral chapel to a vast ballroom floor. Directors Felix Barrett and Maxine Doyle, of the U.K. troupe Punchdrunk, have orchestrated a true astonishment, turning six warehouse floors and approximately 100,000 square feet into a purgatorial maze that blends images from the Scottish play with ones derived from Hitchcock movies—all liberally doused in a distinctly Stanley Kubrick eau de dislocated menace. An experiential, Choose Your Own Adventure project such as this depends on the pluck and instincts of the spectator. You can follow the mute dancers from one floor to the next, or wander aimlessly through empty spaces. I chose the latter, discovering a room lined with empty hospital beds; a leafless wood in which a nurse inside a thatched cottage nervously checks her pocket watch; an office full of apothecary vials and powders; and the ballroom, forested with pine trees screwed to rolling platforms (that would be Birnam Wood). A Shakespearean can walk about checking off visual allusions to the classic tragedy; the less lettered can just revel in
Read more
The New Yorker's Hilton Als curates this selection of portraits by Neel of her neighbors in Harlem, where she lived for 50 years. Among the subjects are prominent locals she admired. 
Read more
The Graham company keeps the modern dance master's legacy alive with three programs, presented in rep. Included are selections from Dark Meadow (1946), Primitive Mysteries (1931), Clytemnestra (1958), Diversion of Angels (1948) and her final finished piece, Maple Leaf Rag (1990). Alongside these classic Graham works are several dances created for the troupe: premieres by choreographers Sidi Larbi Cherkaoui and Annie-B Parson and recent pieces by Pontus Lidberg and Nacho Duato.
Book now
Read more
Schnabel revisits his '80s heyday as the maestro of smashed-crockery canvases with a new group of broken-plate paintings inspired by Vincent van Gogh's grave. 
Read more
Bears, wolves, and otters, oh my! This multi-room bar and club has every caniform you can cruise your way into. You're guaranteed to find a furry partner at this bondage party, where your wildest fantasies and fetishes come to life. A strict dress code of leather, rubber, belts, and jocks is enforced on the second floor, but the rest of the club is open to any piece of clothing (or lack there of). 
Read more
The Rubin Museum of Art goes all out for its Friday-night celebrations. At 6pm, Café Serai becomes the K2 Lounge where you can enjoy Pan-Asian tapas and a drink while jamming to sets from Aya & Tyler and Brooklyn Raga Massive. Then try sound meditation with the Acoustic Mandala Project, participate in a "color your mantra" experiment with painter Sonam Rinzin and enjoy an extended tour of the museum's exhibitions. 
Book now
Read more
If you like a wee dram o' whiskey to go with your wintry chills, make a beeline for National Theatre of Scotland's immersive, satirical fairy tale about literary theorists caught up in supernatural mysteries. David Greig's script is in rhyming couplets and five versatile performer-musicians have been inventively staged by Wils Wilson throughout a cozy pub in the McKittrick Hotel. Read the full review.
Book now
Read more
Languorous dance- and landscape-themed watercolors on canvas make up this site-specific installation of large-scale panels by this L.A. artist, whose style projects a dreamy vibe.
Read more
Morris is a kind of artist/urbanologist whose slickly-produced videos and glossy, super graphic canvases examine the role that major cities play in ordering the global economy. Her latest show builds on two recent films, including one about that science fictional desert mirage known as Abu Dhabi.
Read more
Show more
See more things to do in Chelsea