The best things to do in Chelsea
Whether you want to explore art, lounge in greenery or bar hop, Chelsea has everything you need for an exciting day out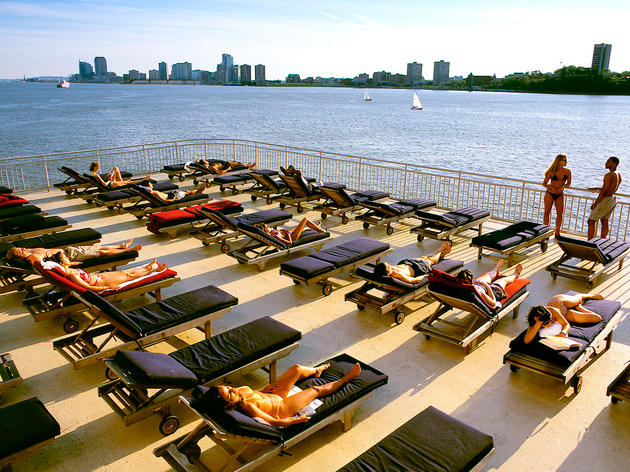 Chelsea certainly puts the art in the heart of New York. The neighborhood is home to dozens of galleries with the best free art in NYC on view—from Gagosian to David Zwirner galleries—and the newly minted Whitney Museum of American Art, one of the best museums in the city. Once you've had your fill, head to the High Line to lounge on tree-lined paths with views of the river, then head to one of the best Chelsea restaurants or bars, like Del Posto and the NoMad. The sky's the limit in this neighborhood!
RECOMMENDED: Full guide to Chelsea, New York
The best things to do in Chelsea
Sugar fiends get their glaze fix at this dope donut showdown, featuring tastings from Underwest Donuts, Gossip Coffee, Montclair Bread Co., Glaze Donuts, Forbidden Donuts and more. Between bites, you can enjoy a complimentary Kahlúa + Bluestone Lane iced coffee cocktail, get a temporary tattoo from Tattly, and get down to jams from DJ Jeronimo. Don't bother telling us about your diet. 
Book now
Read more
To untimely rip and paraphrase a line from Macbeth: Our eyes are made the fools of the other senses, or else worth all the rest. A multitude of searing sights crowd the spectator's gaze at the bedazzling and uncanny theater installation Sleep No More. Your sense of space and depth---already compromised by the half mask that audience members must don---is further blurred as you wend through more than 90 discrete spaces, ranging from a cloistral chapel to a vast ballroom floor. Directors Felix Barrett and Maxine Doyle, of the U.K. troupe Punchdrunk, have orchestrated a true astonishment, turning six warehouse floors and approximately 100,000 square feet into a purgatorial maze that blends images from the Scottish play with ones derived from Hitchcock movies—all liberally doused in a distinctly Stanley Kubrick eau de dislocated menace. An experiential, Choose Your Own Adventure project such as this depends on the pluck and instincts of the spectator. You can follow the mute dancers from one floor to the next, or wander aimlessly through empty spaces. I chose the latter, discovering a room lined with empty hospital beds; a leafless wood in which a nurse inside a thatched cottage nervously checks her pocket watch; an office full of apothecary vials and powders; and the ballroom, forested with pine trees screwed to rolling platforms (that would be Birnam Wood). A Shakespearean can walk about checking off visual allusions to the classic tragedy; the less lettered can just revel in
Read more
Theater review by Jenna Scherer There are two kinds of people at a magic show: Those who like to be tricked, and those who fancy themselves untrickable. Wherever you land on this spectrum, it will be hard not to be at least a bit bowled over by Secret, the latest from "psychological magician" Derren Brown. Though he's a sizable celeb in his native Britain, thanks to his numerous TV specials on Channel 4, Brown is less well-known in the States. But it's easy to see why he's developed such a following in the U.K.: He oozes confidence and charisma, the kind you don't quite trust but can't turn away from nonetheless. In Secret, he uses a combination of psychological manipulation, hypnosis and old-fashioned misdirection to spin a web around his audience. It's hard to describe the show in detail without giving away the game—and a grand game it is—but suffice to say, it's a combination of jaw-dropping "How did he do that?" moments and inspirational speeches that veer dangerously close to the litanies of motivational speakers (perhaps the most influential flimflam artists of our age). Brown is of two minds about all of this: He both wants to wow you with his sleight of mind and debunk the notion that mysticism and divination hold any water. But he takes such obvious pleasure in inspiring wonder at his tricks that it's hard to believe he isn't a believer himself. However you feel about Brown and his mental machinations, what transpires in Secret is enough to make even the most harde
Book now
Read more
This weekly kickback at the Lately invites you to chill out, play boardgames both old-school and new (like the Lately's beloved "Shooters and Ladders"), all while enjoying draft beer pitchers, wine and punch buckets. 
Read more
Joffe's latest portraits continue in the intimately Expressionistic vein pioneered by Alice Neel.
Read more
Though the artist's touch has long been dethroned as the be-all and end-all of artistic success, practices that eschew tactility for a conceptual approach can often feel too cool for their own good. Such is not the case with Los Angeles artist Walead Beshty. Even though he makes use of random events and by-products associated with photography, video, printmaking and sculpture, he manages to invest his efforts with enough incident to engage the eye as well as the mind. For his latest show, Beshty remains rigorously passive in accepting accident and standardization as his tools. But the overall impression here of a hands-off stance quickly gives way to results with a distinctly organic, even visceral, effect. Large-scale photographic prints in muted colors, for instance, are marked with smears and drips that make the works appear more painterly than mechanical, but they were created by exposing sandwiched-together sheets of light-sensitive paper. Elsewhere, several flat-screen monitors flicker with ghostly images after they've been drilled into or chopped in half. The gleaming surface of a multipart copper sculpture is enlivened by the oily handprints of preparators who purposefully moved them without wearing gloves. Finally, anyone who's ever wanted to take a baseball bat to a disobedient piece of electronic hardware will appreciate two entries from Beshty's "Office Work" series, in which a disassembled computer and printer are skewered on poles, continuing to buzz and flash
Read more
Berkenblit originally established herself during the 1980s as a kind of East Village riot-grrl imagist. Her new paintings follow suite, but also flow from her love of textile patterns.
Read more
Bears, wolves, and otters, oh my! This multi-room bar and club has every caniform you can cruise your way into. You're guaranteed to find a furry partner at this bondage party, where your wildest fantasies and fetishes come to life. A strict dress code of leather, rubber, belts, and jocks is enforced on the second floor, but the rest of the club is open to any piece of clothing (or lack there of). 
Read more
In his new collection of mixed media photography Queer Icons, artist Gabriel Garciá Roman renders images of queer and trans people of color into divine iconography. He speaks about his process and his subjects as part of the SVA's i3: Images, Ideas and Inspiration series. Meet at 136 W 21st St, room 418F. 
Read more
Show more
See more things to do in Chelsea