The best things to do in Chelsea
Whether you want to explore art, lounge in greenery or bar hop, Chelsea has everything you need for an exciting day out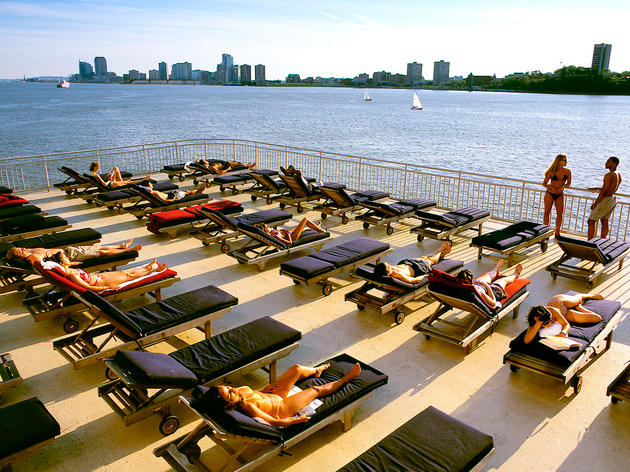 Chelsea certainly puts the art in the heart of New York. The neighborhood is home to dozens of galleries with the best free art in NYC on view—from Gagosian to David Zwirner galleries—and the newly minted Whitney Museum of American Art, one of the best museums in the city. Once you've had your fill, head to the High Line to lounge on tree-lined paths with views of the river, then head to one of the best Chelsea restaurants or bars, like Del Posto and the NoMad. The sky's the limit in this neighborhood!
RECOMMENDED: Full guide to Chelsea, New York
The best things to do in Chelsea
To untimely rip and paraphrase a line from Macbeth: Our eyes are made the fools of the other senses, or else worth all the rest. A multitude of searing sights crowd the spectator's gaze at the bedazzling and uncanny theater installation Sleep No More. Your sense of space and depth---already compromised by the half mask that audience members must don---is further blurred as you wend through more than 90 discrete spaces, ranging from a cloistral chapel to a vast ballroom floor. Directors Felix Barrett and Maxine Doyle, of the U.K. troupe Punchdrunk, have orchestrated a true astonishment, turning six warehouse floors and approximately 100,000 square feet into a purgatorial maze that blends images from the Scottish play with ones derived from Hitchcock movies—all liberally doused in a distinctly Stanley Kubrick eau de dislocated menace. An experiential, Choose Your Own Adventure project such as this depends on the pluck and instincts of the spectator. You can follow the mute dancers from one floor to the next, or wander aimlessly through empty spaces. I chose the latter, discovering a room lined with empty hospital beds; a leafless wood in which a nurse inside a thatched cottage nervously checks her pocket watch; an office full of apothecary vials and powders; and the ballroom, forested with pine trees screwed to rolling platforms (that would be Birnam Wood). A Shakespearean can walk about checking off visual allusions to the classic tragedy; the less lettered can just revel in
Read more
Now 86, Annie Ross remains as hard-swinging, glamorous and funny as when she was one third of the legendary jazz-vocal trio Lambert, Hendricks & Ross. See her and you'll understand what jazz used to be: an expression of the danger, fun and high-wire life between the notes.
Read more
While most Canadian hip-hop artists enjoying stateside success these days ascribe to the "OVO sound," rapper-singer Tory Lanez plays in his own "swavey" lane. Since we last talked to the artist, he's been on a meteoric rise, releasing a collaborative EP, Cruel Intentions, with Shlomo's WeDidIt collective, and a debut studio album, I Told You. He takes the stage with thrillingly inventive New York rapper A$AP Rocky.
Read more
Based at New York Live Arts, the company returns to the Joyce to perform two of the three pieces in its Analogy Trilogy, based on interviews conducted by Jones. Analogy/Dora: Tramontane is about a French Jewish nurse who survived World War II; Analogy/Lance: Pretty aka The Escape Artist deals with an internal war against addiction and excess.
Read more
The Harold is a classic structure pioneered by improv legend Del Close, and this show sees three of the UCBT's top house teams take turns in proving they have it down to a fine art in a series of fast-paced, 30-minute sets. 
Read more
In addition to her skills as a chameleonic singer and actor, Amber Martin is a consummate host who has spent years at the hub of the downtown alt-performance world. Every Monday at Sid Gold's, Chelsea's swank retro piano bar, she invites a different pal to perform an hour-long set of music and/or stories. The chummy party vibe continues afterward, when audiences are encouraged to stick around to mingle or even sing a song or two themselves.
Read more
Vivacious comic songwriter Angela Di Carlo, of the recurring Mad Men spoof The Mad World of Miss Hathaway, shares original and sometimes naughty songs in various styles in her monthly set at Sid Gold's. The September edition includes a guest appearance by Rob Roth.
Read more
The catalog for Goshka Macuga's recent exhibition at Milan's Fondazione Prada is a masterpiece of diagramming and tabulation that details the web of connections between cultural moments and figures. Now, at Andrew Kreps Gallery, the London artist pursues her fascination with patterns of knowledge by giving physical form to the links between important thinkers. Sparked by research into the utopian-sounding International Institute of Intellectual Cooperation, a United Nations think tank founded in the 1920s, a set of large sculptures employs bronze rods to join together colorful busts of the intellectuals in question. This visual-material approach to pondering the mutation of ideas is decidedly literal, but how better to explore a complex idea than by starting simple? There's a game-like appeal to these structures—which resemble enlarged models of molecules—that sets thought in motion without making it feel like homework. Another piece, made in collaboration with artist and researcher Patrick Tresset, is harder to crack. At once high tech and loose-knit, the object consists of an extended metal table wrapped by a long paper scroll covered in sketches. These turn out to have been rendered with robotic technology, suggesting some attempt to formulate a history of systems in art. Even so, the work transcends its cerebral premise with an ambiguous, investigatory feel that gives it an all-too-human resonance.
Read more
Show more
See more things to do in Chelsea