The best things to do in NYC this week
Check out the very best things to do in NYC this week, from cultural events to trivia opportunities and concerts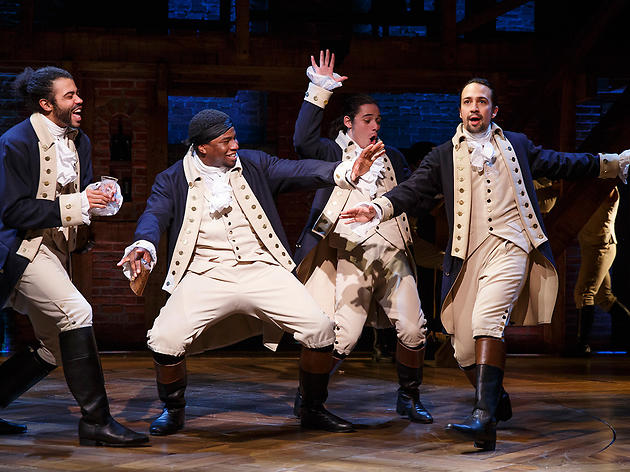 Are you frantically searching for the best things to do in NYC this week? We get it, in a city as large as New York, it can be extremely difficult to create the perfect itinerary. Too many cool things to do, too little time. We're here to help! Our editors have recommendations for everything, including the best parties and free art exhibitions you can check out. We'll make sure you know when there's cool NYC street fairs happening, or if there's a special one-off event in town. You'll never have to worry about "FOMO" ever again.
Recommended things to do in NYC
Music and nightlife events in NYC
1
The Tony-winning star of Jersey Boys, both the Broadway musical and the Clint Eastwood film, brings his musical highs and puppyish eyes back to the Café Carlyle with an all-new show. The run kicks off with a Valentine's Day show priced at $265–$315 (including dinner and champagne).
Read more
2
Rob Middleton and Glenn Drewes conduct Birdland's resident jazz band, which weds swing-era glitz with a funky modern beat. The popular group tears up a myriad of classic and original tunes of the jazz, funk and Latin varieties.
Read more
3
The flirty, sly, dark-elfin Australian baritone leads listeners on a Weimar-inflected tour through songs ranging from Kurt Weill and Friedrich Hollaender to Kylie Minogue and the Supremes.
Read more
4
"If they try to slow me down, I'll tell them all to go to hell," Brian King screams on "The House That Heaven Built," the most blaring single from Japandroids' 2012 album, Celebration Rock. The band's been silent these past few years but no longer. The duo returns with a new album in tow, the spectacularly titled Near to the Wild Heart of Life, that promises all the same cathartic audience sing-alongs of yore.
Book now
Read more
5
Times are hard for porn stars in Bess Wohl's wryly racy 2015 quasidocumentary-cum-musical, written by Bess Wohl and featuring terrific irony-laced songs by Michael Friedman. The talented and versatile cast— including Luba Mason, Steve Rosen and Marrick Smith—reunites to celebrate the release of the show's cast album.
Book now
Read more
6
Rising Swedish pop star Tove Lo (pronounced "TOO-veh loo") stepped into the spotlight with her unflinching breakup-aftermath anthem, "Habits." The hook, "You're gone and I gotta stay high all the time, to keep you off my mind," ought to give a vague idea as to what "habits" she's referring to. She plays here in support of her newest release, Lady Wood.
Read more
8
Leithauser, who's spent his post-graduation years since the Walkmen's 2013 "extreme hiatus" releasing solo material, airs a collaborative project with another prestigious indie alumnus: Rostam Batmanglij, who recently departed sparkling indie-pop outfit Vampire Weekend. Their album, I Had A Dream That You Were Mine, is an impassioned collection of rock tunes that mix Leithauser's patented charismatic crooning with Batmanglij's ear for polished melody.
Book now
Read more
9
Synth heads, postpunks and '80s addicts are welcome to grab a beverage and move to the sounds of New Order, Severed Heads, the Human League and more at this weekly chill-out session. Drink specials and well-picked horror, sci-fi and anime flicks on the big screen may keep you hanging around later than you'd expect.
Read more
10
As we enter a Trump presidency, head here to scream your dissent. This North-South hip-hop throwdown is sure to pack in outrage aplenty as Definitive Jux hero El-P and quick-witted Atlanta MC Killer Mike spit incisive political venom on their appropriately titled third album, Run the Jewels 3, a collection of braggadocio and cutthroat takedowns. The swirling psychedelia of L.A. beatmaker the Gaslamp Killer sets the stage.
Book now
Read more
Show more
Art events in NYC
1
View over 100 works made by creators outside of the artistic community, including inventive self-taught sculptors in New York City and illustrators who found their passion in prisons and psychiatric hospitals. Explore the inner lives of unknown artists through works made in private and often discovered after the artists' passing, with pieces like Steve Ashby's Rocking Bed Cunnilingus Whirligig and Henry Darger's watercolor At Sunbeam Creak/At Wickey Lansinia. 
Read more
2
The New Yorker's Hilton Als curates this selection of portraits by Neel of her neighbors in Harlem, where she lived for 50 years. Among the subjects are prominent locals she admired. 
Read more
3
Schnabel revisits his '80s heyday as the maestro of smashed-crockery canvases with a new group of broken-plate paintings inspired by Vincent van Gogh's grave. 
Read more
5
One of the more telling works in Mark Leckey's MoMA PS1 survey isn't even by the 2008 Turner Prize winner: It's a painting by German Minimalist/Primitivist Michael Krebber (one of several guest artists appearing at Leckey's invitation), featuring a crude, handwritten replica of a bad review of Leckey's 2011 exhibition at London's Serpentine Gallery. The headline reads, mark leckey's art creates noise without meaning, and while that's meant as an insult, it (and the rest of the article) supremely misses the point: Leckey's art is supposed to be about noise without meaning—or at least effecting that stance to get at larger truths about contemporary culture. Leckey's multimedia installations dive into the ways in which technology transmits the shared fashions, ideas, ideologies, values and appetites that bind us as a society. The upshot, of course, is that the more this information is accelerated by ever-rapid means, the more it devolves into babble—a point reflected by an often-raucous show in which screens and speakers blare a cacophony of sights and sounds. Leckey's message may not be new, but he delivers it with panache. The artist's earliest—and still best-known—piece is an edited compilation of VHS club-scene tapes depicting ravers dancing, spinning and otherwise having out-of-body experiences on ecstasy. Sourced from veteran DJs, the material in "Fiorucci Made Me Hardcore" (1999) spans the late '70s to the early '90s in a delirious montage of found footage set to hypnot
Read more
6
Francis Picabia was born in Paris to a French mother and an aristocratic Cuban father whose fortune afforded the artist a life of fast cars, fabulous parties and frequent amorous conquests. According to the catalog for MoMA's fantastic retrospective, Picabia (1879–1953) was "singularly wealthy" among his avant-garde cohort, but more pertinent, perhaps, was the sense of entitlement that allowed him to upend convention—apparently, for the hell of it. A self-styled "funny guy," Picabia was the great-granddaddy of bad-boy art, a restive genius and check-writing machine for later artists who cashed in on his accomplishments—though his work, like that of frequent co-conspirator Marcel Duchamp, wasn't fully appreciated until the 1960s. Unlike Duchamp, Picabia remained a painter and, as such, was both gadfly and butterfly, confounding critics by mixing high and low culture while flitting between abstraction and representation. He embraced Impressionism, Cubism, Dadaism and photo-based realism and also oscillated between revolutionary and reactionary impulses in ways that complicate our understanding of his political inclinations. Though disgusted by the carnage of World War I, for example, he remained in Nazi-occupied Europe during World War II, living in Vichy France. MoMA wrangles Picabia's fractious career with a chronological approach that brings order out of stylistic chaos. The show begins in the early 1900s with Picabia the late-blooming Impressionist, who, rather antithetic
Read more
7
Minter had already been working in New York for 30 years before her career breakout in the 2006 Whitney Biennial, and in the ensuing decade, she's dialed up her exploration of how women are objectified by fashion and the media to a Nigel Tufnel–worthy 11. Focusing on various details of the female anatomy, her photos and hyper-realist paintings demolish cultural conventions of beauty and femininity with increasingly garish élan. As the title of Minter's first-ever career retrospective suggests, her work draws a connection between "sexy" and "filthy."
Read more
8
Languorous dance- and landscape-themed watercolors on canvas make up this site-specific installation of large-scale panels by this L.A. artist, whose style projects a dreamy vibe.
Read more
9
Thanks to Donald Trump, the decade of greed is back, so naturally there's renewed interest in art from the Ronald Reagan era. The Whitney dusts off some prime examples from its collection, including works by Jean-Michel Basquiat, Kenny Scharf and Ross Bleckner.
Read more
10
Morris is a kind of artist/urbanologist whose slickly-produced videos and glossy, super graphic canvases examine the role that major cities play in ordering the global economy. Her latest show builds on two recent films, including one about that science fictional desert mirage known as Abu Dhabi.
Read more
Show more
Looking for more things to do?
Find the best things to do all year with our NYC events calendar of 2016's coolest events, including parades, concerts, films and art exhibits
Read more
Sponsored listing
Aperture Italian Restaurant
Aperture Italian Restaurant 552 Court St. Carroll Gardens Brooklyn,11231 Between W9 and Garnet. Traditional Italian Cusine, Brick Oven Pizza, Raw Bar, Enclosed Outdoor Dining, Saturday and Sunday Brunch and a Full Bar.
"Aperture now has its own Pick Up and Delivery App Text 33733 to Aperture to download the App All orders will receive a 20% Discount"
Carroll Gardens
Online booking