Travel back to New York City in the 1920s—by sound
The Roaring Twenties, the project of a Princeton historian, uses recovered newsreels and noise complaints to create a historical map of sounds
By Leah Butterfield Tue Oct 29 2013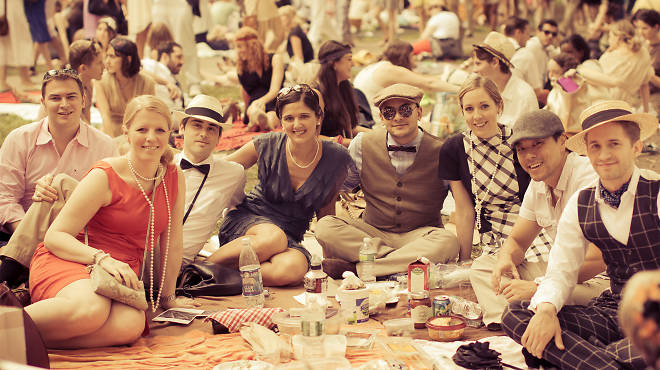 Jazz Age Lawn Party Photograph: Driely S.
If you find New York City to be unbearably noisy nowadays, you ain't heard nothing yet. Using sound newsreel footage and documents from the city's municipal archives, Princeton University professor Emily Thompson has created a virtual sound map of the city, aptly titled "The Roaring Twenties."
Browse through the videos to hear the booming voices of street peddlers on the Lower East Side, or listen to Cortlandt Street when it was "Radio Row" with shops blasting music and news programs onto the sidewalks. Another clip shows cars, trolleys, and trucks honking and chugging loudly through Times Square, while the occasional horse and carriage clickety-clacks by.
It's interesting to note one of the biggest sonic differences: the young'uns. Without 21st-century helicopter parenting, kids roamed freely (and quite loudly) throughout their neighborhoods, screaming, playing and fighting from dawn till dusk.
Gotham in the '20s has been glamorized of late, especially by last summer's The Great Gatsby, but Thompson's project shows us sights and sounds of the era we're pretty glad to have missed. There's Coney Island's Luna Park Pig Slide, for example, where piglets squealed unhappily while being forced down a chute for boardwalk entertainment, and the numerous factories and warehouses that still based their operations in NYC, causing huge amounts of noise and pollution.
The website also hints at the racial disparity of the city—or at least as presented in Fox Movietone's newsreels. Out of the 54 clips, only three fall under the website's "African-Americans" tab (that's the same number of videos that feature carnival barkers).
While much of those Jazz Age sounds have—for better or worse—long since faded away, some auditory similarities remain. Subway construction and jackhammers garnered lots of noise complaints, street musicians were plentiful and popular, men prophesized about religion in Times Square, and loud boat horns sounded throughout lower Manhattan (which people are still complaining about).
Head to the Roaring Twenties website to browse through the sounds of the past and then maybe, just for fun, leave your iPod at home and take a walk through the city.
You might also like
---
What do you think? Tell us below!
Send tips and cat photos to:
Editor: Marley Lynch (@marleyasinbob)
marley.lynch@timeout.com
Time Out videos
---
---
@TimeOutNewYork
Subscribe to Time Out New York on Spotify for playlists and recommendations from our Music team.


Check out New York's best restaurants, hottest street style, cool apartments and more.