Water sports in NYC: Jet Skiing, sailing, surfing and more
You don't need to get out of town to catch a wave, dude. Discover water sports right here in New York City.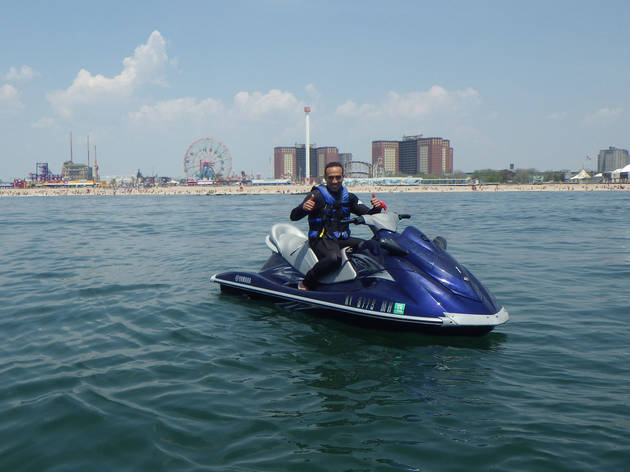 1/8
Water sports: Rockaway Jet Ski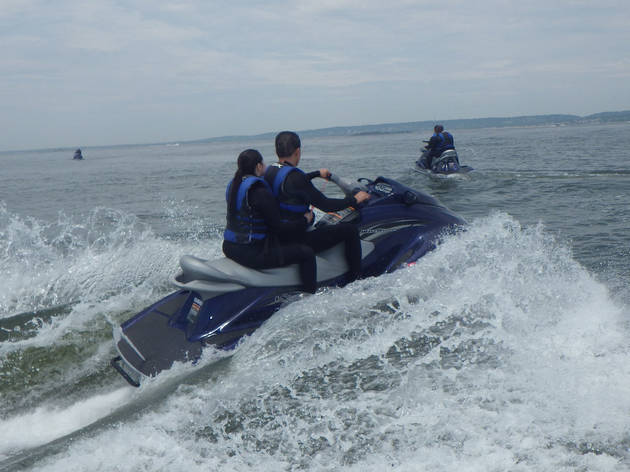 2/8
Water sports: Rockaway Jet Ski
3/8
Photograph: Julienne Schaer
Water sports: Brooklyn Bridge Park Boathouse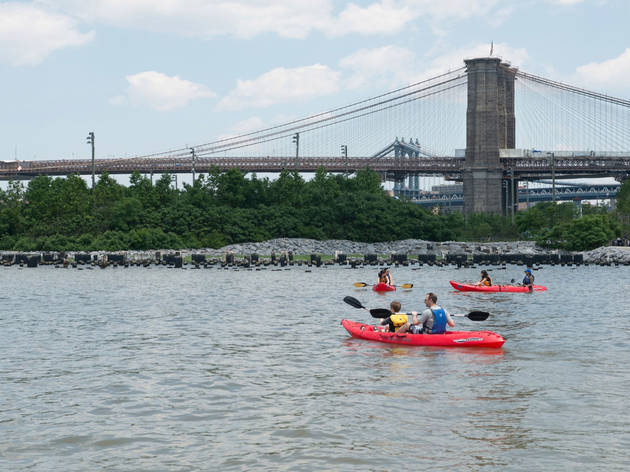 4/8
Photograph: Julienne Schaer
Water sports: Brooklyn Bridge Park Boathouse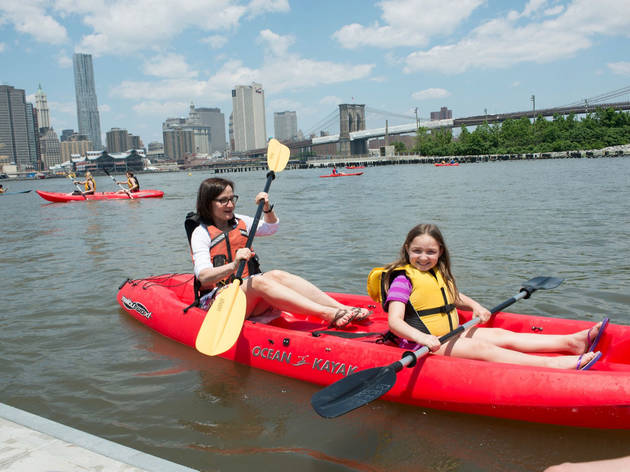 5/8
Photograph: Julienne Schaer
Water sports: Brooklyn Bridge Park Boathouse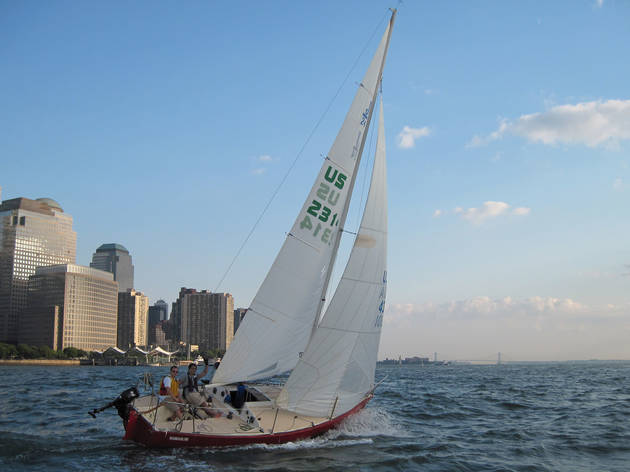 6/8
Water sports: Hudson River Community Sailing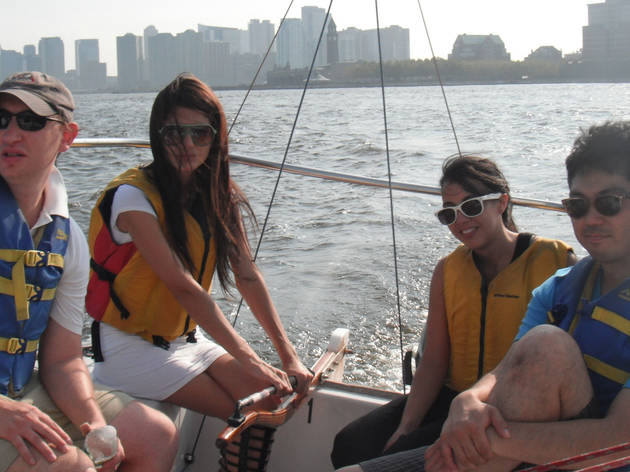 7/8
Water sports: Hudson River Community Sailing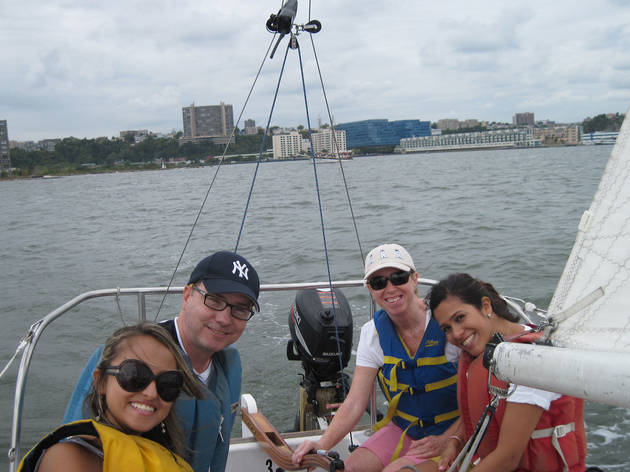 8/8
Water sports: Hudson River Community Sailing
The crazy heat this week has at least one perk: It's officially beach season, baby. We've told you about our favorite waterside respites and nearby eats. Now check out the water sports—Jet Skiing, kayaking, sailing and surfing—that are within city limits.
Jet Skiing
To quote Daniel Tosh, "Have you ever seen a sad person on a WaveRunner?" While we're usually inclined to disagree with the fratboy favorite's observations, it's tough to take issue with this one—especially when you throw in the idea of cruising past Gotham's shorelines. Get all smiley with Jetty Jumpers (3939 Emmons Ave between Shore Pkwy and Plumb 3rd St, Sheepshead Bay, Brooklyn; 917-734-9919, jettyjumpers.com), which offers group tours that bring you to Coney Island (1hr $150, two-person share $200), as well as to Ellis Island and Governors Island and beneath the Brooklyn and Manhattan Bridges (2.5–3hrs $375, two-person share $450). Want to set out on your own and go anywhere you damn please? Rent a 2012 Yamaha VX Cruiser at Rockaway Jet Ski (375 Beach 92nd St between Beach Channel Dr and Jamaica Bay, Rockaway Beach, Queens; 646-350-4802 rockawayjetski.com; Mon–Thu 30mins $75, Fri–Sun 30mins $85).

Kayaking
Queue up at the Brooklyn Bridge Park Boathouse (between Piers 1 and 2, Furman St at Old Fulton St, Brooklyn Heights; bbpboathouse.org; free) for a free-of-charge paddle in the majestic shadow of the green space's namesake. The wait is often long, but it's worth it: The BBPB folks have a 15-vessel fleet, and you can play skipper on the East River for about 20 minutes. The granddaddy of NYC's free-kayaking scene, though, is the New York City Downtown Boathouse (locations vary; visit downtownboathouse.org for more details; free), which hosts walk-up outings at four locales: Pier 40, Pier 96, West 72nd Street and (as of this year) Governors Island. Once you've signed a waiver and donned a life jacket, you can take your kayak out in designated areas for 20 minutes at a time—or longer if others aren't waiting.

Sailing
Helpful tip: Channel Bill Murray's character from What About Bob? by shouting "I'm sailing!" and "Ahoy!" throughout your voyage. You're guaranteed to make friends. (Actually, on second thought, save it until the last few minutes for the sake of your fellow passengers; it's a small boat.) Both Hudson River Community Sailing (Pier 66, W 26th St at Twelfth Ave; 212-924-1920, hudsonsailing.org; 3 hrs $95) and the nationwide Offshore Sailing School (Pier 25, North Moore St at West St; 888-454-7015, offshoresailing.com • Pier 62, 22nd St at Hudson River; 800-221-4326; 1hr $75, two hour minimum) boast intro-to-sailing classes, in which you and a small group of other newbies will learn how to control sails, steer and other essentials—while basking in beautiful views of the skyline from the Hudson River and New York Harbor, of course.

Surfing
On your way to Rockaway Beach, be sure to blast the classic Ramones cut of the same name, and get pumped for a day filled with (hopefully) lots of wave riding and few wipeouts. Long Beach–based school Skudin Surf started its 2013 season last Monday, taking over a slice of the beach (enter at Beach 67th St, Rockaway Beach, Queens; 855-433-3350, skudinsurf.com) each weekday between 9am and 1pm for its adult program. You can opt for a one-off ($100), a three-day ($250) or a weeklong ($375) course, in which you'll be shown how to prop yourself upright on your longboard midwave, get out of dangerous rip currents and other basic moves.

Additional reporting by Catherine Ellsberg.