Anna et Bernhard Blume : La Photographie transcendantale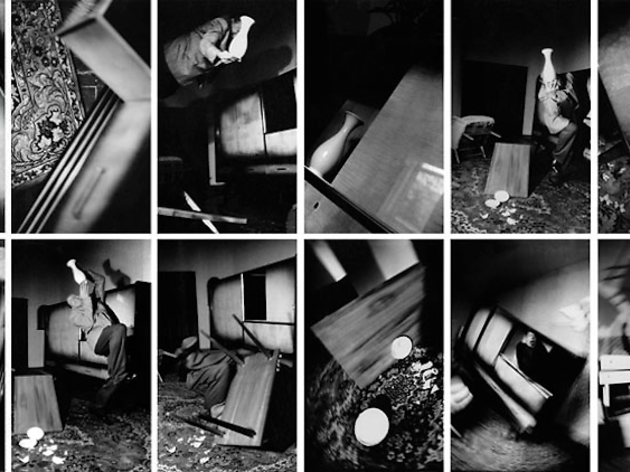 1/3
Anna et Bernhard Blume, 'Im Wahnzimmer (détail)', 1984 / Ensemble de 18 épreuves / © Centre Pompidou, MNAM-CCI/G. Meguerditchian et Ph. Migeat / Dist. RMN-GP / © ADAGP, 2015
2/3
© Coll. Centre Pompidou / Dist. RMN-GP
3/3
Anna et Bernhard Blume, 'Im Wahnzimmer (détail)', 1984 / Ensemble de 18 épreuves / © Centre Pompidou, MNAM-CCI/G. Meguerditchian et Ph. Migeat / Dist. RMN-GP / © ADAGP, 2015
A German couple subvert postwar photographic realism with their ironic, inventive scenes.
In Anna and Bernhard Blume's world, dinnertime isn't a straightforward affair. Potatoes might suddenly decide to take to the air and attack the diners; the room could be found upside down, furniture bristling with anger, or vases could take flight and spectral forms spring out of serving dishes – if Anna and Bernhard aren't flying or contorting themselves, of course.

In Germany in the '70s, realist photography ruled. The Blumes approached things differently, using photography as a tool that could reveal the invisible. To underline this direction, the exhibition also shows a few images from self-professed spiritual sources or mediums of the era – photos with blurred areas or strange movements said to show phantoms, spirits or other ghostly presences. Challenging the documentary aspect of photography with their brilliantly realized images, the Blumes put enchantment back into the day-to-day and observe postwar German society with a healthy dose of irony.