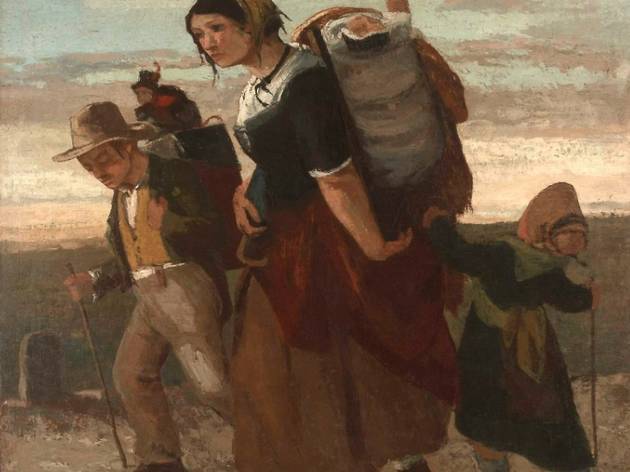 1/2
Gustave Courbet, 'La Bohémienne et ses enfants', 1853-1854 / © Collection privée / © ADAGP, Paris 2012
2/2
Vincent van Gogh, 'Chaussures', septembre 1886 / © Van Gogh Museum, Amsterdam (Vincent van Gogh Foundation) / © ADAGP, Paris 2012
There's a lot more to bohèmes (bohemians) than the bourgeois hipster version (known as 'bobos' in France). Though they're everywhere in Paris, with their tattered clothes, unkempt beards and beat-up Beetles, they share few qualities with their semantic ancestors: true nomads, whose portrayal has fed the imaginations of generations of European artists.

This is the rich artistic material mined by the Grand Palais in this intelligent exhibition, dotted with major works. The ground floor section is pretty dense, filled with images that either stigmatise the gypsy, the vagrant, the dispossessed, or use him as a symbol for a life of sensuality and libertarianism. Upstairs are the real stars, pieces that track the reimagining of the bohemian in the artists' studios of the Latin Quarter, of Montparnasse and Montmartre. Against a background of peeling walls and café tables, the idea of the wandering life was reimagined by young, poor, rebellious intellectuals. Parodied in the hilarious lithographs of Daumier, this is a generation that aspired to the liberty of nomadic peoples, but who sank into melancholy, absinthe and debauchery between the end of the 19th century and the 1920s.

The exhibition concludes with a Virgin and child by Otto Mueller, dressed in filthy rags, with a caravan wheel in place of a halo – a reminder of the brutal realities of life as a true bohemian. No gypsy kings, no artistic salons, and not a Volkswagen Beetle in sight.