Hey ! Modern art & pop culture, 2e édition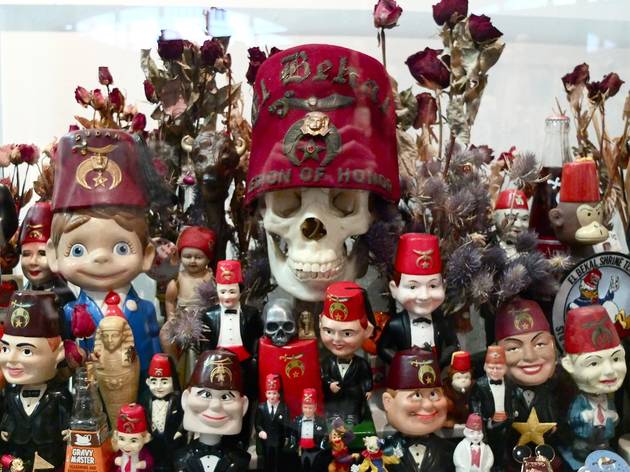 1/18
Toys Icons, Numa Roda-Gil / Photo : © TB - Time Out
2/18
Amanda Smith / Photo : © TB - Time Out
3/18
Vue de l'exposition (installation de Jim Skull) / Photo : © TB - Time Out
4/18
Charles Krafft / Photo : © TB - Time Out
5/18
John Brophy / Photo : © TB - Time Out
6/18
Joe Coleman / Photo : © TB - Time Out
7/18
Masami Teraoka / Photo : © TB - Time Out
8/18
Mike Davis / Photo : © TB - Time Out
9/18
Suckadelic / Photo : © TB - Time Out
10/18
Kate Clark / Photo : © TB - Time Out
11/18
Chris Mars, 'Safe Distance' / DR
12/18
Martin Wittfooth vs. Jean Labourdette / Photo : © TB - Time Out
13/18
Vue de l'exposition / Photo : © TB - Time Out
14/18
Installation de Moolinex / Photo : © TB - Time Out
15/18
Travis Louie / Photo : © TB - Time Out
16/18
Mariel Clayton / Photo : © TB - Time Out
17/18
Handiedan, 'Bollywood Sugar' / © Handiedan
18/18
HR Giger / Photo : © TB - Time Out


This is one of Time Out's top 50 things to do in Paris this summer. Click here to see the full list.
In 2011 Anne and Julien, founders of the alternative modern art and pop culture magazine HEY! – dedicated to 'outsider' art – opened Pandora's box and freed a swarm of artists from the pages of their magazine onto the walls of the Halle Saint-Pierre. A year and a half later, Paris can rejoice again: the underground is back. This second round of the exhibition makes another stab at overrunning the establishment, with an army of voices that are just as alluring, sharp and corrosive as the last time – the Bazooka collective, king of the psychedelic comics Jim Woodring and goth-gore photographer Joel-Peter Woodring are a few of the 60 artists gathered here to explode the boundaries of modern art, revealing a more sombre, trenchant and often batshit mental side to contemporary creativity.

A vibrant plunge into the counter-currents of 'lowbrow' art, pop-surrealism, independent comics, tattoo art and a whole slew of subversive visions, the HEY! II exhibition opens in darkness: on the ground floor, you advance through a sort of subliminal inner world with just a few improbable spotlit works – here, the hybrid bestiary of HR Giger (the creator of Alien), there the apocalyptic nightmares of painter Norbert H. Cox. One madness leads to another, and next you find your way into a crevass full of Joe Coleman's psychopaths piled on chaotic planks, the whole recalling the hells of Jérôme Bosch and American comics of the 1950s. Then, back upstairs and into the light.

On the first floor, more multitudes of nervous, acidic expressions are on show beneath the glass, revelling in their perversity. Sometimes madly funny, sometimes obsessive and disturbing, their visions cross over and interact without overwhelming the visitor; the motley ensemble all flows from the same source. Bellicose eggshells (Mike Davis), octopus heads (Jim Skull), yetis serving ice cream (Amanda Smith), animal-humans (Kate Clark) and a sardonically embroidered toilet (Moolineux) bounce freely off each other as if thrown together by the same punk wind.

A rare immersion in the world of counter-culture, for the second time HEY! has achieved a liberal re-balancing of the artistic scene dominating the French capital. It would be nice if this new edition signalled a more long term project, where this great gathering of the underground would become a regular feature of Parisian culture – certainly, HEY! proves that Paris is very much in need of a forum for all these unclassifiable forms of expression, which always prepared to stick two fingers up at a contemporary art scene bloated by the concerns of the market.