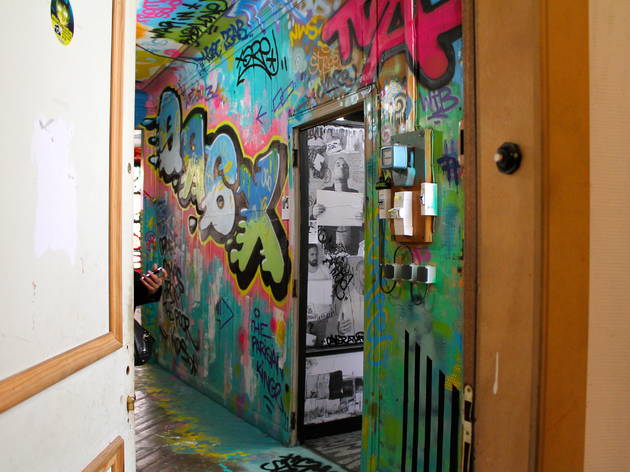 1/10
© T.Sevin
2/10
© T.Sevin
3/10
© T.Sevin
4/10
© T.Sevin
Les oeuvres du photographe Nicolas Giquel s'accordent à celles du graffeur Marko 93.
5/10
© T.Sevin
L'installation post-apocalyptique de Katre.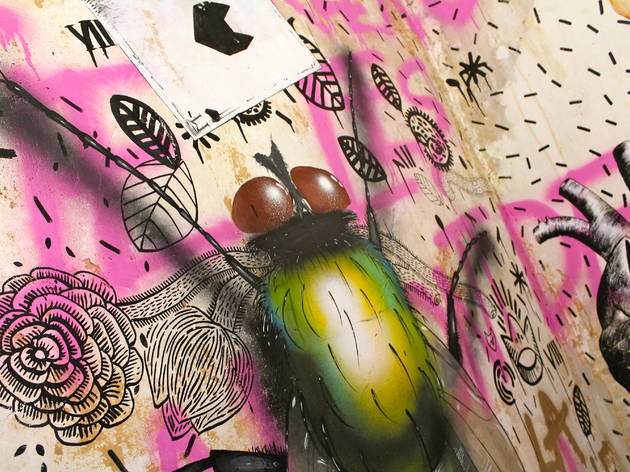 6/10
© T.Sevin
L'oeuvre de Maite San nous fait nous sentir comme plongés dans un carnet à dessins, entourés de croquis étranges.
7/10
© T.Sevin
8/10
© T.Sevin
Shaka.
9/10
© T.Sevin
Le guépard de Marko 93.
10/10
© T.Sevin
De l'art jusque dans les toilettes (toutes d'or recouvertes) !
An artists' residence that is bursting with colour.
This is the kind of apartment that would fetch a higher price on the art market than the real estate market. In a little two-room studio on the third floor of Number 34, rue du Dragon, eight masters of the urban painting scene are transforming the space into an immersive installation. From the floor to the ceiling, not an inch of space has escaped their artistic spell – except for the young but talented Maite Sant, who kept the ceiling for herself.
After visiting this uninhabitable yet inspiring apartment, don't forget to pop into the Loft du 34 gallery. The exhibition continues with a series of paintings by the artists involved in 'Home Staging'. 2D miniatures, full of humour and poetry, echo the artworks seen previously. 'Fifty shades of spray' by Xare, a short time-lapse video retracing the arty octet's last three months of work allows use to see just how much creative input went into making this extraordinary exhibition. Funnily enough, our own homes don't seem quite as appealing any more.
TRANSLATION: MEGAN CARNEGIE