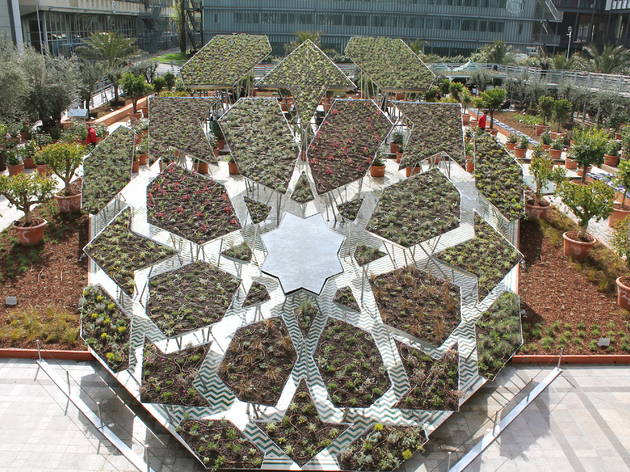 1/10
© C.Gaillard
Polygone étoilé de François Abélanet, anamorphose amusante dans ce jardin éphémère.
2/10
© C.Gaillard
3/10
© C.Gaillard
4/10
© C.Gaillard
5/10
© C.Gaillard
Oeuvre contemporaine de Mehdi-Georges Lahion ('Fontaine')
6/10
© C.Gaillard
Maquette animée d'une Noria.
7/10
© C.Gaillard
Allée des fontaines
8/10
© C.Gaillard
Les tableaux de Dia Azzawi, fantasmant les antiques jardins suspendus de Babylone.
9/10
© C.Gaillard
10/10
© C.Gaillard
A fascinating yet info-heavy exhibit explores the evolution of Arabic garden design through the ages.
Kumquats, almond trees, olive trees and lavender bushes. Exotic Mediterranean fruit trees aren't what you'd first associate with the banks of the Seine, but that's exactly what you'll currently find on the stony forecourt of the Institut du Monde Arabe, opposite the Île Saint-Louis. Alongside its latest exhibit, the 'Jardins d'Orient', the museum has commissioned a remarkable 2,000-square-metre pop-up 'eden', which has been brilliantly envisioned by French land artists Michel Péna and François Abélanet. It's by far the best part of an exhibit that while diverse and extensively documented, could do with a little bit more interaction – something to touch, something to play around with. As it is, the exhibit risks becoming a little overwhelming, especially for younger ones.
Still, if you're interested enough, you can learn a lot from its account of the origins of Arabo-Islamic horticulture, ancient irrigation techniques and the wide-ranging influence of all this on modern approaches to construction. The vast array of classical and contemporary artworks they've amassed (engravings, water colours, sculpture) is really quite impressive, with Lateefa Bint Maktoom's stirring photos of pulled-up palm trees – emphatic proof of the devastating impact of mass urbanisation around the Persian Gulf – particularly standing out.
TRANSLATION: HUW OLIVER