Paysages mystiques - De Monet à Emily Carr
1/6
Vincent van Gogh La Nuit étoilée, 1888 Huile sur toile, 73 x 92 cm Paris, musée d'Orsay, RF 1975-19 © RMN-Grand Palais (musée d'Orsay) / Hervé Lewandowski
2/6
Gustav Klimt Rosiers sous les arbres, vers 1905 Huile sur toile, 110,2 x 110,2 cm Paris, musée d'Orsay, RF 1980-195 © Musée d'Orsay, Dist. RMN-Grand Palais / Patrice Schmidt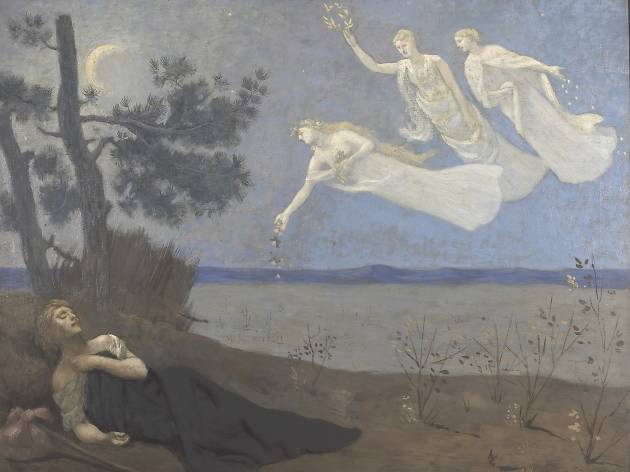 3/6
Pierre Puvis de Chavannes Le rêve, 1883 Huile sur toile, 82 x 102 cm Paris, musée d'Orsay, RF 1685 © RMN-Grand Palais (musée d'Orsay) / Hervé Lewandowski
4/6
Vue d'ensemble de l'exposition © Musée d'Orsay - Sophie Boegly
5/6
William Degouve de Nuncques Nocturne au Parc Royal de Bruxelles, 1897 Pastel, 65 x 50 cm Paris, musée d'Orsay, RF 38999 © RMN-Grand Palais (musée d'Orsay) / Hervé Lewandowski
6/6
© Musée d'Orsay - Sophie Boegly
The content on this page is provided by a Time Out partner.
Where? Musée d'Orsay, 1 rue de la legion d'Honneur, Paris 7th
When? March 14-June 25 2017
In collaboration with Toronto's 'Art Gallery of Ontario', the Musée d'Orsay's exhibition proposes a journey through the mystical aspect of the symbolist landscapes, featuring work from Gauguin, Klimt, Monet, van Gogh and Emily Carr.