Ready (to be) made : Bas Jan Ader, Taiyo Onorato et Nico Krebs
1/5
Taiyo Onorato & Nico Krebs, 'View 1', 2008, extrait de la série 'The Great Unreal' / © Taiyo Onorato & Nico Krebs / Courtesy Raebervon Stenglin, Zurich
2/5
Bas Jan Ader, 'Fall I', 1970 / © Bas Jan Ader / Courtesy Museum Boijmans Van Beuningen, Rotterdam
3/5
Taiyo Onorato & Nico Krebs, 'Happy Ending', 2005, extrait de la série 'The Great Unreal' / © Taiyo Onorato & Nico Krebs / Courtesy Raebervon Stenglin, Zurich
4/5
Taiyo Onorato & Nico Krebs, 'Abbyss', 2006, extrait de la série 'The Great Unreal' / © Taiyo Onorato & Nico Krebs / FNAC 2011-0526, Centre National des Arts Plastiques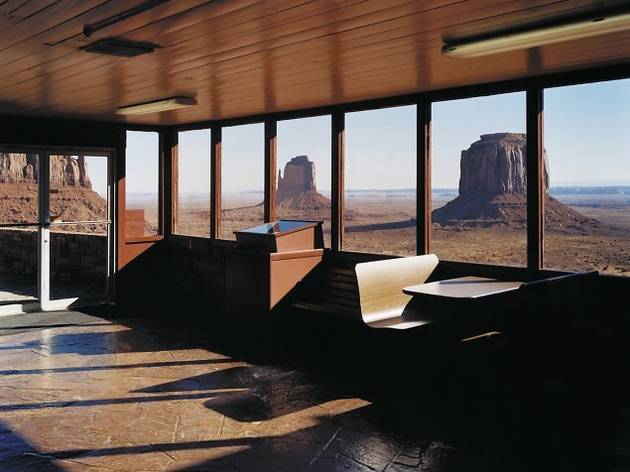 5/5
Taiyo Onorato & Nico Krebs, 'View 2', 2005, extrait de la série 'The Great Unreal' / © Taiyo Onorato & Nico Krebs / FNAC 2011-0530, Centre National des Arts Plastiques
After a series of heavyweight retrospectives, (Chris Killip's industrial Britain, Paul Graham's unemployed, Antoine d'Agata's world full of drug addicts, prostitutes and the homeless), Raymond Depardon's exhibition space distances itself from raw documentary images to explore some more whimsical, mischievous approaches. Still far too little-known, the three artists brought together for 'Ready (to be) Made' take a sly pleasure in evading reality, preferring not to conform to the laws of the tangible world but to defy them.

Upstairs, Bas Jan Ader, a Dutch performance artist from the '70s who died ina shipwreck aged 33 in a shipwreck and whose work is enjoying something of a comeback, plays with the idea of gravity. In a series of short videos you see him falling backwards, in a delicious mix of absurdity and irony, from a roof, from a bike, from the branch of a tree, from a standing start on his long legs. They all suggest a long slow slide towards something terrible and dramatic, expressed with a disarming simplicity.

It's all a little more serious than the show downstairs, the sparkling world of Taiyo Onorato and Nico Krebs. With 'The Great Unreal', the Swiss duo revisit the 'road trip' genre in america's far west, searching for otherworldly elements in the landscapes or introducing them themselves through monatge and editing. Their photos show roads that loop back on themselves, motel rooms lost in distant forests, highways crossing mountains of blankets and sheets – Onorato and Krebs activate doubt, always inviting the viewer to decode the image and to dare to make a distinction between the credibility gap of the real world and the artifice that the artists introduce into their photographs.

Opening hours: Wed, Tue, Fri 12mid-8pm; Thu 12mid-10pm; Sat 11am-8pm; Sun 11am-7pm.