Italian restaurants in Paris
Pizza, pasta, prosciutto and Prosecco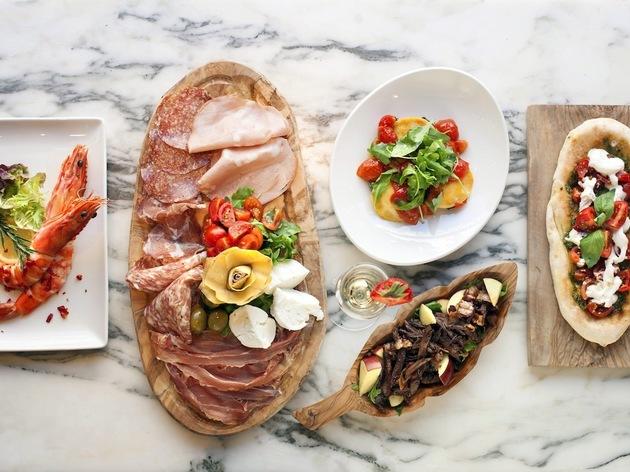 Everyone likes a slice of Italy – especially when it's topped with stringy mozzarella, fresh olives and tangy tomato sauce. These are our favourite restaurants in Paris for Italian cooking, from rustic trattorias to cutting edge chic.
Pizza
Mastino's menu is full of classic Italian dishes, but its décor less traditional, all industrial chic with its jet-black walls and exposed lightbulbs. An open kitchen riffs on the historically communal nature of Italian cooking, as the friendly waiting staff smilingly glide between tables. The food here is simple, but excellently done. Wines, meanwhile, are mostly Italian and span exquisite whites, reds and rosés, while classic cocktails like Spritz and negronis are also available...
Read more
Much to the delight of its faithful clientele, friendly Belleville bar Les Triplettes ambitiously branched out in summer 2016, opening up a Neopolitan pizzeria a little further along the Boulevard de Belleville. With its cosy teak wood terrace and rural cottage-like straw roofing, the new address oozes charm...
Read more
With its hefty tables, stone walls and exposed metal girders, neighbourhood pizzeria Il Posto feels more Italian-American than Italian. And yet, it's got all the makings of an authentic pizzeria: skilled pizza-makers (pizzaioli), dough-tossing, and a wood-fired oven made-to-measure by Neapolitan artisans...
Read more
Chef Mario's thick-crusted, well-presented pizzas are available to buy whole or in slices. Classic margaritas and calzones are available every day as well as a selection of toppings that change often: four cheeses, pepper and sausage, aubergine, artichoke heart and so forth..
Read more
With its elegant interior design, appetite-whetting pizza menu and smart and attentive waiting staff, this Left Bank Italian is as proudly classy as you might expect in the glamorous 7th arrondissement. Just around the corner from the Eiffel tower, Marzo places an obvious accent on classic yet refined Italian products like fresh buffalo mozzarella, taggiasche olives, capicollo (pork cold cuts from the Campania region) and various creamy home made artichoke and asparagus sauces...
Read more
Inspired by Italy's new wave mozzarella bars, Mazzucco is your go-to Parisian hotspot for a hit of cheese and pizza. We liked the Lorenzo – with bresaola, rocket and fresh parmesan – and a Calzone stuffed with tomatoes, spiced Calabrese 'nduja sausage, smoked ricotta and mozzarella...
Book now
Read more
The décor is minimal and the atmosphere supercharged, with the white-hatted and –aproned chef preparing and firing his ample pizzas in the centre of the room, making a fine spectacle as he manages his team and feeds...
Read more
An address which could only exist on the left bank, nestled into the busy streets of Saint-Germain-des-Prés where 'chic' is a religion in itself. But this contemporary, polished pizzeria (wood panelling, suspended lighting, design tiles and seating)...
Read more
Show more
More Italian dining
Café Odilon opened its doors at the end of April 2016, just in time for the summer. Customers can enjoy a generously ratio-ed spritz (or two) and a large doughy pizza in the neo-vintage interior and bask in the sunshine that pours through the large bay windows...
Read more
It's not everyday you come across a pizza van in central Paris, and especially not one like Le Camion à Pizzas in the 104 (rue d'Aubervilliers) arts centre: Its shiny black, retro-futurist bodywork looks like something from 'pimp my ride' and blends in perfectly with the wacky art installations...
Read more
Don't make the mistake of confusing Green Pizz with a pizzeria: there's nothing Italian about the menu here. Made from fresh, organic and mostly French ingredients, the 'pizz' is a fast food invention that only vaguely references an actual pizza. Toppings on the slender oval bases...
Read more
Professore is a restaurant that tries hard to please, and succeeds. From the moment you step through the door, you'll be struck by the classy décor, all soft lighting and Neapolitan dining tables. The same goes for Gocce, the bookshop-cum-bar in the back, whose sofas and thick carpets positively invite you to...
Read more
Ideally situated on the Canal Saint-Martin, L'Epicerie Musicale is a delightful hybrid of café-bar-restaurant-delicatessen-music store. The retro furniture gives the interior all the charm of an old Sicilian café, offset by graffiti art on the walls, a deli section with fish, wine, oils, hams fresh cheeses...
Read more