1/5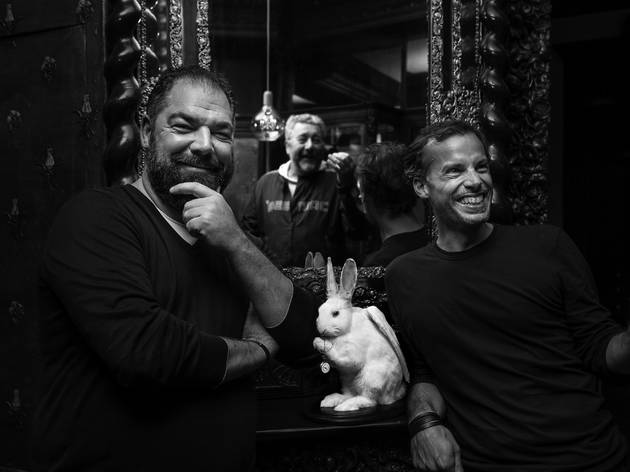 2/5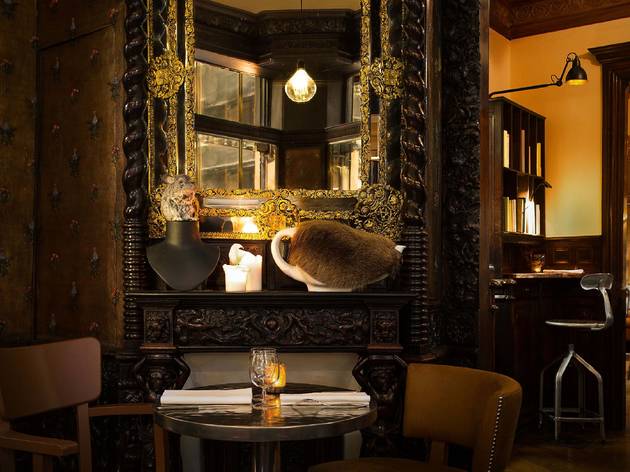 3/5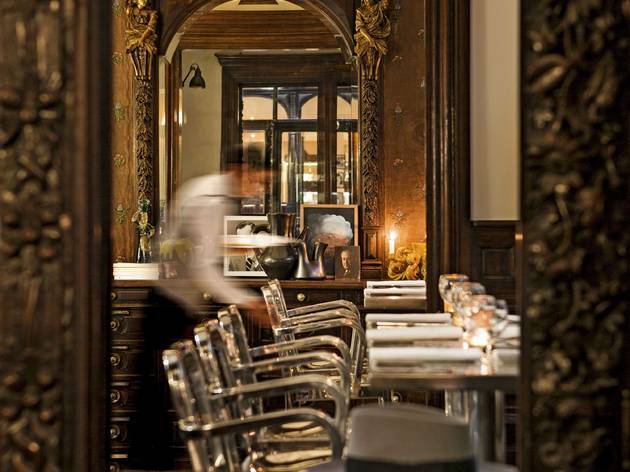 4/5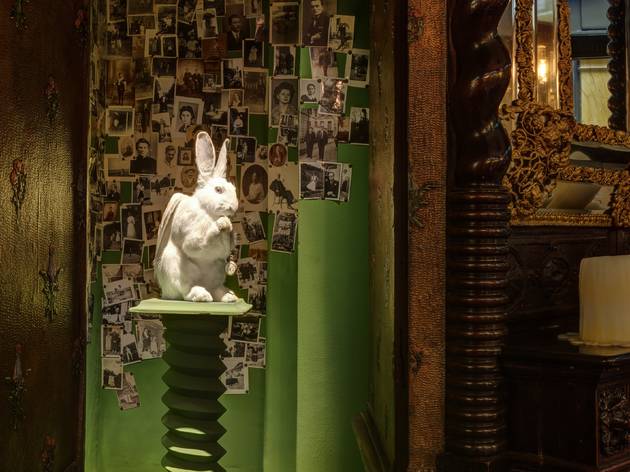 5/5
At the doorway of Caffè Stern, the latest hot restaurant opening to get over-stimulated Parisian tongues wagging, you pass between a pair of glass cabinets containing a stuffed lynx and a stuffed wolf, both draped in diamond necklaces. If that doesn't have you snipping your credit card in two at the mere thought of the bill, let's put it another way: Caffè Stern is only for people who are comfortable dropping a significant amount of money on lunch. There's nothing wrong with that, in the right circles, but don't edge past those dead-eyed Cerberi thinking you'll get away with it. Delicious it may be, cheap it ain't.

But now that we're all settled in and the overdrafts arranged, to business. Caffè Stern is the lovechild of some Very Important People in the food world – the Italian restaurant design group Alajmo, the Parisian entrepreneur behind Racines and Vivant, David Lanher, not to mention creative heavyweight Philippe Starck. So like a jewel in a box, this small space is the result of painstaking craftsmanship and expertise. Set in the peerless Passage des Panoramas, one of those glorious 18th century glass-roofed shopping malls that survived Haussman's scythe, Stern was an engraver's boutique that closed in 2007 and has now been reimagined as a high-class Italian 'Gran Caffè', hence the dripping jewels and daring design. It's undeniably beautiful – lovingly polished wonky wood is everywhere, cute touches like hats lined up as if in a boutique, shelves of books and single guttering candles suspended from the ceiling. If you want to come for a peek at the design job alone, sneak in at a quiet moment for a coffee or an apéro.

There is a €35 set lunch, which gives you a chance at a taste of the high life, but on our visit the kitchen seemed to reserve any fireworks for the à la carte menu. A starter of six cichetti, Venetian antipasti, brought some delicious things – a stuffed egg, a single perfect arancino – and some less successful, like the leaden polenta with salt cod. A potato 'cappuccino' tasted like a cup of lasagne filling without the pasta – nice, but slightly odd. The pasta of the day (obligatory for the lunch menu) was tomato and herbs – beautifully done, but rather uninspired for those wanting to taste Stern without a bitter kick from the bill. The dish that really sung out was a seafood pasta from the à la carte menu that was quite simply the most exquisite pasta dish your correspondent has ever tasted. Tiny rings of tender squid and flakes of lobster snuggled among perfect slender ribbons of sauce-drenched pasta that gave up layer upon layer of rich flavour – clearly the kitchen (a small, shiny, clattering open space in the centre of the restaurant) can work wonders, but only for people who can stride past the lynx and match them in furs and jewels.
Venue name:
Caffè Stern
Contact:
Address:
47
Passage des Panoramas
2e arrondissement
Paris


Opening hours:
Tue-Sat 9am-12mid