101 things to do in Paris
From classic promenades to quirky experiences, our definitive guide of great things to do in Paris has something for everyone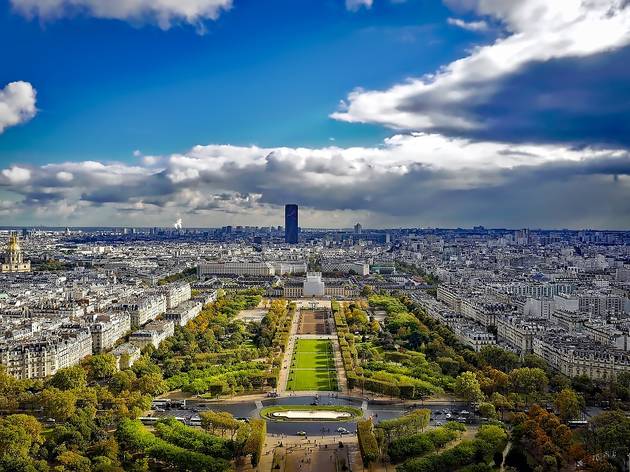 As a visitor in Paris – or even as a Parisian – there's something you just have to accept: it is impossible to do everything the city in one lifetime. Rather than get in a tangle over it, we've chosen the 101 best things to do in Paris.
Our selection falls into four categories. In the first group, you'll find the capital's unmissable attractions: the Eiffel Tower, The Louvre, walks along the Seine, Montmartre… Then there's the best cultural spots in the capital, which have given Paris its world-class reputation. Fancy checking out that Guatemalan artist you've seen all over Instagram or get sweaty in the crowd at a Slovenian rock concert? You're in the right place.
As for bars and restaurants, we hope you're ready to have your senses titillated because Time Out's resident foodies really know their stuff. And lastly, because even the most jaded tourists want a surprise, we've put together the quirkiest activities, so you can uncover every facet of the City of Light. Rest assured, you may never live to do all there is on offer, but you'll certainly be kept busy.
What is it? Parc des Buttes-Chaumont's iconic bar.
Why go? What a pretty name for such a bucolic drinking spot, found inside a little house at Buttes-Chaumont's highest point. Enjoy an apéro beneath the big trees, making the most of the last evening sun as well as the superb view. Don't miss the impressive selection of house wines and tapas.
Our tip? Come during the summer when the park stays open all night – that's where the party's at.
Visit l'Atelier des Lumières, a digital art museum from creative agency Turfu Paris
What is it? A brand new 300m2 studio space dedicated to digital art, bang in the middle of the 11th district.
Why go? A former smelting plant, this building remained empty for almost twenty years until Culturespaces decided to launch the city's first ever digital art centre. Its goal? To give the works the attention they deserve by projecting them across the ten-metre high walls using first-rate equipment including 140 film projectors with BARCO lasers, as well as 50 state-of-the-art Nexo speakers.
Our tip? Have a beer at the excellent Enkore next door.
Bars and pubs, Cocktail bars
What is it? For the (undeniably) best cocktails in the capital.
Why go? Discreetly hidden at 60 rue Charlot, with no door sign, the Little Red Door doesn't draw attention to itself. With its speakeasy charm and enigmatic entrance, its heady atmosphere and quirky interiors, this Little Red door opens straight into heaven. The menu is unique, take the unusual Art Deco cocktail: Bulleit Rye whiskey, Merlet Cognac, fermented dates with violet tea, served in an incredible glass shaped like a diamond.
Our tip? While you're there, pop into Bisou round the corner, another fantastic cocktail bar...this time with no menu!
What is it? A theatre with one of the best programmes in the country.
Why go? Yes, getting there may be a slog for some, but the experience is well worth it. Throughout the year, top actors, choreographers and directors perform on the Amandiers stage, reminding us that nothing compares to the joy of watching live theatre.
Our tip? Stop for lunch at the house café.
What is it? A deli serving the best ham and cheese baguette in the city.
Why go? It may be a tight squeeze inside, but the interiors are charmingly retro, with old-fashioned kitchen scales, vintage enamel advertising signs and yellow tiles on the walls. Take your pick from the mouthwatering menu; think classic Prince de Paris ham baguette, smoked chicken baguette and chorizo tortilla.
Our tip ? A perfect way to eat on the run while rushing to catch a show at Théâtre de la Bastille.
What is it? The only swimming pool in Paris on a barge.
Why go? This floating swimming pool is a true slice of paradise, with an unbeatable setting. Flanked by the Seine on either side, facing Bercy and only minutes from Bibliothèque Nationale de France-François Mitterrand, the Joséphine Baker barge is the star of the city's bathing spots. There's also a handsome pool complex covered by a majestic steel and glass structure by the architect Robert de Busni.
Our tip? Follow up your swim with a concert at Petit Bain, which is just a stone's throw away.
Try a game of colour-blind chess at Buren's Columns
What is it? One of the most controversial artworks of the last 40 years.
Why go? The art installation deux plateaux (two levels), more commonly known as Buren's Columns, has continuously stirred debate since it was created in 1985. Can you believe it? 260 columns of black and white marble in the historic court of the Palais Royal. While hardly subtle, the work attracts plenty of tourists, for whom loudly jumping on the cylinders evokes blissful childhood nostalgia.
Oue tip? Take a break from the crowds with a stroll in the Palais Royal gardens, before sipping a matcha latte at Kitsuné.
Shopping, Markets and fairs
What is it? One of the most typical Parisian markets.
Why go? This historic Parisian market takes its name from the Enfants Rouges (Red Children) orphanage built in the 16th century and closed down just before the revolution. It also one of the Marais' most iconic buildings. Saturdays are when the market is at its liveliest, but you'll have a hard time choosing between the different stalls: Moroccan, Italian, Lebanese, or fresh food from the little cafe Enfants du Marché. Try it all if you can!
Our tip? Before you go, take a look round the cactus shop Aux Succulents.
What is it? A former railway station in Saint-Ouen, now known for its artistic cache.
Why go? Transformed by three young Parisians, Hasard Ludique brings to life a quiet, remote area between Saint-Ouen and métro Guy Môquet. The venue is multi-purpose, with a bistro, a 300-capacity concert hall, an outdoor terrace and a studio space full of collaborative art. For evening downtime, this ticks all the boxes.
Our tip? The new 300m2 terrace opens up onto the railway tracks.
Drink at Moncœur for one of the best views of the city
What is it? High on the hills of Belleville, this is the most beautiful terrace in Paris.
Why go? Aptly called Moncœur (My Heart), this restaurant prides itself on authenticity. While the area contains several tourist traps – a huge terrace bordered by cobbled streets, and sweeping city views that to rival the front of any postcard – it's the intimate, local vibe that keeps us coming back.
Our tip? You won't find a better spot to watch the fireworks on Bastille Day.
Show more