50 things to do in Penang: Arts and culture
Check out cool street art, smash some coconuts and more. Here's how you can channel your inner culture vulture
Street art such as the murals of Ernest Zacharevic and steel sculpture of Marking George Town is all over the heritage area of George Town. Either walk or take a trishaw ride through Lebuh Armenian, Jalan Penang and all the narrow streets in-between to have a look at them up close.
Theatre, Performing arts space
penangpac is located on the sixth floor of Straits Quay mall and has a host of theatrical performances as well as foreign film screenings programmed throughout the whole year.
Attractions, Religious buildings and sites
Waterfall Hilltop Temple is a splendid representation of the Hindu devotees. It's a 500-step climb but at the end of it you'll see a 180-degree view of Mount Erskine and Gurney areas. Before reaching this temple, there are three smaller temples at ground level that are worth a visit too. These temples are in the spotlight each Thaipusam with the one on the hill being the main star.

Main art galleries such as Penang State Art Gallery at Dewan Sri Penang have exhibitions all year around plus their permanent exhibition and they organise art forums and workshops too. Tuanku Fauziah Museum and Art Gallery on the campus of Universiti Sains Malaysia (USM) has on-going interesting exhibitions. Their permanent exhibit includes Nyonya and aboriginal pieces and Malaysian traditional musical instrument.

Penang State Art Gallery Ground floor, Dewan Sri Pinang, Lebuh Light, George Town (+604 261 3144).
Tuanku Fauziah Museum and Art Gallery Universiti Sains Malaysia, Gelugor (+604 653 3888).
5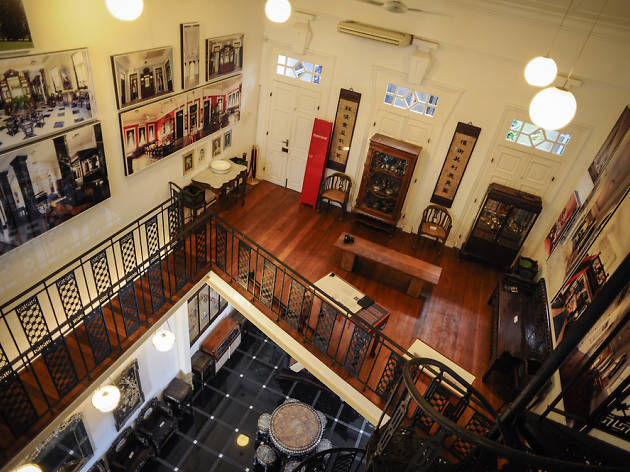 Imagine the past grandeur of 19th-century Peranakan home
The House of Yeap Chor Ee on Lebuh Penang is a museum that's housed within the first residence of Penang's prominent tycoon, the late Yeap Chor Ee and it exhibits Chinese antiques belonging to the family. Another one is The Penang Sun Yat Sen Centre that showcases contributions made by Dr Sun Yat Sen in shaping the history of China through a series of dioramas including the conference he held in Penang.

Penang Sun Yat Sen Centre 65 Jalan Macalister, George Town (+604 228 5119).
The House of Yeap Chor Ee 4 Jalan Penang, George Town (+6012 482 5191).
Attractions, Religious buildings and sites
Wat Chayamangkalaram is a Siamese temple on Lorong Burma, just a stone's throw away from Bangkok Lane and Jalan Kelawai. It houses a 180 feet long reclining Buddha swathed in gold and quite a sight to behold. The grand Temple of the Nine Emperor Gods on Jalan Raja Uda in Butterworth is definitely worth a visit too.

Wat Chayamangkalaram Buddhist temple Lorong Burma, Pulau Tikus (+604 226 8503).
Temple of the Nine Emperor Gods Jalan Raja Uda, Butterworth.
Museums, Fashion and costume
The newly opened Straits Chinese Jewellery Museum on Lebuh Gereja showcases traditional jewellery worn by Nyonya and Baba in the old days. The specialised museum is housed in an enchanting old mansion called Pinang Peranakan Mansion that exhibits the old Peranakan lifestyle.
Shopping, Markets and fairs
Little Penang Street Market is held every last Sunday of the month at Upper Penang Road. You can find books on Penang history, artists displaying their pieces and locally produced products such as jewellery and clothing here.
Lion dance is the traditional cultural performance often performed during the Chinese New Year (between January and February). Accompanied by loud drums, cymbals and a gong, the lion dancers achieve acrobatic feats either at ground level or atop tall and narrow stilts to chase away bad luck. There are usually many performing around George Town buildings or houses and shopping malls during this Chinese festival.
10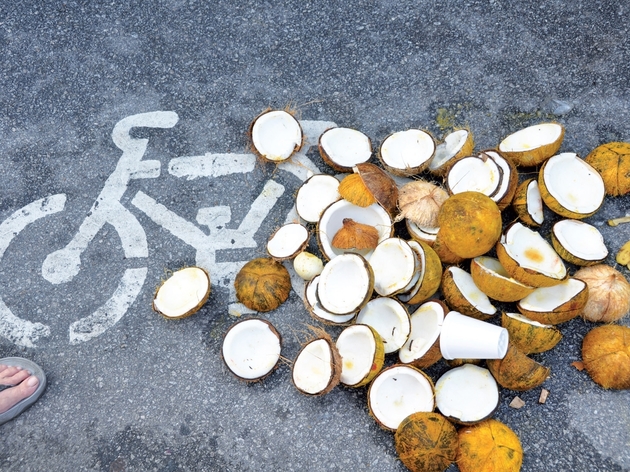 Smash a few coconuts at a Thaipusam festival
Thaipusam is the biggest festival celebrated by Hindu devotees, this celebration involves a two-day parade in Penang. This is when a chariot carrying an important Hindu deity journeys from a temple within George Town towards the beautiful Waterfall Hilltop temple on Jalan Kebun Bunga. Since it's a vividly colourful festival and the roads are filled with devotees and stalls offering free food, this is very possibly the most photographed religious festival in Penang.