101 things to do in Porto
Get your camera, your walking shoes and even your bathing suit — we are dissing the 101 things to do in Porto. What are you waiting for? Let's get going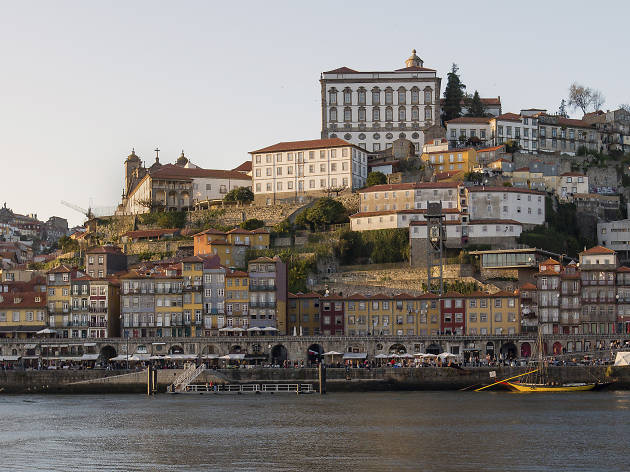 There's so much to do in Porto that it was really hard for us to chose the top 101 things to do in the city. These are all the mandatory spots. Enjoy the city, the river and even the beachs. One piece of advise? Start your day early because there is so much to see.
Done something on this list and loved it? Share it with the hashtag #TimeOutDoList and tag @TimeOutEverywhere.
Find out more about how Time Out selects the very best things to do all over the world.
Things to do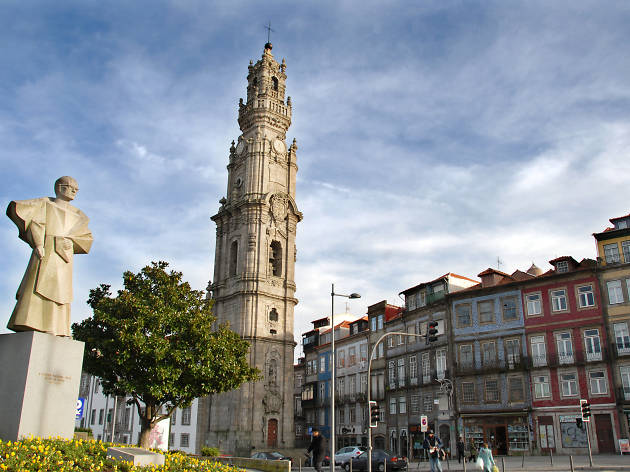 Attractions, Monuments and memorials
Besides being one of the most important monuments in Porto, it also has one of the best panoramic views over the city – if you feel like taking all the 240 steps to the top of tower, of course.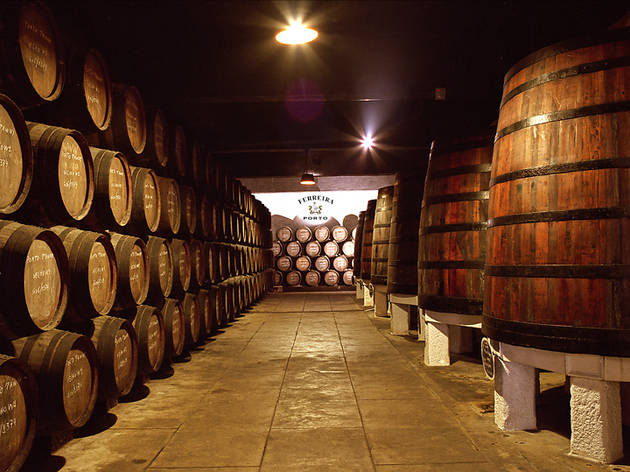 Attractions, Historic buildings and sites
If you cross the bridge to Gaia, you'll get the chance to know how Port wine cellars are on the inside. Caves Ferreira is one of the eldest in the city and if its historic relevance is of no importance to you then just go for the Port wine.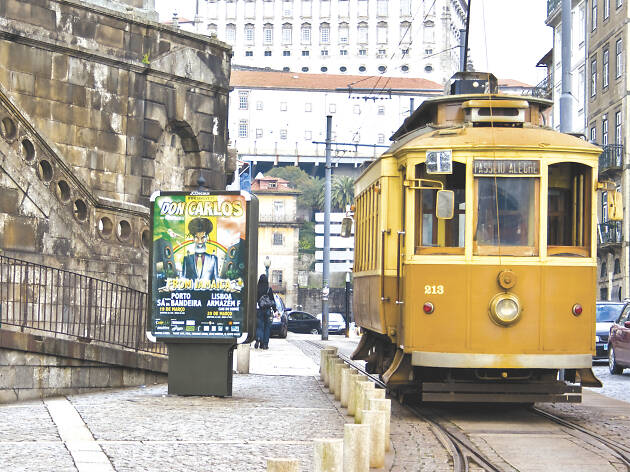 ©DR
Hop on Eléctrico Número 1
It's time to leave Foz and there's no better way to do so than to take the tram. Buy the ticket directly from the driver and enjoy the trip all the way to Ribeira. There are only three of these in town, the number 1 (which offers the best views), 18 and the 22, and all of them cover different routes.
Shopping, Chocolate and sweets
The oldest brand, born in 1914, is called Avianense and its top product is the Imperador bonbons; another classic is Imperial, which sells Regina umbrellas and Jubileu almonds; at Arcádia you'll have to try their "línguas de gato" cookies.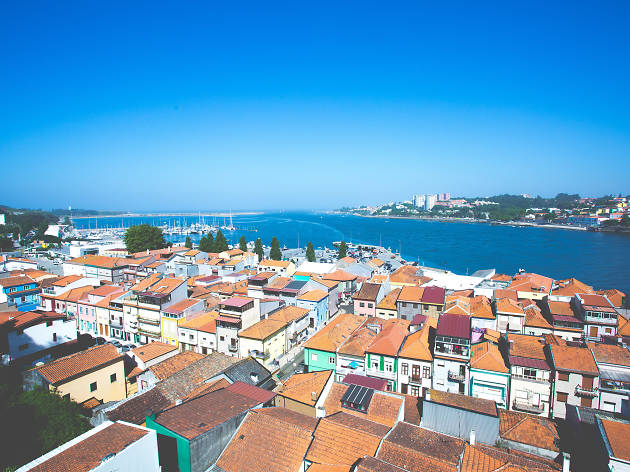 © João Saramago
Jump on a boat to Afurada
This way you'll have a meal of grilled fish in one of the good restaurants of Afurada, a town of fishermen. You'll catch a boat named Flor do Gás — departures are every 15 minutes; it's almost like a taxi ride. Once you get there, enjoy a magnificent view of Porto.
Some say J.K. Rowling took inspiration from it for her Harry Potter books; international media call it one of the world's most beautiful; we say it's worth it to buy a ticket and wait in line to enter the Lello & Irmão bookstore.
Attractions, Historic buildings and sites
The expertise in building traditional rabelos boats in miniature has been in Sr. Fernando's (Náná) family for generations. At the Oficina do Náná you can watch the master sculpting the models that people love to photograph, but not everyone remembers to buy.
Don't be surprised to see local kids at Ribeira jumping into the river from the lower deck of the Luiz I bridge. As well as being a great way to cool off on hot days, they aim to win a few coins with their bold acrobatics.
Attractions, Towers and viewpoints
Otherwise known as the Ascensor da Ribeira (Ribeira lift), this whisks you up from the Rua da Lada to Barredo, further uphill in the Ribeira neighbourhood, in a trip of less than a minute. It's free and it'll give you a different view of the town.
Shopping, Markets and fairs
There's a chance that by the time you're grabbing this map the famous old Bolhão market has already moved to a temporary home due to restoration works on the original market hall. If that didn't happen yet, go there as soon as you can.
Show more
Urban art
You have to enter this former factory and seek out the artists' interventions, but the effort is well worth your while to find a gallery lined with works by Portuguese 'writers' HBSR, Hium, Klit, Mars, Vhils, Youth One, Caos, Oker and Mr. Dheo and, over from London, Best&Ever.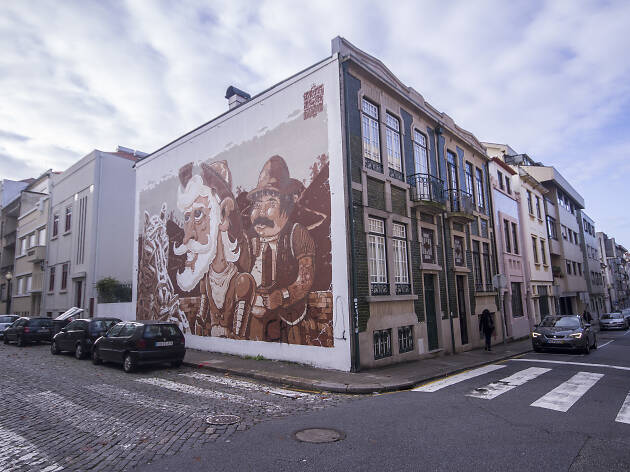 © João Saramago
There are plenty of works by Hazul around town, as well as from many others that have disappeared. One of the most iconic pieces is right in Rua Miguel Bombarda, with many art galleries. Take also a look at the mural by Tina Siuda on the Hotel Mercador and, further along, the D. Quixote.
Rua Miguel Bombarda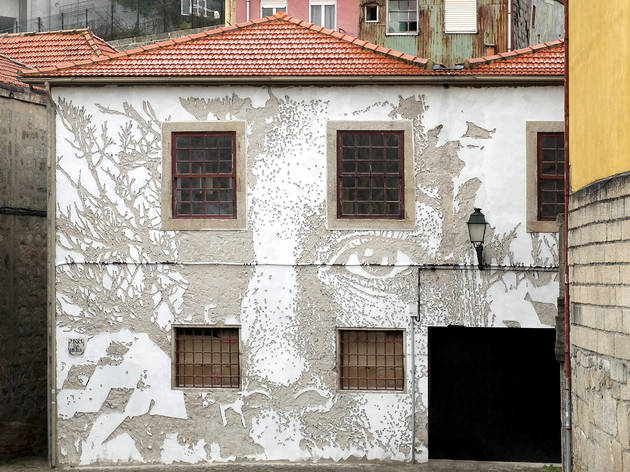 Vhils is Portugal's best known exponent of urban art, and already well known internationally. This is one of just two works of his in Porto and it is easily found. It features his signature style, with a giant face sculpted out of a building's façade.
Rua da Atafona/ Rua da Ancira, 6-8 (Miragaia)
Feed your Instagram with the old man on the wall
Frederico Draw, a famous Portuguese artist, chose this wall for strategic reasons: it is next to Ponte Dom Luís I (Dom Luís I bridge), so that the figure he painted welcomes all those who arrive in Porto from Vila Nova de Gaia. Wasn't it a great idea?
Avenida de Vimara Peres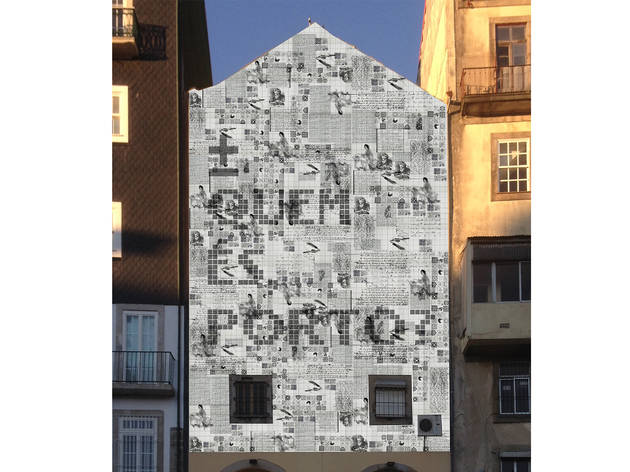 ©DR
Find the answer to the question "Who are you, Porto?"
This work is made up of 3,000 ceramic tiles contributed by dozens of participants, each of whom had four tiles to answer the question "Who are you, Porto?". The idea came from ±maismenos±, one of Portugal's most socially and political active artists.
Rua da Madeira
Beaches