Hotels
Your guide to the best hotels in San Francisco, and travel to and from the city
Cheap hotels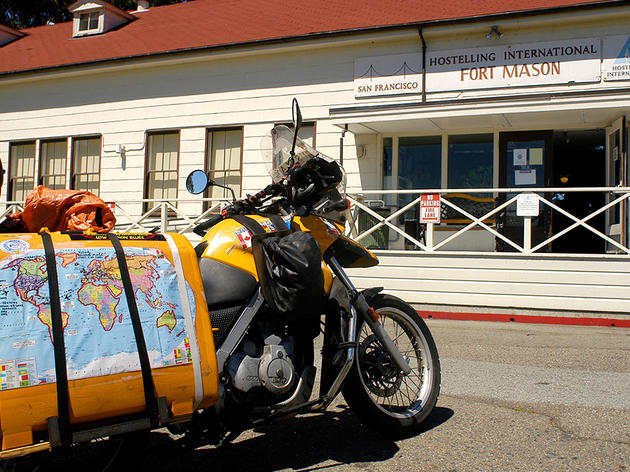 HI Fisherman's Wharf
It's hard to believe one of San Francisco's best bets for a view is actually a hostel. Perched on cliffs above the Bay, with the Golden Gate and Alcatraz rising in the background, the HI Fisherman's Wharf sits on a former military base turned national park. Built as Civil War barracks, the 1863 building is now a spiffy 180-bed hostel, flooded with natural light. Private rooms are a steal, but share a bath. Dorms vary in size, with between four to 22 wooden bunk beds. Breakfast is included in the rate, and there's an onsite café that serves three meals a day, plus beer and wine. Extras include a giant kitchen, a 25-seat movie theater, spacious common areas with a fireplace, laundry facilities, internet kiosks, nearby hiking trails and bragging rights to the city's best real estate.
Check prices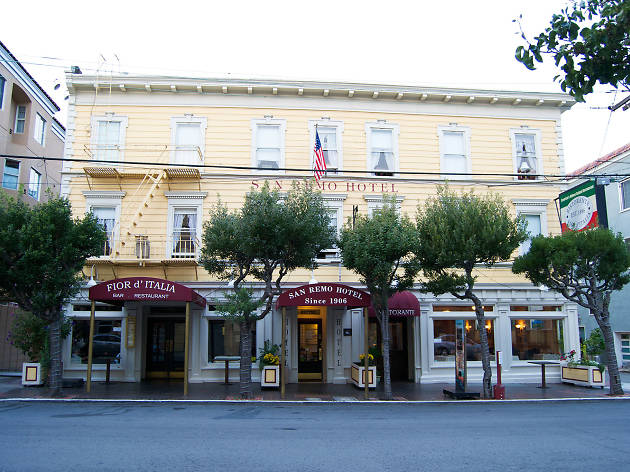 San Remo Hotel
Built in 1906 to house dockworkers displaced by the Great Fire, the San Remo Hotel is one of the city's best bargains, but you'll have to share a bath. The spotless Edwardian-era property has 64 simple rooms, with brass or iron-framed beds, pinewood furniture, Oriental-style rug and optional sink. Be forewarned that some rooms face interior hallways: If you value fresh air, book an exterior room (all rooms with sinks face the outdoors). The decor skews Victoriana, and though some pieces are old, everything is scrupulously maintained. For a splurge, book the Penthouse Room, a freestanding hideaway rooftop shack with ensuite bath and knockout views. There are no TVs and no elevator—plan to climb stairs.
Check prices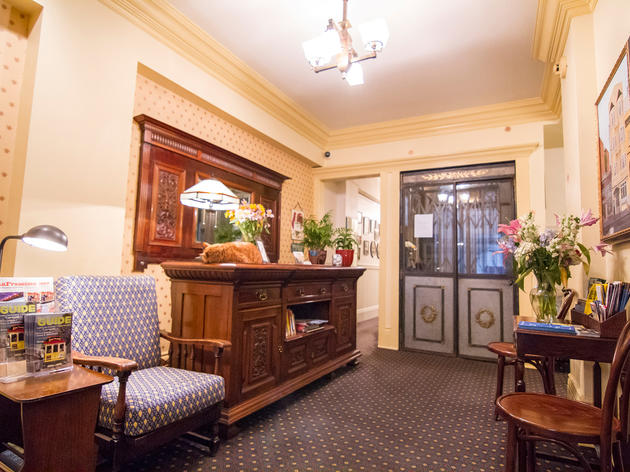 Golden Gate Hotel
This humble 25-room Edwardian B&B hotel is a real charmer, complete with a 100-year-old birdcage elevator, freshly baked afternoon cookies and a tabby cat asleep on the lobby's Victorian sofa. The building dates from 1913, and the floors sometimes creak, but the kindly owners scrupulously maintain everything—even the windows are clean. Playing to middle-agers not party kids, rooms are decorated with white wicker, Colonial-American wood furniture, and French-provincial prints. Beds are better than you'd expect at this price point, with both feather and foam pillows. Some rooms have ensuite baths with claw-foot tubs; others have showers or just in-room sinks. Light sleepers: Request a room not facing busy Bush Street.
Mid-range hotels
Inn at the Presidio
A woodsy alternative to downtown hotels, Inn at the Presidio is a National Park Service lodge on a former military base at the Golden Gate Bridge. The red-brick inn was originally built 1903 to house bachelor officers, and in 2010 was converted to a boutique B&B. Seventeen of the 22 oversized rooms are 530-square-foot one-bedroom suites, but even standard rooms are gigantic, and all look like a catalogue spread from Restoration Hardware, with distressed leather furniture and white-on-white damask sheets. Note: Ground-floor rooms may front on a rocking-chair veranda; if you prefer total privacy, book the third floor, though there's no elevator. Outside are 24 miles of hiking trails. The obvious drawback is the proximity to downtown: A taxi costs about $35, but free daytime shuttles get you there in 30 minutes.
Check prices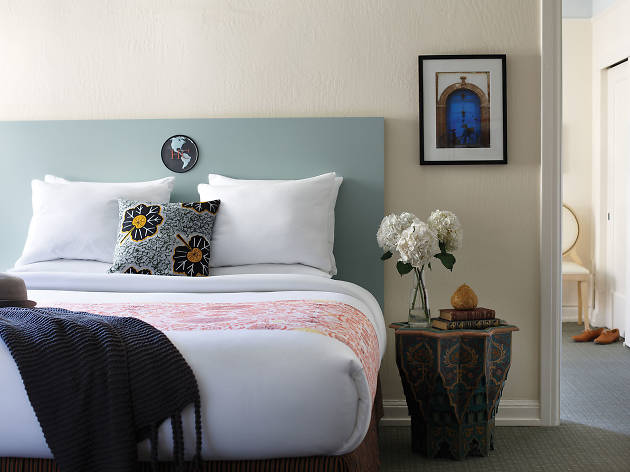 Hotel Carlton
One of the city's best-value mid-range hotels, the Carlton got a total makeover in 2013, but because it's just beyond the usual tourist path, rates are lower than at comparable Union Square-area hotels. This is an older building, built in the 1920, with fire-sprinkler pipes running along the hallway ceilings, but there's nothing old-fashioned about the finishes in the rooms, which include iPod docks, multiple surge-protected outlets, and Keurig coffeemakers. The design aesthetic draws inspiration from Morocco, with lush jewel tones playing off white-on-white bed linens. The subway-tile bathrooms are compact, but have enough room to unpack your things. If you're a light sleeper, request a high floor and a room without a connecting door.
Check prices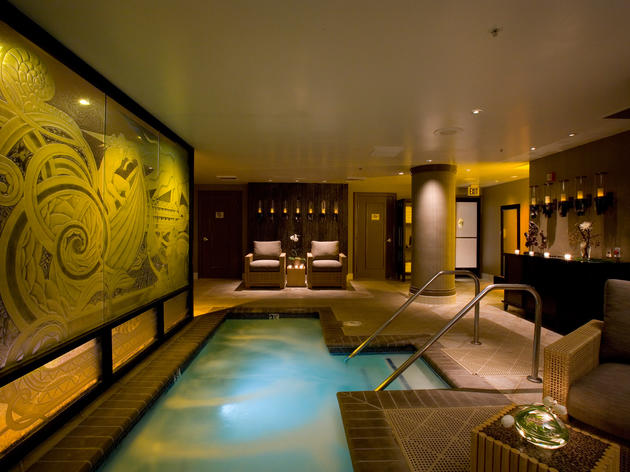 Hotel Monaco
The flagship of Kimpton hotels, the Monaco exemplifies the brand's playful spirit and exceptional service, with eye-popping design elements, unexpected amenities, and a welcoming staff eager to help. The grand lobby of the 1915 building is dominated by a sweeping marble staircase, rising beside a walk-in fireplace of comic-book proportions. Guest rooms are a riot of color and textures, with stripy wallpaper in bold primary colors, filigree prints, red-lacquered side tables, white plantation shutters, and indigo-blue walls. Long desks, copious outlets, and swiveling leather task chairs appeal to business travelers, but cheetah-print bathrobes, in-room yoga kits and goldfish bowls complement functionality with fun. The on-site fitness center is better than average, and adjoins a small spa with sauna, steam and Jacuzzi available to guests for no additional charge.
Check prices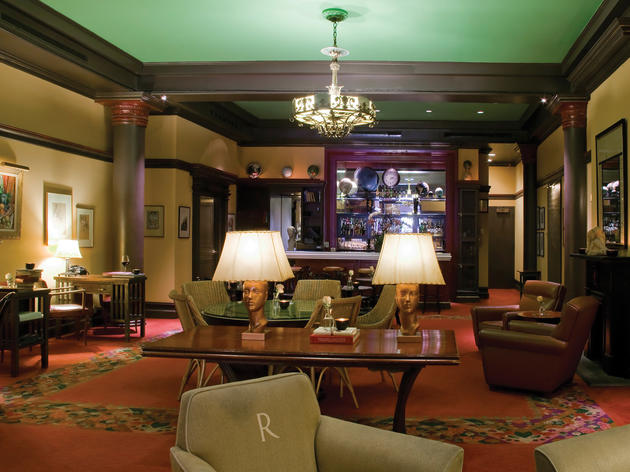 Hotel Rex
Named for Kenneth Rexroth, emcee of the fabled Six Gallery reading series that launched the Beat Generation, the Hotel Rex draws design inspiration from literary salons. Bookshelves and paintings of famous writers line the walls of the lobby bar, which frequently hosts readings and cabarets, and pages from 1950s editions of the San Francisco Social Register paper the elevator walls. The 94 rooms are long on character, styled in moody browns and purples, complemented by dark wood furniture and lampshades stenciled with Impressionistic figures. Extras include good linens, quality bath amenities, iPod docks and mini fridges. Beds are a mix of kings and queens (if you care, voice your preference). Some rooms are dark, in part because of window air-conditioners, so request a high floor for more light—or plan to sleep in.
Check prices
The best hotels in Downtown San Francisco