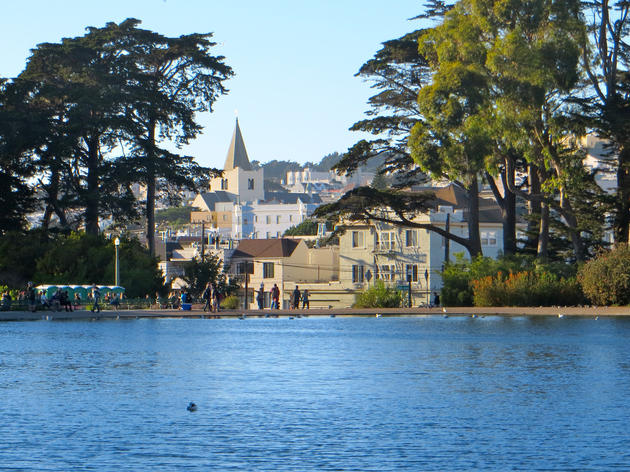 Sunset, Golden Gate Park and Richmond neighborhood guide
Find the best restaurants, bars, shops, attractions and things to do in Sunset, Golden Gate Park and Richmond with our insider's guide to the area
To many visitors, and even some San Franciscans, the Richmond and Sunset districts are largely unexplored areas that sandwich Golden Gate Park. Less flashy and more foggy—for some, this is the real San Francisco. Bordering the northern flank of Golden Gate Park, from roughly Masonic Avenue to the Pacific Ocean, the largely residential Richmond District is a cultural melting pot of Asian, Russian and Irish communities. Once a sandy wasteland, the region was developed after the construction of the Geary Boulevard tramway in 1906. Eastern European Jews formed a strong community after World War I, and many of their synagogues and delicatessens still thrive.
Clement Street, the district's primary commercial corridor, stretches from 2nd Avenue all the way to 34th Avenue, and the area between Arguello and Park Presidio boulevards arguably offers a more accessible Chinatown than the more famous one downtown. Coastline-hugging Lincoln Park contains a spectacular golf course that overlooks the Golden Gate Bridge, as well as the California Palace of the Legion of Honor fine arts museum, a replica of the Palais de la Legion d'Honneur in Paris, built by George Applegarth in 1924 to honor California soldiers who died in World War I. A number of hiking trails branch off from here and meander along the spectacular cliffs at Land's End.
South of Golden Gate Park, the Sunset District mirrors the Richmond in terms of its Irish and sand-dune origins, but stretches of the Inner Sunset, especially the quadrants around Irving Street and 9th Avenue and Judah from 45th Avenue to the Ocean, are rapidly turning into hipster hamlets, with trendy restaurants, bakeries and boutiques. The Sunset's main attraction, however, is way out west where the turf meets the surf. Thin, sandy Ocean Beach is a good spot for a contemplative wander to watch surfers battle strong rip tides and chilly waters. Fort Funston, a large, natural dune area on the southwest edge of the city, is a favorite place for dog walkers and hang gliders. Just down the road, the San Francisco Zoo borders picturesque Lake Merced, encircled by biking and jogging paths.
Things to do in Sunset, Golden Gate Park and Richmond
Restaurants and bars in Sunset, Golden Gate Park and Richmond
Shopping in Sunset, Golden Gate Park and Richmond
Best selling Time Out Offers