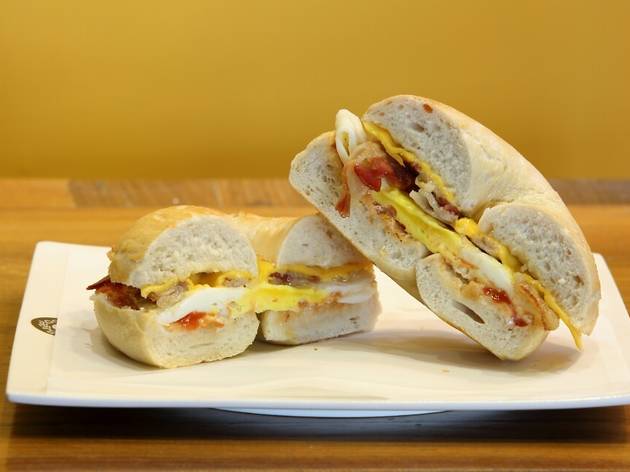 Confession: The thought of a New York bagel can bring me to tears. Sure, it has more to do with general homesickness than just remembering "the hard on the outside but chewy and moist on the inside" texture of Ess-a-Bagel on 3rd Ave, but I literally dream about their toasted garlic bagel with vegetable cream cheese at least once a year. And no one is a greater skeptic than I am when I hear "decent bagels have come to Seoul." With this in mind, my expectations are low as I head over to Bageloo near Wonhyo Bridge and I think: "Even if these are okay, why would I come all the way here?" Reluctantly, I try a sample of their cinnamon-raisin bagel and it's so good that I'm reluctant to believe it. It's not dry on the outside with crumbling bits of bread on the inside like so many imitations I've tried outside of the Big Apple. Their selection of bagels—everything from plain to whole wheat, blueberry, garlic and more—are impressive. Bagels are offered with a variety of cream cheeses (nutella, honey walnut and jalapeño being some of the more interesting options), as well as your pick of classic bagel sandwiches. Manager Phillip Oh and his parents, who run the place as a family business, greet us in flawless English. My order of a toasted garlic bagel with vegetable cream cheese comes out and I have to ask, "Wait, how did this happen?" The Ohs aren't even from New York! They're from California! Hardcore New Yorkers often believe that both pizza and bagels are New York specialties because of the special balance of calcium and magnesium in the state's water; so out-of-state good bagels are unheard of (Rosenberg Bagels in Colorado even developed a process to recreate New York water to ensure bagel quality.) It turns out that the Oh family (bagel lovers, themselves) boil the bagels in sea salt water and they've spent several months in New York researching and learning how to craft "the perfect bagel." I ponder over how close to perfect it is. Although my personal preference is for bagels to be a bit harder, the inside is indeed the right balance of moist, easy on the teeth with a bit of a chew. The vegetable cream cheese is light and doesn't smother the taste of the bread in one bite. Maybe not my version of "perfect," but this bagel's good, even by New York standards. Finally, I can sleep soundly at night.
Venue name:
Bageloo (CLOSED)
Contact:
Address:
118-1, Wonhyoro 4-ga
Yongsan-gu
Seoul


Opening hours:
Mon–Fri 8am–9pm
Transport:
Namyeong Station, Exit 1
Price:
Bagels 1,900–2,300 won, cream cheese 1,800 won.