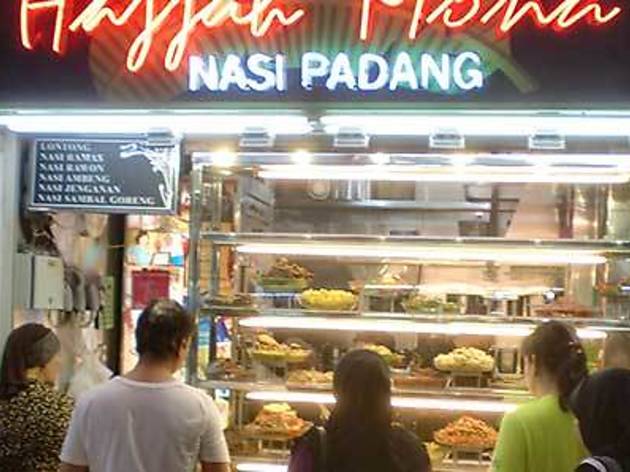 What's it like? Located between the bustling thoroughfares of Changi Road and Sims Avenue, the Geylang Serai Market has been a focal point for the local Malay community since it was built in 1964. For 42 years, stallholders eked out a living behind makeshift stalls in ramshackle conditions, sweltering under a rusting zinc roof. Finally, in 2006, the aging market was torn down as part of a government redevelopment project for the entire vicinity of Joo Chiat, and in 2010 was replaced by a two-storey concrete block with its distinctive three-tiered grand entryway. Now, the airy 955-seater Geylang Serai food centre sits on the second floor, sharing the enclosed 9,000 sq ft floor space with a wet market and a battery of shops laden with clothing, groceries, household goods and other bric-a-brac. The market is a hub of frenetic activity from sun up to sun down, and retains its Malay roots, with plenty of Malay and Indian-Muslim specialities on offer.

What to eat? The market is home to not one but two legendary nasi padang rice stalls – both with a highly distinctive style. It would be hard to miss Hajjah Mona Nasi Padang (Stall 166), given that it stands beneath a neon signboard (and of course, has a regular queue). The affable matriarch and her helpers are a dab hand when it comes to cooking the scrumptious smorgasbord of everyday kampong fare (priced from $0.70 per dish) including ayam belado (spicy fried chicken), sambal terung (eggplant with chilli) and sayur lodeh (vegetable curry). Their rendang daging is highly recommended – the beef is tender and richly stewed in an aromatic blend of spices deftly finished with coconut.

Sinar Pagi Nasi Padang (Stall 137) is the older of the two famous nasi padang stalls, having opened for business in 1966, some 20 years earlier than Hajjah Mona. Its colossal collection of dishes (priced from $0.70 per dish) is prepared in the Kapau Indonesian style, which is renowned for its fiery zing and fairly conservative use of sugar. Signature dishes include the decadent and smoky ayam panggang (grilled chicken), moist paru (beef lung) belado and sotong hitam (squid in black ink). They also have outposts at Circular Road and Bukit Merah ABC Market.

Mutton and chicken briyani rice ($4.50) are churned out in vast quantities by Haji Mohammad Yusoff Warung (Stall 169) to feed the ravenous, snaking queues. Their rendition of this Indian Muslim classic is slightly drier than other varieties, but their gravy though rich, is not cloying. A scorching and tangy cucumber achar (pickle) accompanies every dish. Mutton is the hot favourite here, but get there early, as it finishes by mid-afternoon on most days. Succulent morsels of chicken, beef and mutton are tossed in sweet marinade before being chargrilled to perfection at Alhambra Satay Club (Stall 145/160, $5/ten sticks). Alhambra's peanut sauce is fragrant, velvety and crunchy, and as a mark of authenticity, this former tenant of the Esplanade's now defunct Satay Club actually makes their own ketupat (rice cakes). If you've ingested just a little too much spicy food, cool down with an icy bowl of cheng tng ($2) from 40-year old market veteran Geylang Serai Chee Kong Cheng Tng (Stall 149). The refreshing and not-so-sweet potage comes with generous helpings of sweet potato, gingko nuts, barley, longan, lotus seeds and white fungus. The hot version is probably best eaten on rainy days. Linda H
Venue name:
Geylang Serai Market & Food Centre
Address:
1 Geylang Serai
Singapore
402001

Opening hours:
Daily 8am-10pm
Do you own this business?
You may be interested in: