Hawker spotlight: Chop Chop Biryani and Meats
Each month, we check out a hawker and recommend a local dish to try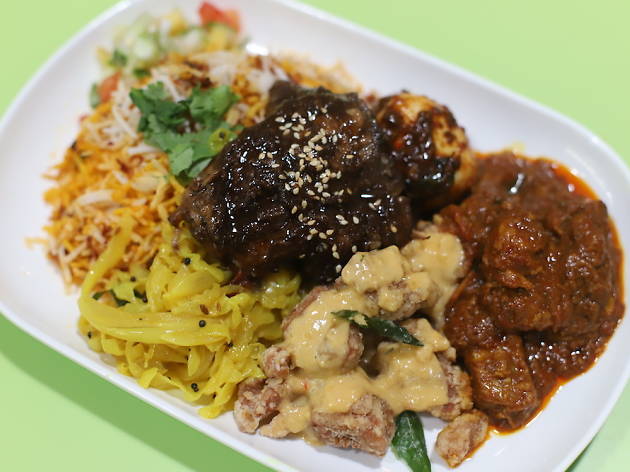 Nasi biryani served with a side of Cantonese roast pork belly might have purists throwing their arms up in despair – but isn't that what Singaporean food is all about? Combining cuisines and crossing cultural boundaries to create something delicious. The idea came to Chop Chop Biryani & Meats' owner Gino Goh by chance. He brought his signature siew yoke to a potluck one day while a friend made biryani. The combination was so good, it sparked a business idea in him.
Goh is no stranger to the food scene in Singapore. He's been a chef for 12 years before moving on to consult for The Refinery, Cafe Nido and Tyrwhitt Little Cafe. He set up Chop Chop in August last year at Amoy Street Food Centre – already a hotbed of young hawkerpreneurs – and sees it as a space to test out locally-inspired fusion dishes.
"Growing up in Penang and in a Peranakan family, I'm very familiar with spices," Goh shares. "All this while, I've been cooking more ang moh food, so I wanted to go back to my roots and do something local but with a twist." Chop Chop does biryani sets with an unconventional choice of protein: siew yoke, soft bone pork masala, grilled sotong, char siew and salted egg chicken. Prices start at $5 for one meat, $6.50 for two and $8 for three and each set comes with a side of cabbage, egg, pineapple salsa, papadum and fluffy basmati rice studded with spices.
While the siew yoke is a perennial fave, give some of the other options a go. The soft bone pork masala is a star – stewed for 12 hours with tomatoes and spices, the masala is lusciously thick with just the right amount of heat. The char siew braised in hoi sin and dark sauce doesn't look like much but the fatty slab of meat is fork tender and easily slides off the bone. As for the salted egg chicken, give it a miss. The stale bite-sized pieces of chicken are more flour than protein.
New sides are constantly being developed and Goh plans to collaborate with other chefs to launch another hawker concept in May. "At hawker centres, we have a ready crowd so it's a good place to try something new," explains Goh. "We don't need as much capital for the initial investment so we can afford to experiment and fail a couple of times before we finally get things right."
4 Questions with Gino Goh from Chop Chop Biryani and Meats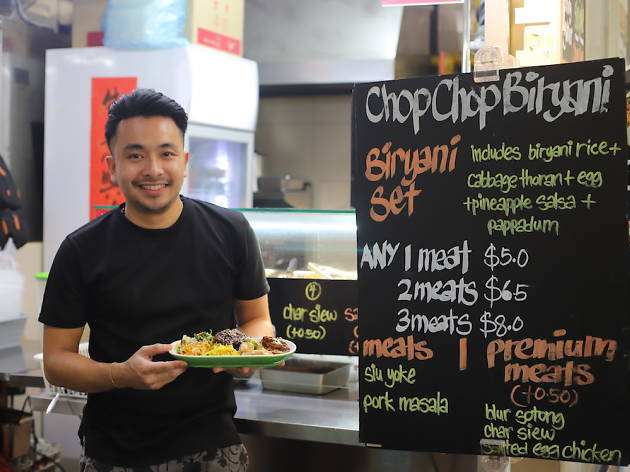 1. What's the biggest challenge you face?
The lack of space. In a restaurant, I can prepare things in larger volumes because there's room for storage. But now, making enough food for 120 to 150 plates a day is all I can manage. It's also really hot.
2. What do you think people don't realise about being a hawker?
Customers only see us scooping curry on the plate and don't see the amount of work that goes into it. Most of the things we serve are braised for six to 12 hours. We put everything in the oven and come back the next day at six in the morning to check on it and we only charge $5 for restaurant quality food in bigger portions.
3. What advice would you give to people who want to be a hawker?
Consider the income and the hours – you're looking at 10 to 15 hour days for hardly any pay. But if you have the passion, then let everyone see what you have to offer. As a hawker, more people can enjoy your food on a daily basis.
Go there now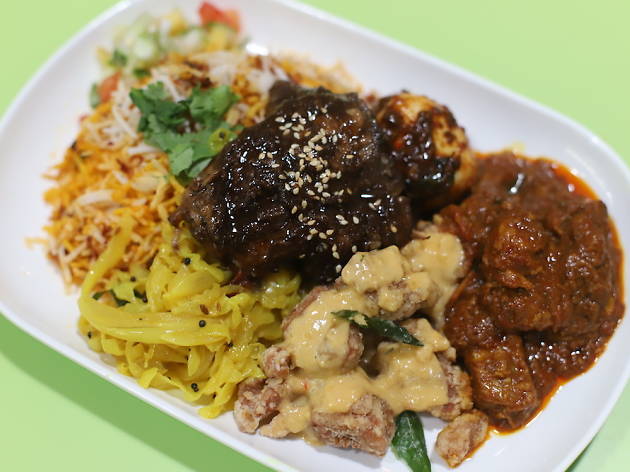 Visit Gino Goh's stall at Amoy Street Food Centre for pork-based nasi biryani.