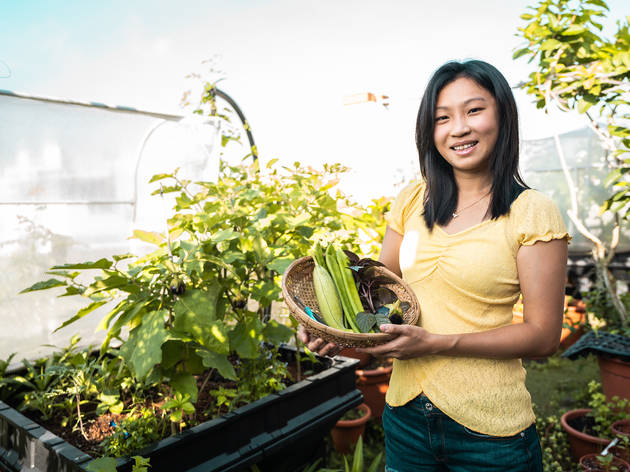 Garden city: why Singapore has gone bananas for home farming
Lockdown has planted the seeds for a green-fingered revolution – and it goes way beyond the simple pleasure of gardening
Singapore has long been known as a 'garden city', thanks to the lush tropical greenery lining her streets. So it's only natural that during almost two months of lockdown – known locally as the 'circuit breaker' – a desire has been growing to bring a piece of the outdoors indoors.
A new surge of Singaporeans have picked up their rusty gardening tools and started growing vegetables and fruits at home – more often than not, in small, high-rise apartments. And it's not just for the sheer satisfaction of getting green-fingered.
Joanna Chuah (pictured above) is the founder of WWEdibles, a small business selling her home-grown produce. She says that lockdown provided the ideal reason for Singaporeans stuck at home to switch to edible plants. "During 'circuit breaker', you couldn't go out and buy ornamental plants like monsteras and alocasias, because you need to get them from specific nurseries," she explains. "But you can easily grow edible produce from seeds."
Brian Thian (pictured below) is another local gardener who has been helping educate Singaporeans about tropical flora through his Instagram page, @briansgardenadventures. "There's been a lot of interest and enthusiasm on growing produce at home, but not a lot of proper guidance," he says. "Gardening can be challenging in Singapore, and it can be disheartening to put in all that effort and have your plants die on you."
We spoke to both urban gardeners to find out more about the growing trend and the motivations behind it, which are more deep-rooted than you might expect.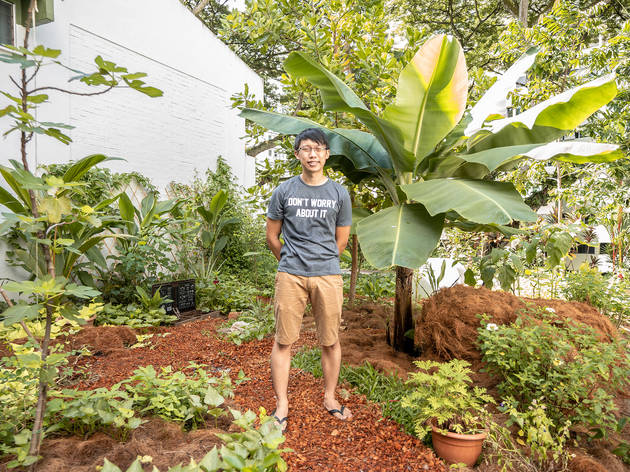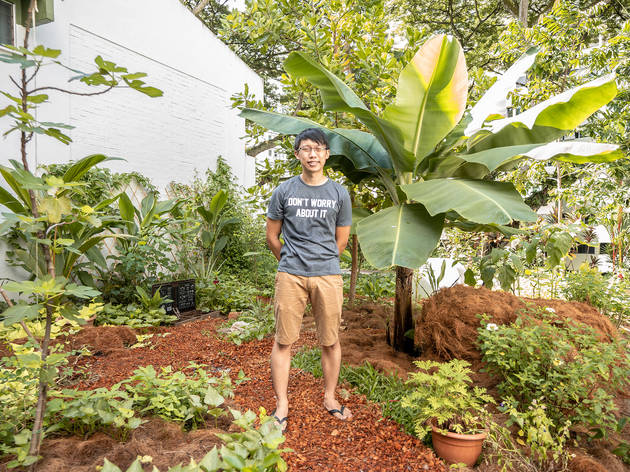 Photograph: Kashmira Kasmuri
The first reason why anyone starts a home farm is simple: because they want to consume food grown by their own two hands. "I love food, so the idea of being able to harvest my own produce was exciting," says Brian.
But the logistics are tricky in land-scarce Singapore, where every square metre of living space has to be optimised.
Joanna fits all her plants on a narrow rooftop garden with plenty of natural sunlight, while Brian has taken his gardening beyond his home, planting cassava, corn and even a cashew tree in the shared green spaces of his housing estate. It's worth the trouble, he explains: "You know exactly what you're feeding yourself and your family."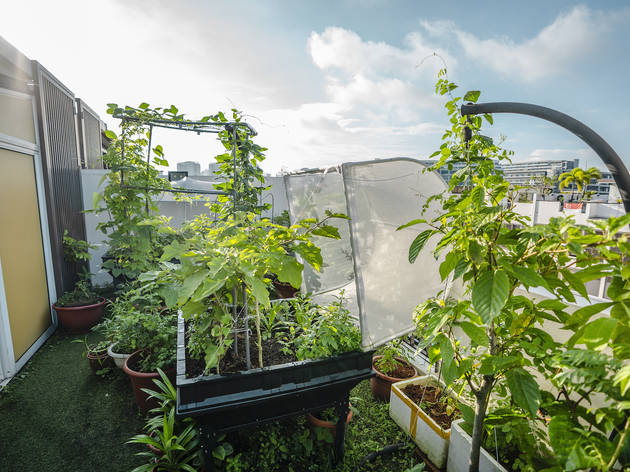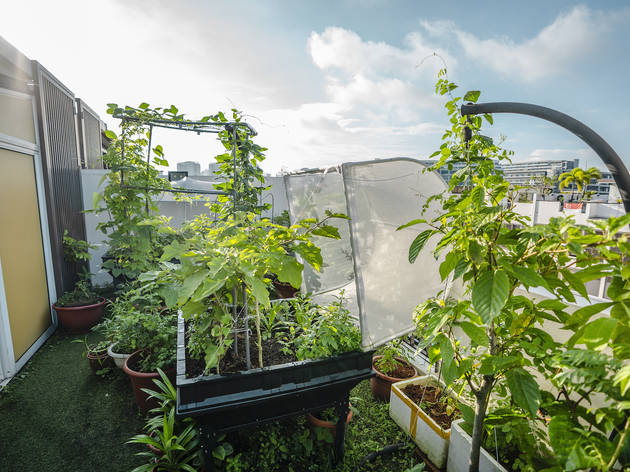 Photograph: Kashmira Kasmuri
2. Top chefs love home-grown produce
Beyond Singaporeans' home dining tables, the city's chefs and bartenders have also been championing locally grown ingredients in award-winning, internationally recognised restaurants. One-Michelin-starred Labyrinth is a pioneer of this movement, using ingredients from local farmers in almost 90 percent of its menu. Younger chefs have caught on too – Kausmo sources from local and regional farming communities but also pays close attention to forgotten native greens and florals.
"Leading chefs in Singapore are always considering new ways to source locally, including purchasing from small, home-based farms," shares Joanna. Her business WWEdibles supplies local restaurants with rare, edible flowers and other uncommon ingredients not found in commercial farms.
"These chefs are at the forefront of promoting local cuisine, so it's a big deal for us small-time farmers when our work gets recognised. They keep us on our toes because we need to introduce new and good ingredients – it's not just about going local for the sake of going local."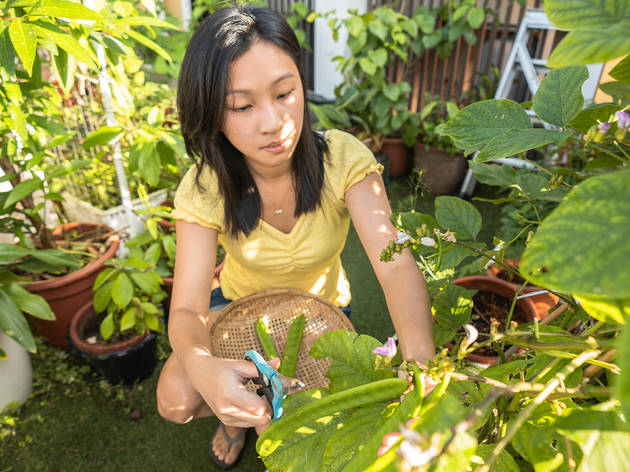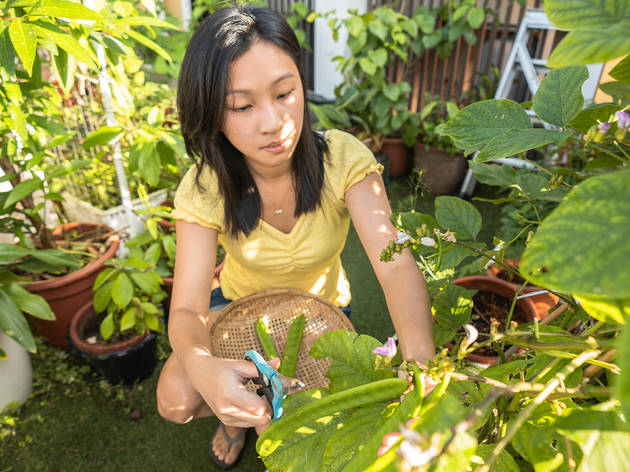 Photograph: Kashmira Kasmuri
3. Gardening is good for you
The health benefits of gardening are well known. It helps you get your daily dose of Vitamin D, it's a less strenuous form of exercise that still gets the heart pumping, and its mood-boosting abilities promote mental health too – perhaps explaining why more people have turned to it during this period of heightened stress, uncertainty and anxiety.
"Even in a society like Singapore that is so wealthy, there appears to be a lot of unhappiness," explains Joanna. "And when you're depressed, you need to create a system and set small goals for yourself. [With gardening,] you wake up and you water your plants: that's a small goal. When you see a new leaf, that's a mini-milestone. It's about taking baby steps."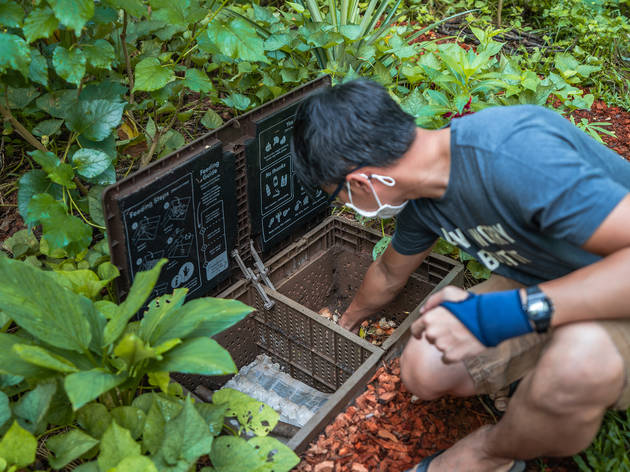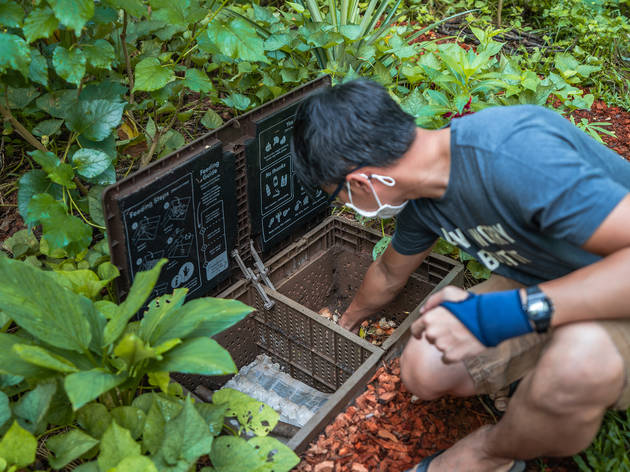 Photograph: Kashmira Kasmuri
4. Food security is a growing issue
When it comes to food in Singapore, there's a bigger picture: the city-state is on a quest to become more self-sufficient.
According to the Agri-Food and Veterinary Authority of Singapore (AVA), Singapore currently imports more than 90 percent of her food supply. In 2016, less than one percent of land in the island state was dedicated to agriculture.
During the 'circuit breaker', the importance of home-grown produce became more apparent than ever, when panic-buying resulted in empty fridges and shelves at the supermarket. There's also the ever-present threat of climate change on crops and the environment.
The situation isn't dire: Singapore remains one of the most food-secure countries in the world thanks to a comprehensive import diversification strategy, and topped the Global Food Security Index by the Economist Intelligence Unit in 2018 and 2019. But just to be sure, the country plans to produce 30 percent of its nutritional needs by the year 2030.
That ambitious '30 by 30' goal has resulted in novel government initiatives, including the National Parks Board (NParks) 'Gardening with Edibles' programme, which has distributed 400,000 free seed packets to encourage people to grow leafy and fruit vegetables at home. It also intends to double the number of community plots for gardening enthusiasts to use.
"I'm heartened by this: it's a move in the right direction," says Brian. "Initially I was concerned that people might fail and give up, but what NParks is doing well is pushing for education by rolling out video tutorials beyond just distributing seeds. I think that's a fantastic move, because gardening has a steep learning curve."
"But this cannot be viewed as the end point – it's the beginning of conversations," he continues. "I hope to see us make better use of our living spaces at condominiums, HDBs [public housing] and offices. Why grow plants that are purely ornamental when we can also grow something functional and edible? Let's start small, everywhere."
Best selling Time Out Offers