Time Out Talks: Martin Wong from Lumo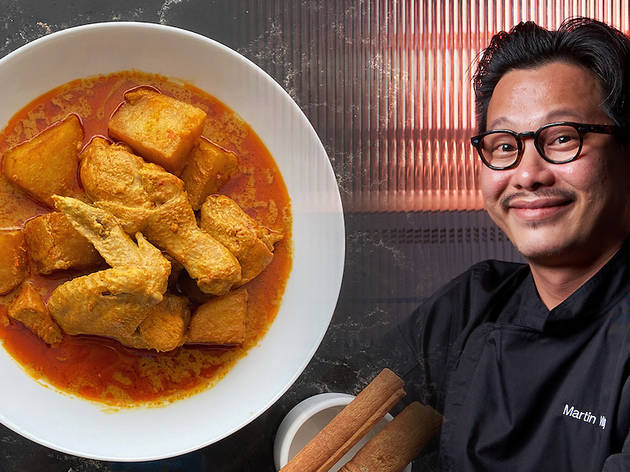 Time Out says
Learn how to make chicken curry from scratch during this free webinar with chef Martin Wong from Lumo
In the spirit of #stayhome, Time Out Singapore is launching a new webinar series to keep you entertained from the comfort of your couch. We kicked things off with chef Mirko Febbrile from one-Michelin-starred Braci and also invited the wine uncles from RVLT to have drinks with us. You can catch the previous sessions on our Facebook page here.
This time around, we have chef Martin Wong from Lumo, who is going to show us how to make his mum's chicken curry recipe. While the dish is different from the modern wood-fired plates he serves in the restaurant, it's a comforting bowl that warms the belly and the heart – something we all need more of these days.
Do note that unlike our previous sessions, you won't be able to cook along with us as the dish takes around three hours to prepare. However, you can still tune in, learn from chef Martin and ask as many questions as you'd like. Remember to tag us @timeoutsg and @lumosg if you do end up trying the recipe, we'd love to see how yours turns out.
Here's what you'll need:
For rempah
15 grams of peeled garlic
60 grams of yellow onion
30 grams of young ginger
55 grams of yellow ginger
75 grams of peeled shallots
100 grams of red chilli
10 grams of chilli padi (optional)
60 grams of lemongrass
150 grams of vegetable oil
For chicken curry
1.5kg whole chicken
4 potatoes
4 pieces of chicken cube stock
400ml of coconut milk
100 grams of curry powder
3L of water
Salt
Equipment
Blender
Large pot
Ladle
Knife
Chopping board
Vegetable peeler
Serving bowl
Method
1. Blend all ingredients for rempah in a blender
2. Cook the blended rempah in a pot for 1.5 hours, stirring till fragrant.
3. Peel and cut potatoes into big cubes.
4. Wash and cut chicken into chunks.
5. Add curry powder into the pot with rempah and cook till fragrant. Add chicken in low heat. Add water to boil.
6. Once boiling, add coconut milk and chicken cubes, and simmer.
7. Add potatoes and continue to simmer till chicken and potatoes are cooked.
8. Lastly, add salt to taste.
Best served with white rice
Expect a casual session as chef Martin walks us through how to make his mother's chicken curry step by step. The session is hosted by Time Out's editor Nicole-Marie Ng who will also be quizzing him on his top tips and tricks on how to get the perfect dish each time.
The free webinar takes place on Zoom at 3pm on Saturday, May 23. We only have 100 slots available so register early to avoid disappointment.
Details
Users say