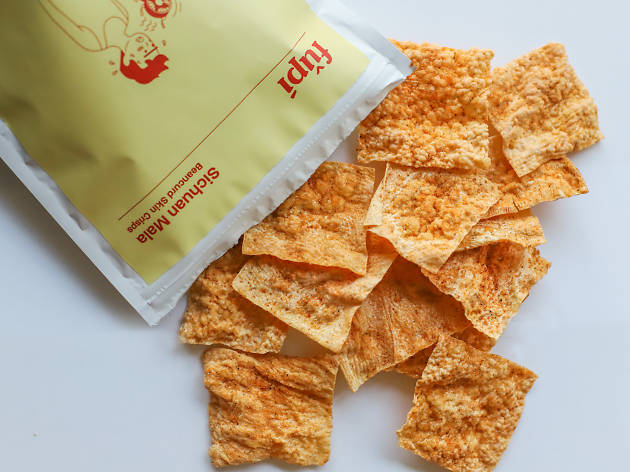 The best local snack brands to try in Singapore
From chilli crab to chicken rice, we go to Flavour Town when it comes to local snacks
We're a nation that loves to snack, so it's no surprise that we have some of the most unique (and delicious) selection of local snacks you can find. With flavours like kaya, curry, mala and laksa, there's really no boundaries when it comes to what we munch and crunch on. Is your mouth getting itchy for something to bite on? We put together some local snack makers that are creating interesting and innovative snacks in Singapore. Let's munch away.
RECOMMENDED: Old-school childhood snacks we love in Singapore and the best traditional bakeries and cake shops in Singapore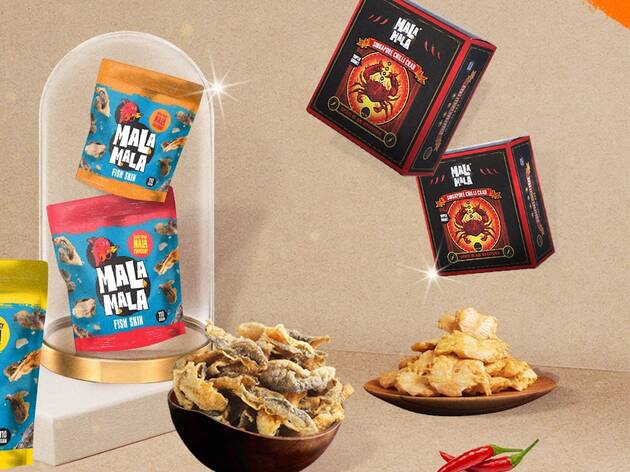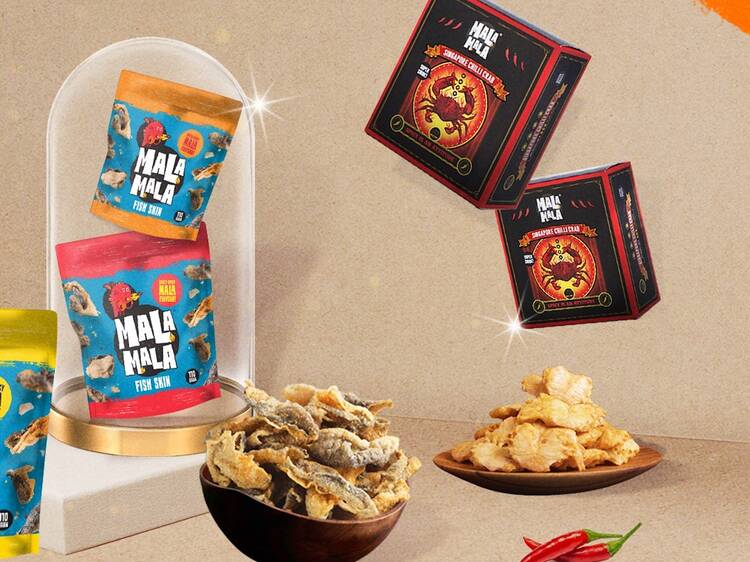 Photograph: Mala Mala
Has the mala rage died down yet? We don't think so. Thrill your tastebuds with snacks from Mala Mala, which come at three levels of spiciness from mild spicy to crazy spicy. Get regular ol' potato chips, fish skin, mushroom chips, potato wedges, or other unique offerings like mala-infused chilli crab snacks or spicy shrimp scallop bites. Maybe have a glass of milk on hand.
Available online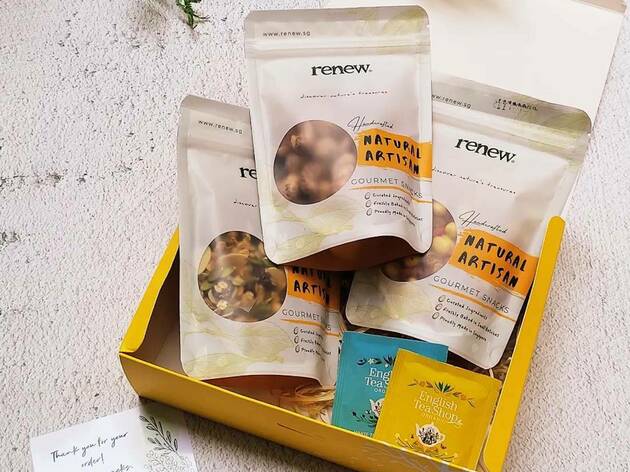 Photograph: @renew.sg/Instagram
Treat yourself to some premium snacks with Renew's range of locally-inspired nut and trail mixes. There's Hainanese cashews that taste like chicken rice, Briyani cashews with blackcurrant, Chng Tng trail mix, and more modest and evergreen options if you're not feeling that adventurous. These natural and artisan snack packs are the peak of guilt-free snacking.
Available online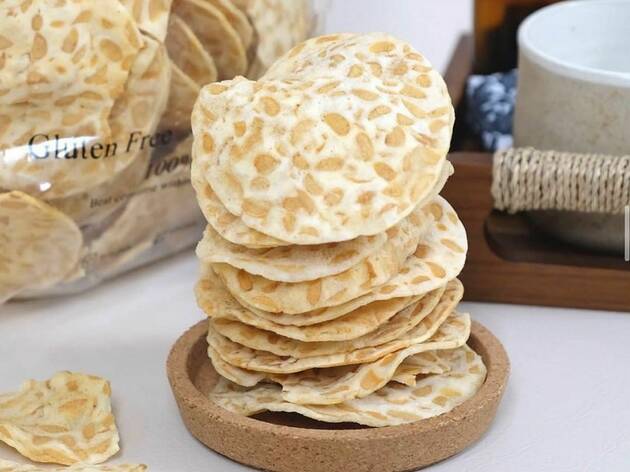 Photograph: @followthecrunch/Instagram
Follow the Crunch doesn't technically produce their own snacks. Instead, they partner with the popular Indonesian brand tem.peh to bring in their healthy and delicious tempeh bites. Crunch on original or spicy tempeh chips – these give all the satisfaction of regular potato chips, plus nutrients, vitamins and probiotics you wouldn't find in your run-of-the-mill snacks.
Available online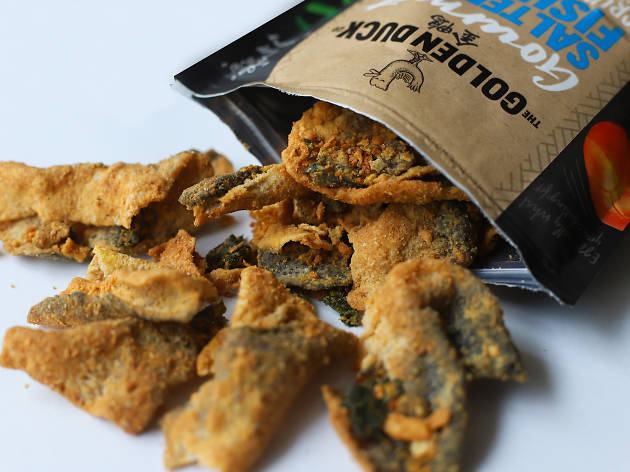 Photograph: Kashmira Kasmuri
Famous for its salted egg yolk snacks, Golden Duck has expanded way beyond its signature flavour. The homegrown brand started in 2015 and has definitely changed how we snack. Since then, the team has added to its catalogue of snacks with flavours like Mala and chilli crab, as well as adding a tempura seaweed variant. And they're thinking of expanding even more. You can have a say for the next flavour you want to see on the market by voting on the website.
Available at selected supermarkets, 7-Eleven stores, and online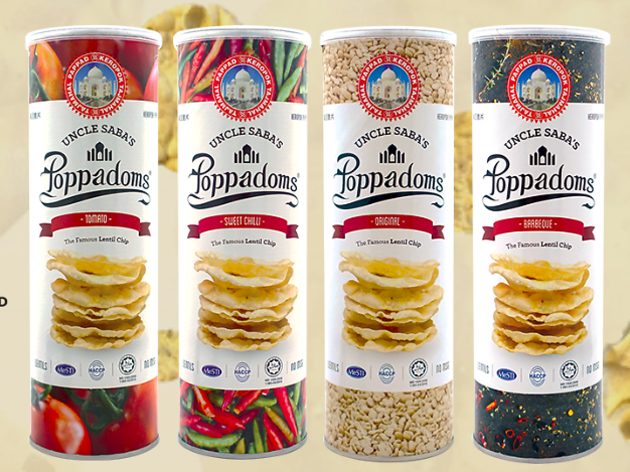 Uncle Saba's Poppadoms are wildly popular here. Unlike the ones we can get from any good biryani stall here, these lentil chips are bite-sized and healthy – it's made with more protein and fibre and contains fewer carbs and saturated fats compared to potato chips. Check out flavours like chilli crab, cheese, Mala, sweet chilli and more. It is also suitable for a vegan and gluten-free diet.
Available at various supermarkets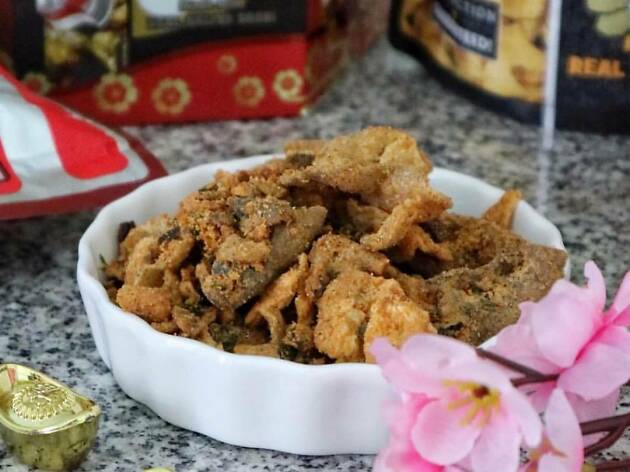 If you're torn between choosing the salted egg yolk snack or the spicy Mala chips, you can actually have the best of both worlds with Crusty's Mala-flavoured salted egg crispy fish skin. Obviously it's going to be indulgent and super rich from the first bite, overwhelming even with the layers of sweet, savoury and spicy coming together all at once. Generous with the spices and seasoning, it's worth the $7 price tag.
Available at various supermarkets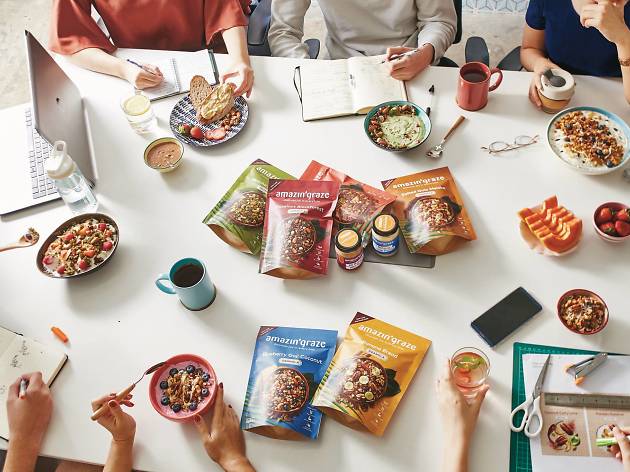 Think granola has to be healthy and bland tasting with a million good ingredients but no good taste? Not with the options at
Amazin' Graze. The range of granola
comes in flavours of chocolate hazelnut, blueberry coconut, coconut kaya, and banana bread portioned into snack-sized servings.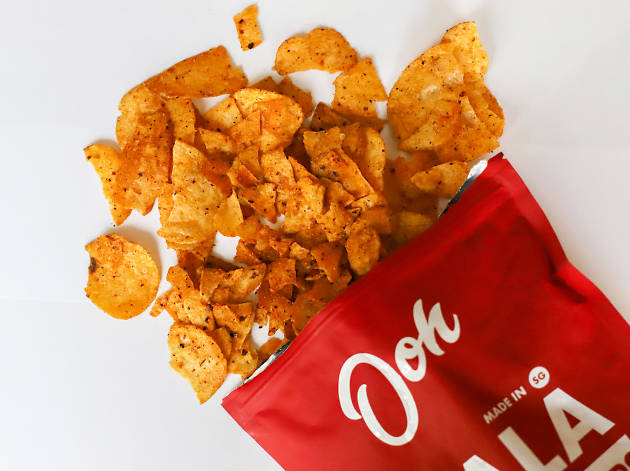 Photograph: Kashmira Kasmuri
Feel the burn with this one, in a good way. As with most Mala dishes, the numbing spices really creep on you with every bite of this snack. Choose between the potato chips or cassava chips variant but take your time to go through a pack. While it's highly addictive, it can cause some pain if you wolf it down too fast!
Available online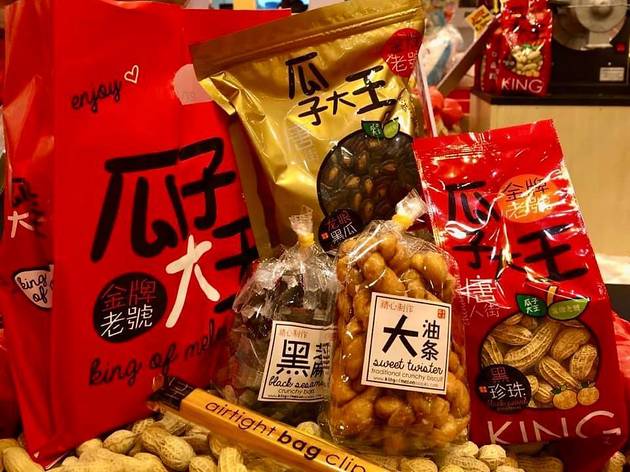 Photograph: The King of Melon Seeds
As the brand name suggests, King of Melon Seeds started out in 1946 selling seeds and nuts. While its speciality is in melon seeds and groundnuts, the brand has kept up with the times and now include a wide variety of traditional and innovative goodies. Favourites include the Sichuan Mala Hotpot mix, sour cream cashew nuts, spicy prawn rolls and rose pumpkin seeds.
Available online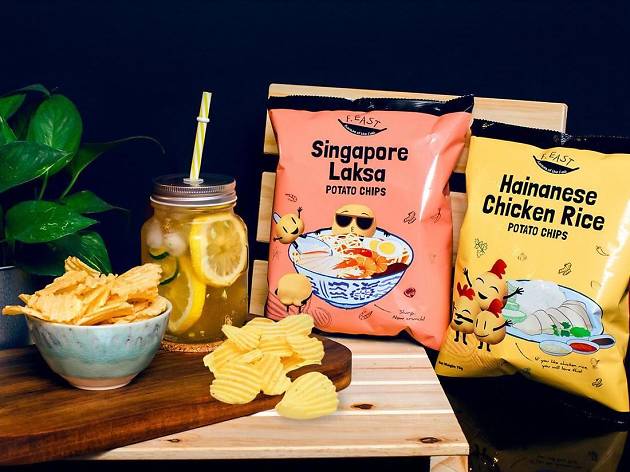 Photograph: F.east
Let's start with this – think of all the well-loved local dishes there are and chances are that it will be on the range of F.east potato chips. There's laksa, Hainanese chicken rice (you can even taste the coconut), rendang and egg prata with curry.
Available at all supermarkets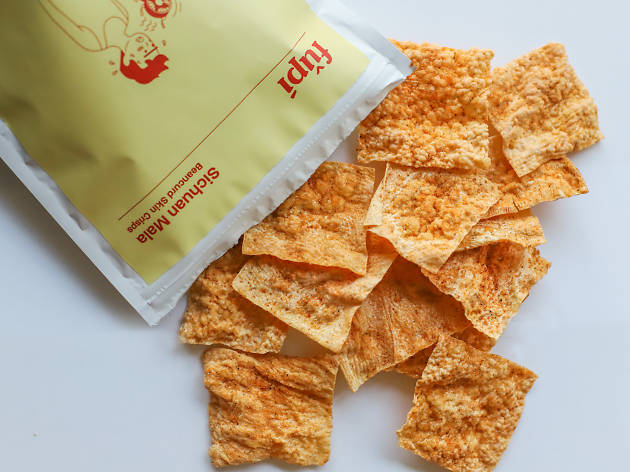 Photograph: Kashmira Kasmuri
Though it only comes in two flavours, this relatively new snack brand is making (heat)waves with its innovative beancurd skin crisp snack. Inspired by the classic steamboat flavours, Sichuan and tomato hotpot – each airy square of beancurd skin comes coated with a piquant seasoning with floral, spicy notes. Bonus: it comes in an ultra-adorable packaging, and made without any preservatives.
Available online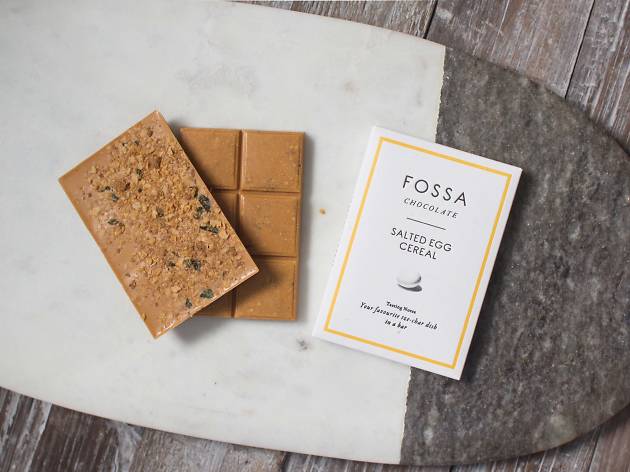 Photo: Fossa Chocolate
This homegrown award-winning craft chocolate brand is known for its handmade chocolate bars that are made in small batches. Don't expect ordinary flavours with Fossa, instead you can try unique and amazing flavours like lychee rose dark chocolate, salted egg cereal, honey orchid dancong oolong and more.
Available online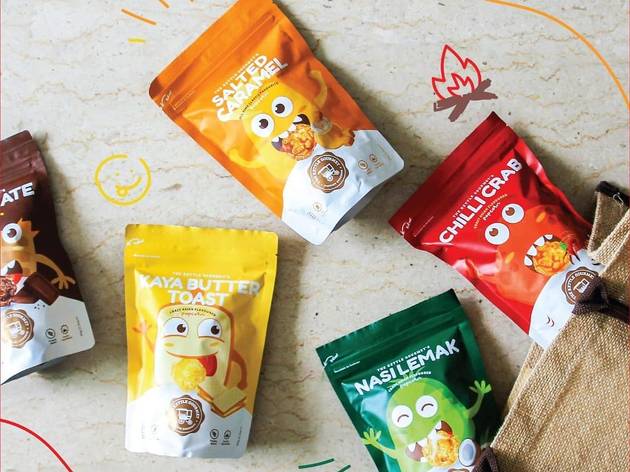 Photograph: The Kettle Gourmet
If regular cinema popcorn won't do for you, check out the gourmet popcorn by local brand The Kettle Gourmet. Munch on flavours like teh tarik, kaya butter toast, chocolate, chilli crab and even nasi lemak. Light, crunchy and hella unique, you'd want to keep this as a permanent fixture in your snack roster.
Available online
Best selling Time Out Offers