See Singapore in a different light
Hotel Jen's Night Light map goes live nightly from 6pm to 6am and promises to show you an authentic and unexpected side to the Lion City
The night is always young, especially when you're in the midst of a buzzing city that never sleeps. Night owls in Singapore can explore into the wee hours with the help of Hotel Jen's Night Light map, a digital tool that goes live every night between 6pm to 6am.
The map scans social media to pinpoint the most popular and exciting city hotspots after sundown. The result: an insider's list of after-dark hangouts every local keeps a secret. Think bustling dim sum joints, hidden speakeasies and even a spa for some pampering at three in the morning.
We encourage you to extend your stay in Singapore and see the city in a different light courtesy of Hotel Jen's Night Light map. But in the meantime, here's what the Lion City has to offer between sunset and sunrise.
Ready to explore Singapore? See the city in a different light by visiting Hotel Jen's Night Light map.
Nightlife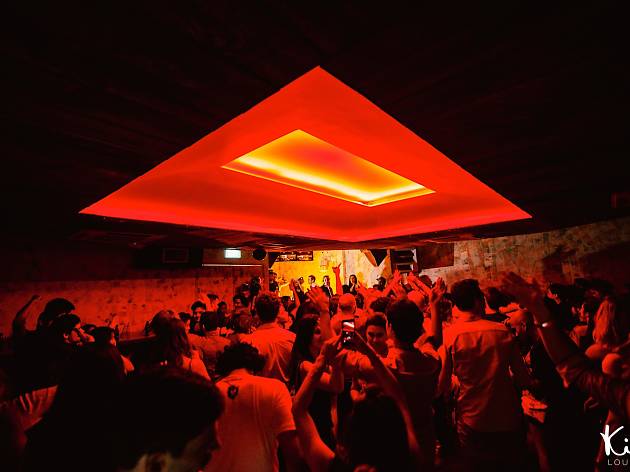 From the fringes of the city to the heart of it, Kilo Lounge has descended upon Tanjong Pagar to give the neighbourhood a breath of cool. How cool? Well, you won't find an entrance along the main road – you'll need to head to the narrow, graffiti-smeared alley behind it to find the door. Wind your way through a jungle-like walkway and concrete tunnel as thumping beats pulsate, then step in for a night of hip hop, techno, reggae, dancehall and dub.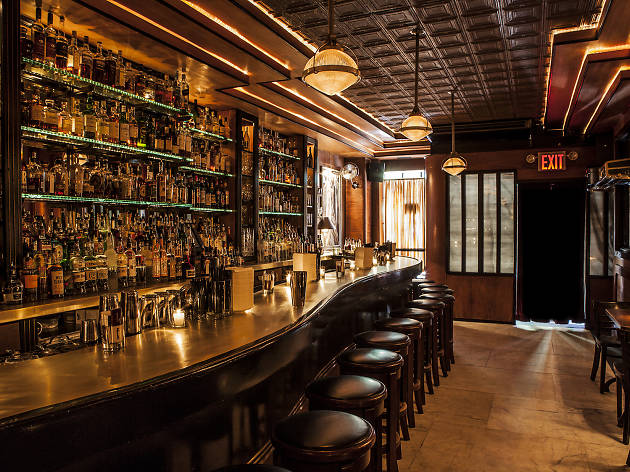 Photo: Emilie Baltz
Beyond a pink neon sign that flickers 'Psychic', you'll find a bar that will take you back to the Prohibition days of the US. Choose to have your fortune read or squeeze through the mingling crowd to the back of Employee's Only for a table – like the original New York cocktail institution of the same name, this local off-shoot is a favourite among F&B folks to gather and unwind.
'Authenticity' is this watering hole's calling card. Steve Schneider, a veteran with 13 years of experience and multiple accolades under his belt, is tasked with educating the bar team on the techniques Employees Only is famed for. The free-pouring style of crafting a tipple, for example, is one of the things fresh hires learn when they start as apprentices. And tucked at the back is the kitchen that issues out a Modern American menu – think hand-chopped steak tartare ($27) and bone marrow poppers ($15).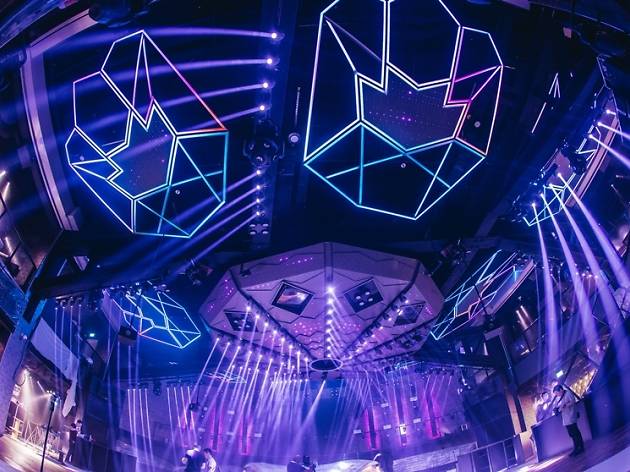 Zouk Singapore, the city's longest running entertainment institution, has bid goodbye to its beloved Jiak Kim premise and moved into its new home at Clarke Quay. Housed within the Cannery Block and spanning across two floors, the Zouk complex retains its signature main dance room along with Phuture while Wine Bar has been upgraded to Red Tail restaurant and bar. Velvet Underground, sadly, is nowhere to be found, although there is a soon-to-be-unveiled fourth concept, so keep your fingers crossed.
Designed by interior design firm, Independent Consultants, the new space has an industrial and futuristic vibe inspired by the underground rave clubs and refurbished warehouses in New York and Berlin. Zouk retains the original sound system and now boasts a spaceship-like light structure suspended directly above the dancefloor. Of course, there are five bars across the entire compound (two in Phuture and three in Zouk) to supply booze all through the night.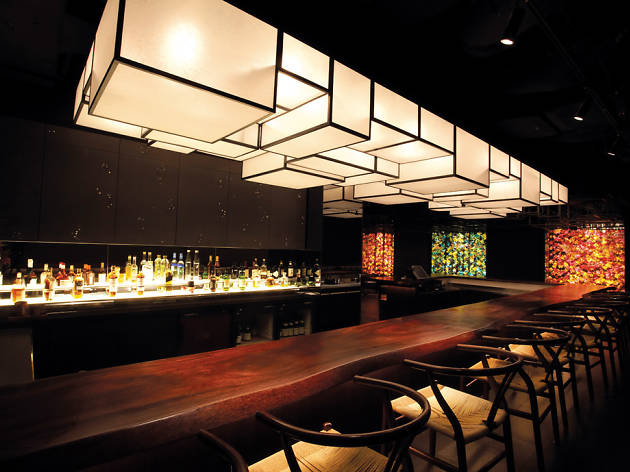 Before dismissing Uma Uma Ramen as yet another Japanese noodle house, take a closer look at the other door by the entrance. It snakes down into The Horse's Mouth, a sleek basement cocktail bar lit by boxy paper lanterns and peppered with quirky trinkets such as a hanging origami display.
The concoctions are just as classy and spirit-forward, a style that stems from the bar staff's training in Japanese techniques. Most drinks are crafted to showcase various Nihon ingredients and, of course, sake exclusive to the cocktail joint. This isn't to say that accountant-turned-bar manager Guo Jun Guang doesn't get to flex his creative muscles: he even uses wagyu beef trimmings from a Japanese restaurant next door to fat-wash cocktails.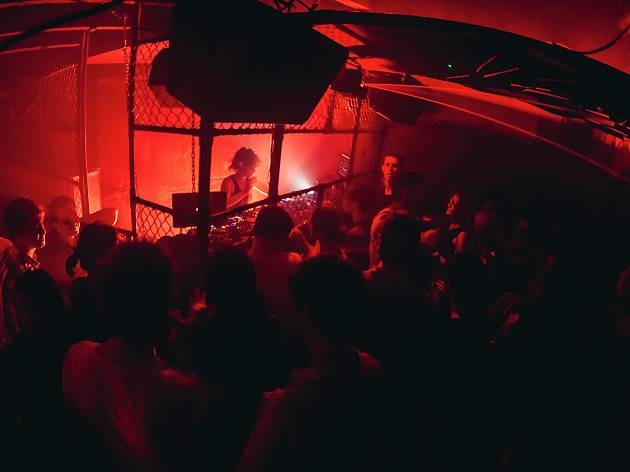 Headquarters by The Council
Headquarters by The Council
Housed in a dingy space that's set with laser lights and a cage behind which the likes of Eric Duncan, Kaiser Souzai and Mat.Joe have spun, Headquarters by The Council plays host to its signature parties from Wednesdays to Sundays. Get your booze fix in the standing bar tucked in one corner of the venue while grooving to all manner of techno, house and disco, whether from guest DJs or residents Julien Brochard, KFC, Yadin and Eileen Chan (Cats on Crack) – the latter of whom also happens to be one half of The Council.
Supper spots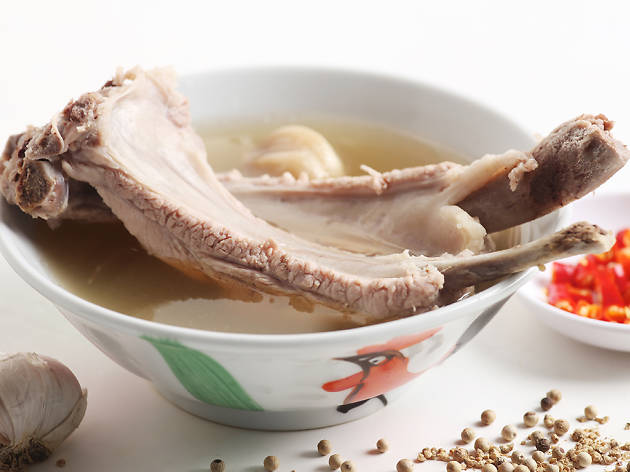 Slurp like a local when you dig into this supper haunt's signature dish: a Chinese pork rib soup that has 'comfort' written all over it. Yes, there'll be a queue stretching way out the door, but trust us when we say the wait is worth it. You'll be rewarded with generous portions of meaty ribs in a peppery, garlicky broth that's best soaked up by crisp, chewy fried dough fritters.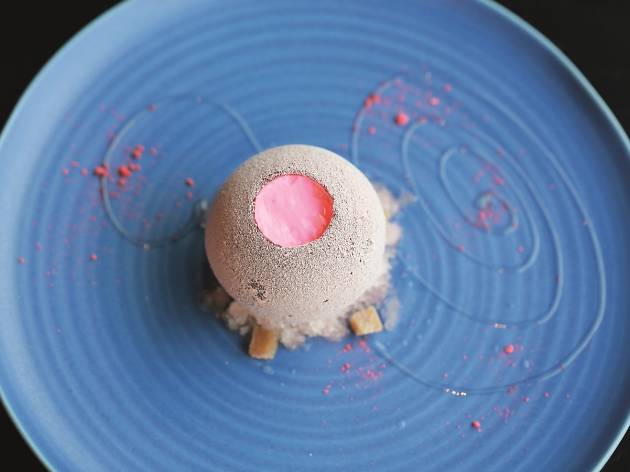 Ever had your tummy rumbling for sweet treats in the middle of the night? We hear you. And so does this Holland Village dessert bar. Helmed by pastry queen Janice Wong, the elegant spot – no prizes for guessing the time it closes – is renowned for its creative and eye-catching plates, like the Cassis Plum ($24).
Inspired by the soft sakura petals that fall every spring in Japan, the dessert is one of Wong's signature dishes. The heart of the multi-textural treat is a sphere made with aerated blackcurrant and white chocolate, then filled with elderflower choya shiso foam. It's easy to see why this dish was selected as a pressure test for contestants of MasterChef Australia – it's cooking at its finest.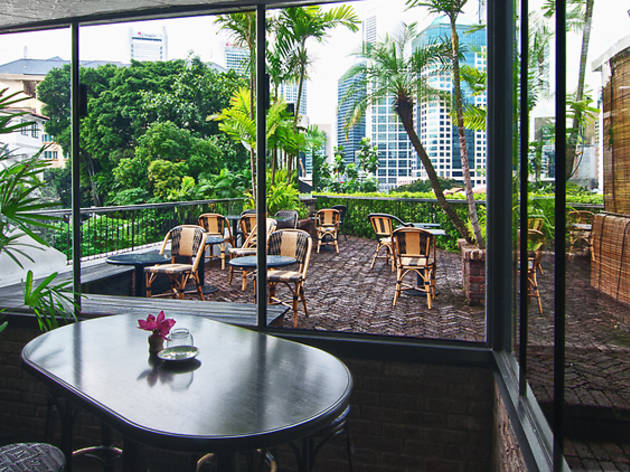 PS. Café at Ann Siang Hill
The long dark wooden banquette and chequered floor give PS. Cafe at Ann Siang Hill a sophisticated, Prohibition-era look. There's a whole list of sweet cocktails here, including the staple lychee and chocolate martinis. For a real sweet kick try the Chocolate Crunch Doorstep Cake, a delicious combo of brownie with biscuit balls and chocolate mousse.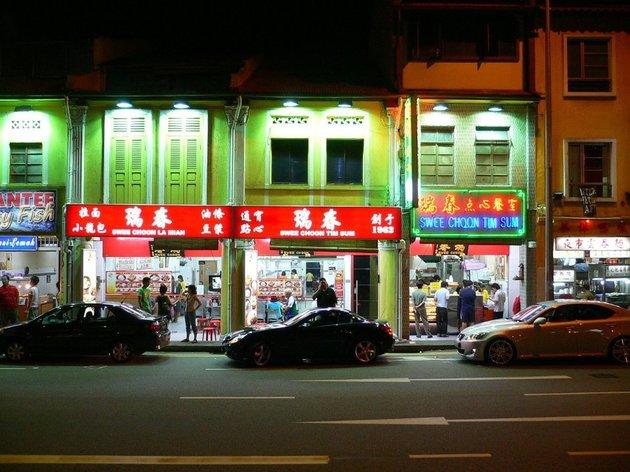 Hands up if, like us, you like your dim sum joints noisy, crowded and a little bit grimy. You'll find all of that at this post-clubbing, round-the-clock favourite, found alongside the many prata houses of Little India. There are all your yum cha staples, from char siew buns to siew mai to har gau, at prices so low they'll only make you want to order even more.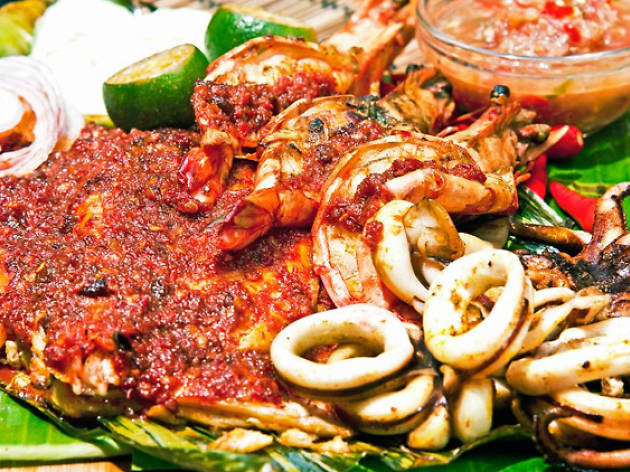 Although the service at Spize's River Valley outlet can be patchy, this never-tiring after-hours joint is a mecca for night owls hoping some food will soak up their alcohol binge. Its menu covers the greasier end of the supper scale, with classic Indian-Muslim orders like maggi goreng, cone-shaped tissue prata and roti john. Western fare such as burgers and cheese-drenched fries are also available, and anything you order will go down well with a tall glass of Milo powder-topped Milo dinosaur.
Things to do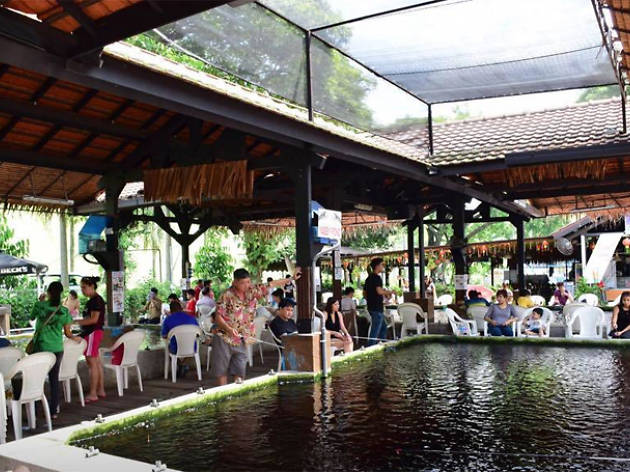 Some people like to work for their food. If that sounds like you, hit up this 24-hour facility where the goal is to catch a bunch of prawns swimming in man-made ponds then grill them up on the spot. Equipment and bait are included in the hourly fee ($20), along with barbecue pits, charcoal, satay sticks and salt for seasoning. Remember, you're not guaranteed a catch, so it's best to stock up on suds from the on-site beer garden while you wait for the bad boys to bite.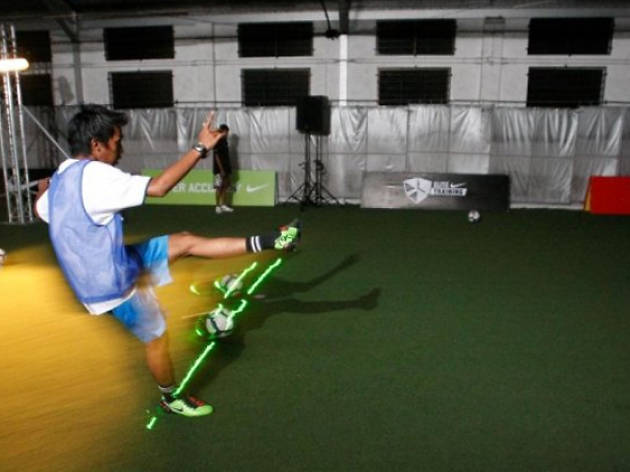 Can't take the sweltering daytime heat? At this indoor football pitch, you'll never miss a kick. Available for booking 24/7, The Cage is Singapore's first indoor football stadium. The name derives from the facility itself, where players compete in a metal cage that fills up nearly the entire refurbished warehouse in which it's housed. The pitches can accommodate five-a-side matches – squeeze more friends in if you wish – and they have a music system, so plug in your iPods and dribble to the beat, or practise samba football with The Cage's in-house choons. Early bookings are a must.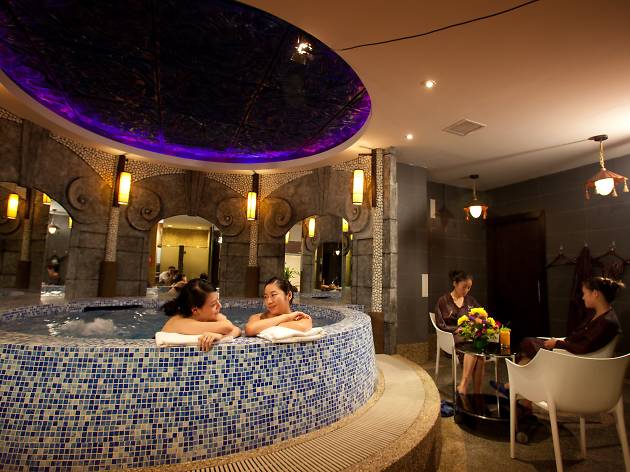 Probably the closest to a public bath in Singapore, this independent spa complex is reminiscent of a Chinese hot springs resort. Upon entering, you're directed to either the men's or women's side and given a locker – swimming trunks, robes and towels are provided, so there's no need to bring anything. The locker rooms have a hot pool (plus a cold pool for the men that supposedly improves circulation), sauna and showers. In the common areas, you can relax on comfy couches with personal TV screens, plus there's an all-you-can eat buffet throughout the day, making it quite easy to spend a full day here.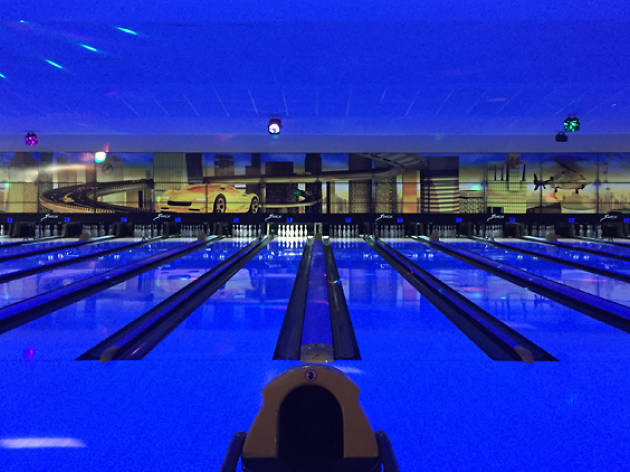 A more family-friendly form of late-night frivolity can be found at Orchid Bowl, a 32-lane bowling alley in eastern Singapore. With mechanised bumpers that are raised and lowered upon request, parents can perfect their score while their younger spawn mow down pins without fear of gutterballs. Toddlers aren't left out, either – the complex has a miniature bowling corner that features scaled-down balls and lanes.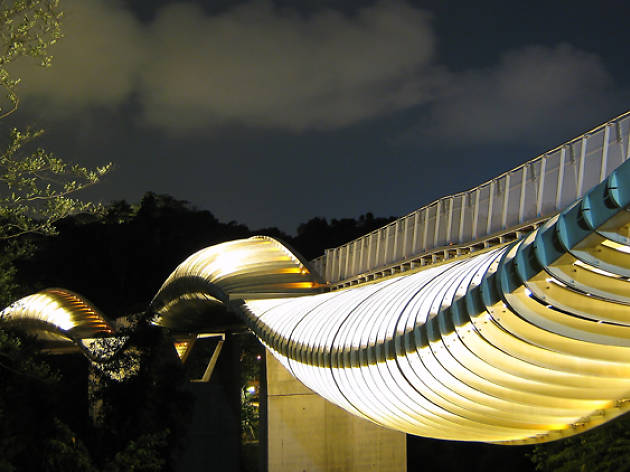 Photo: Kok Leng Yeo
Think Singapore is all concrete jungle? Wrong. The Southern Ridges is testament to the city's green schemes – it comprises 10km of lush, open spaces that link up five parks and nature reserves. And the jewel on its crown is the Henderson Waves Bridge. At 36m off the ground, it's the highest pedestrian bridge in Singapore and, thanks to its unique undulating architecture that stretches 274m, arguably the best looking. Come nightfall (it closes at 2am), the bridge is set alight with a soft glow, giving the whole space an otherworldly vibe. If you're feeling up for it, the bridge is also part of a 5km-long hiking trail that takes you across three parks.