Your ultimate guide to Singapore
Discover the best Singapore events, things to do, restaurants, music, film, art, theatre, nightlife and more...
What's on in Singapore this week
DBS Marina Regatta 2017
Singapore's biggest water sports festival returns for four days of competition, play and retail. Hit up the pop-up urban beach for a slew of dragonboat races, outdoor yoga, flea market or chill by the hammocks as you sip on beers and coconut cocktails served by reknowned Bali beach club, Potato Head Folk. Love the reality show Wipeout? Here's your chance to live the dream as you take on the challenge and blaze your way through nine inflatable water obstacles sprawled across the Bay. Stay cool under its five-metre tall dome, and stick around 'till evening for an exclusive pre-party to ULTRA, featuring upcoming regional DJs and acts.
The Lo and Behold Group Festival
Singapore's hippest hospitality group launches its inaugural 'festival' across its many outlets – think Black Swan, OverEasy and Tanjong Beach Club – for a month's worth of parties, feasts and more. There are nostalgic DJ nights to cocktail workshops to dining promotions, so check out www.tlbgfest.com for the deets.
Mexican Film Festival
Curated by The Projector, in partnership with The Embassy of Mexico, this year's Mexican Film Festival presents five recent films that span the genres of thriller, romance and dark comedy. The films are Desierto by Jonas Cuaron, You'll Know What to do With Me by Katina Medina Mora, Bleak Street by Arturo Ripstein, Güeros by Alonso Ruizpalacios and Mr Pig by Diego Luna. The latter's a film of a pig farmer and his estranged daughter as they travel through Mexico attempting to sell off their prized pig. Mexican films will also be shown at @SCAPE, presented by Singapore Film Society. Shows include Cantinflas, a comedy by Sebastian del Amo, and El Jeremias, a story about a young genius and his struggles growing up.
Geylang Serai Bazaar 2017
Brace yourselves for the heat – and a grease feast – as you flock to the annual food market to binge on Ramly burgers, otah-otah and other sinful street snacks (err, candyfloss burritos and 'rainbow planet' ice cream buns, anybody?). Keep an eye out for massive Instagram-worthy installations inspired by the Malay culture and heritage, including a 4.4m-tall wau display, planted along the stretch. There's also plenty of activities held in conjunction with the market, such as free movie screenings, gigs, a pop-up museum and a heritage race, where participants can learn more about Hari Raya celebrations as they dash around the precinct. The bazaar spans around the Geylang Serai market, Joo Chiat Complex and along Haig Road, from May 25 to June 24. The official light-up ceremony is on May 20.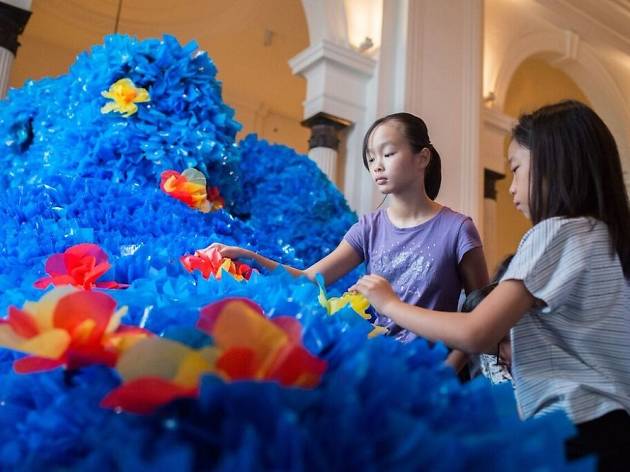 Children's Biennale
The inaugural Children's Biennale features ten interactive art showcases in collaboration with artists from Singapore and around the world. Immerse your little ones in teamLab's 'Homogenizing and Transforming World' exhibit that allows them to experience a digital and multi-sensory world wlthout physical boundaries. Then make for photographer Robert Zhao's showcase of 39 animals, plants and environments that have been manipulated by humans – a lesson for kids on the issues of morality and ethics. 
See more events in Singapore this week
101 things to do in Singapore