Your ultimate guide to Singapore
Discover the best Singapore events, things to do, restaurants, music, film, art, theatre, nightlife and more...
What's on in Singapore this week
Hand to God
After shows in Broadway and West End, Hand to God makes its Asian debut. Darkly comedic and potty-mouthed, this play takes no prisoners as it explores the life of a troubled teen. And not an average one at that – the God-fearing protagonist is coming to terms with his father's death and seeks solace in his mother's puppet group, only to find the marionettes coming alive in hellish form.
Buy tickets
Hong Kong Shop Cats exhibition
Take a closer look at Hong Kong's busy trades and the cats that rule their retail shops through a series of photographs. It began when Dutch photographer Marcel Heijnen moved to Hong Kong and started photographing cats in shops, markets and alleyways. Oh, and the occasional shop dog makes an appearance, too. These are catalogued on his Instagram and website Chinese Whiskers, and will be on display at Artistry as part of the exhibition's first showcase outside of Hong Kong. Some of these images have been collated into the first photobook in the series, Hong Kong Shop Cats, which will be available for sale at Artistry. Come meet the artist during the opening night on April 13. Heijnen will be promoting his book and selling limited edition prints of the felines for your keeping.
Precious Eggs: Of Art, Beauty and Culture
Wax, crystal, chicken, marble, reindeer horn and ostrich: if you're wondering what these have in common, they're all part of an exhibition featuring 148 one-of-a-kind eggs. And not just any eggs, but ornate and delicate pieces – some of which were even hand-carried – from the Liechtenstein National Museum. Admire a glass egg containing ashes from the Mt Helena volcanic eruption of 1980; a chicken egg with tiny horseshoes nailed onto its surface; and a pair of imperial porcelain factory eggs from 1914 that survived the civil revolutions and World War I.
La Cage aux Folles
Life's peachy for George, a host in a thumping nightclub set in the heart of Tanjong Pagar. But when his son declares his intentions of marrying the daughter of a conservative politician – one who's set on banishing the colourful local nightlife scene – all hell breaks loose. The 11-time Tony Award-winning musical features favourites such as 'I Am What I Am' and 'The Best of Times', led by director Glen Goei and starring Ivan Heng, Hossan Leong and Frances Lee.
Buy tickets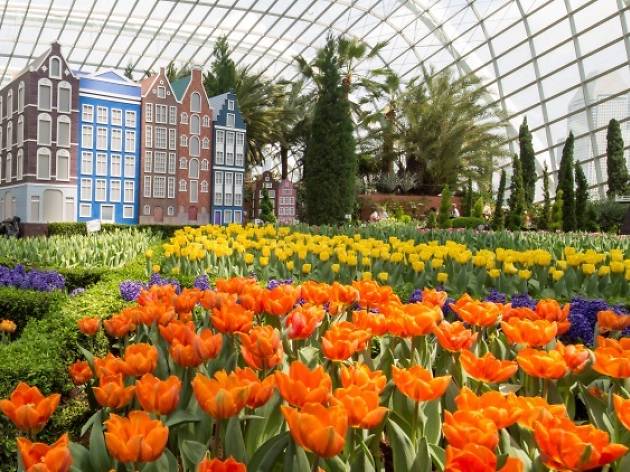 Tulipmania
Tulipmania returns to Gardens by the Bay, this time taking inspiration from famous and influential Dutch artist, Vincent van Gogh. Think massive floral displays inspired by van Gogh's self portraits and his famed art piece The Starry Night. Admire over a hundred varieties of tulips and hyacinths, including the Darwin hybrid tulips, in full bloom in the Flower Dome.
Tropicana the Musical
Haresh Sharma's first and all-new musical tells the story of a Las Vegas-style nightclub opening during Singapore's swinging sixties. Based off the real-life Tropicana, a topless club and cabaret that shuttered almost 30 years ago, the musical promises to pull at your heartstrings with its mix of fun and sentimentality while exploring the individual lives of people back then. Tropicana stars the likes of Lim Yu-Beng, Brendon Fernandez and Karen Tan, and is directed by Beatrice Chia-Richmond.
Buy tickets
See more events in Singapore this week
101 things to do in Singapore