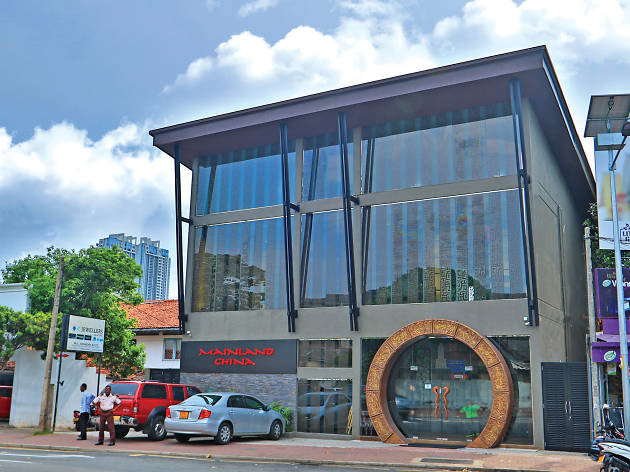 Mainland China, a part of South Asia's leading Pan Asian restaurant franchise, is a stylish new restaurant in Colombo city specialising in Chinese cuisine.
The authentic culinary journey at the restaurant has been carefully curated. Walking in, an elegant circular doorway evocative of ancient China welcomes the diners. The black woodwork as well as ornamental patterns add an amber glow to the interior, amidst which faint touches of crimson stand out.
The dishes at the fine dining restau- rant are prepared by a team of special- ised Chinese chefs who create a harmonious combination between authentic ingredients and tongue-teasing fla- vours. Exotic dishes such as lobster in XO chillie sauce, roasted duck meat with greens and garlics and wok tossed hakka noodles are among the restaurant's tantalising selection. Mainland China is also known for its signature range of dim sum freshly made in their own kitchens. The mouthwatering dumpling menu includes a variety of tasty fillings such as chicken, prawn as well as several vegetarian options.
Authentic dishes are also prepared with a tempting spicy twist to suit the South Asian palate. A range of Chinese sauces are made everyday using hand- picked spices to add more colour and flavour to dishes. Chefs at Mainland China are commited to ensuring fresh produce in addition to Chinese spices, herbs and condiments is used to prepare dishes. Classic Chinese desserts such as the mango pudding and steamed coconut dumplings are also served. There is also a complementing list of beverages including a delightful range of mocktails.
Mainland China also provides pri- vate dining rooms which are available for booking to accommodate business meetings, team lunches and family celebrations. Mainland China is the place to visit to experience delicious Chinese cuisine from the farthest corers of China in an elegant fine-dining setting.
Venue name:
Mainland China
Address:
8
Flower Road
Colombo 7
00500