Festivals
There is never a month in Sri Lanka without a festival.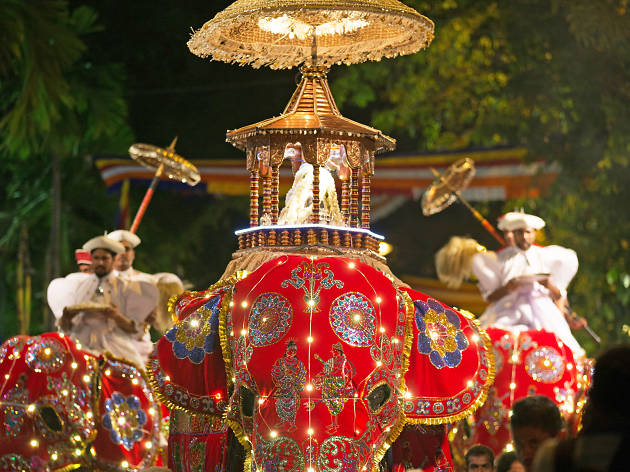 A selection of six festivals will take place in March: Navam Perahera, Feast of St Anne's Talawila, Medin Full Moon Poya, Good Friday, Season of Lent and Bak Full Moon.
Navam Perahera
The second day of Navam perahera organised by the Gangaramaya Temple continues with a grand celebration. Caparisoned elephants, drummers and dancers will enthrall the crowds. Dance ensembles form a major part of Navam Perahera, comprising up country, low country and Sabaragamuwa performances, each diverse in their talent and costume.
Season of Lent
March 1 – 31
Season of Lent
During the lenten period Christians will reflect, pray and meditate in preparation for Easter Sunday. At homes, churches and schools, the Way of the Cross will be observed to remember Christ's sacrifice for humankind.

Feast of St Anne's Church, Talawila
March 11
The church in Talawila hosts the annual feast, where many Catholics gather to pay homage to Saint Anne. The hoisting of the flag begins on March 4 and Vespers services will be held on the 10th and concludes with the Feast on the 11th. Devotees with families participate to invoke the blessings of the patron saint.
Good Friday
March 30
Observed by Christians across the globe who remember the Passion of Christ. It is observed as a day of sorrow, penance, prayer and fasting. Good Friday falls during the Holy Week, as part of the Paschal Triduum, on the Friday preceding Easter Sunday.
Bak Full Moon Poya
March 31
The second Poya of the month, marks the important event of the Buddha's second visit to Sri Lanka. The purpose of the visit was to initiate peace in the kingdom of Nagadeepa where two kings were known to have battled over a jewelled throne.