Heads up! We're working hard to be accurate – but these are unusual times, so please always check before heading out.
The 10 best restaurants on St John
Get a taste of paradise at these top restaurants on St John, from upscale seafood joints to beloved local dives
Shorts, sundresses, sunburns, flip-flops—the Caribbean island of St John is a come-as-you-are kind of place. Heck, isn't there a song to that effect by famous fan Kenny Chesney, the country singer who owns a home there? If not yet, there probably will be soon. The most pristine U.S. Virgin Island is two-thirds beachy national park preserve, the rest swimming with quirky bars and restaurants and colorful locals driving beat-up, sticker-covered Jeeps (a favorite reads "St John: the World's Largest Open-Air Asylum").
Though recently slammed by hurricanes, St John has been doggedly rebuilding. That includes its dressed-down-but-delicious restaurant scene, where favorite dining spots have reopened one by one. Taking advantage of its island location, food here runs toward seafood with lots of unexpected twists. Don't skip the icy cocktails, either, especially local rum and blender specialties like the Bushwhacker and the Painkiller. Bottoms up!
Best restaurants on St John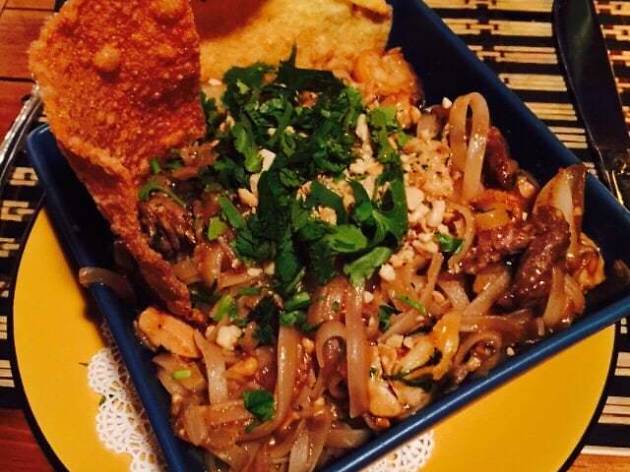 Photograph: Courtesy Yelp/Pete V.
What is it? Rhumb Lines and its Caribbean-meets-Pacific Rim cuisine has been a tucked-away local favorite in Cruz Bay for years and years. Look for shrimp and mahi-mahi infused with flavors like tempura, teriyaki, and coconut curry.
Why go? The setting—an intimate tropical garden courtyard lit by bamboo torches—is almost as special as the food. Rhumb Lines' cocktails go beyond the standard, too, particularly the Spiced Caribbean Old Fashioned.
Price range: Average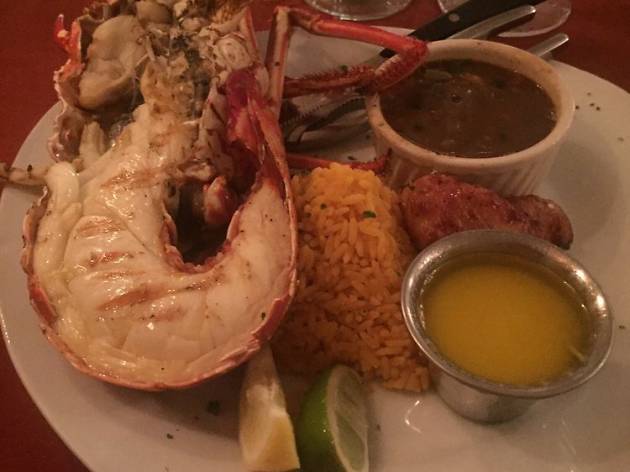 Photograph: Courtesy Yelp/Samantha F.
What is it? Residents and visitors alike were ecstatic when Morgan's Mango, a St John institution since 1992, reopened post-storms in February. It serves seafood West Indian-style with Latin twists. Standbys include Barbados flying fish, Haitian voodoo snapper, and mango-banana pie.
Why go? Anegada crab from one of the quietest British Virgin Islands makes a great appetizer, but Morgan's Mango is known above all for its Caribbean lobster nights on Tuesdays and Saturdays, when complimentary glasses of Bordeaux Blanc are sent out along with the crustaceans.
Price range? Pricey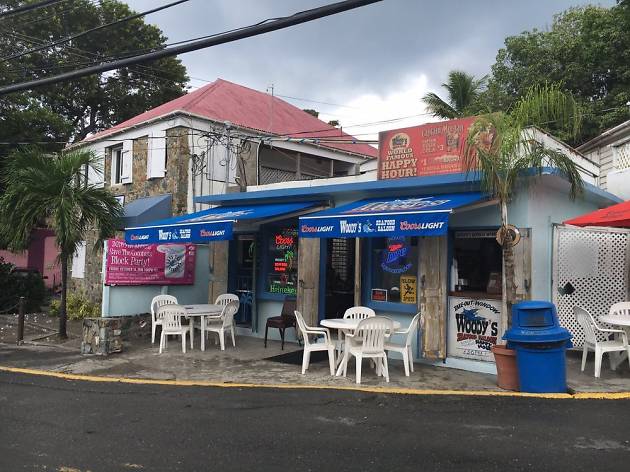 Photograph: Courtesy Yelp/Wunelle E.
3. Woody's Seafood Saloon
What is it? When you're off the beach and thirsty, look for the bright blue umbrellas of Woody's, which turns into a boisterous happy-hour party every day from 3-7pm. Crowd in for $2 Coors Lights, $3 well drinks, and $1 off the famous Bushwhackers, a chocolatey blend of up to six liquors that goes down as easy as a milkshake.
Why go? Fine, we'll admit the drinks are a bigger draw than the food at Woody's, but while you're downing bevs, some conch fritters or drunken shellfish will hit the spot.
Price range? Bargain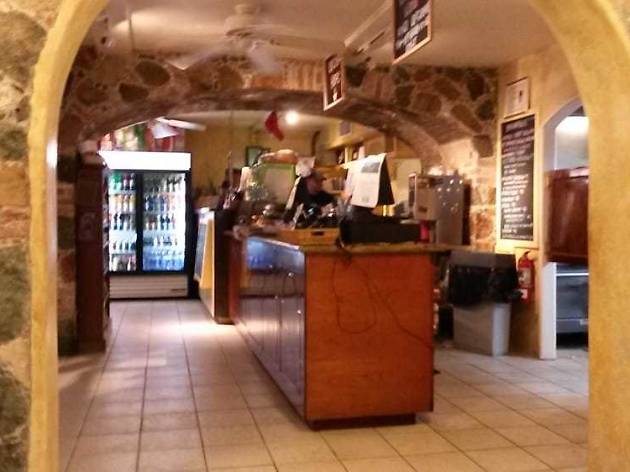 Photograph: Courtesy Yelp/Trista B.
What is it? After picnic-classic Deli Grotto closed a few years ago, hikers and beachgoers wondered where they'd get their sandwich fix. Luckily, North Shore Deli reopened in its charming-plus-convenient place, tucked away in a stone-walled space in the atmospheric Mongoose Junction shopping complex.
Why go? This is the spot to grab that Pirate Piggy (roast pork, ham, Swiss, pickles, and housemade mustard on a sub roll) you'll be glad for on the beach.
Price range? Bargain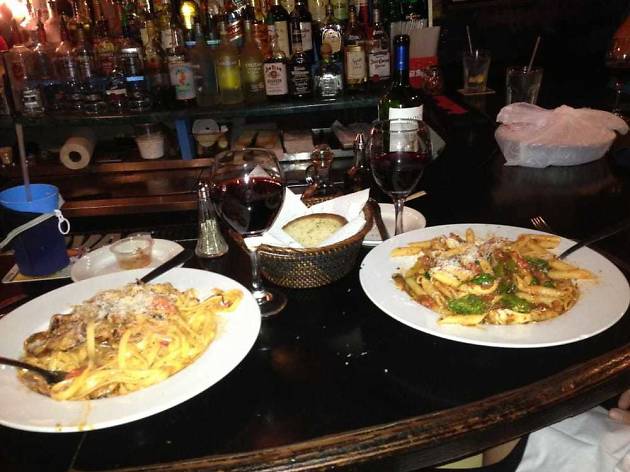 Photograph: Courtesy Yelp/Ken W.
What is it? Fresh seafood should never get old, but if you crave something a little different after a few days, Cafe Roma has you covered with hearty, real-deal Italian.
Why go? If you've got multiple dietary needs in your group, this trattoria serves up something for everyone: meaty dishes like lamb chops marsala, vegetarian ones like penne primavera marinara, and yes, seafood offerings like hand-rolled manicotti stuffed with lobster, scallops, and crabmeat. Plus, it's one block from the ferry dock.
Price range? Average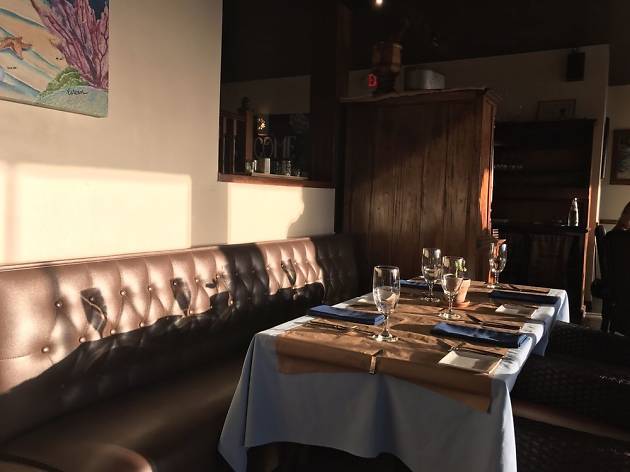 Photograph: Courtesy Yelp/Craig T.
What is it? A bistro with a focus on local and sustainable food, Ocean 362 likes to brag that its chef, Paul Trujillo, harvests salt-pond salt, free-dives for spiny lobsters, and gathers edibles from the local bush to go into the modern-Caribbean meals.
Why go? Whether it's Roquefort blue cheesecake, or duck confit rolls, the chef-driven menu is as elevated as the sunset-overlooking third-floor bar.
Price range? Pricey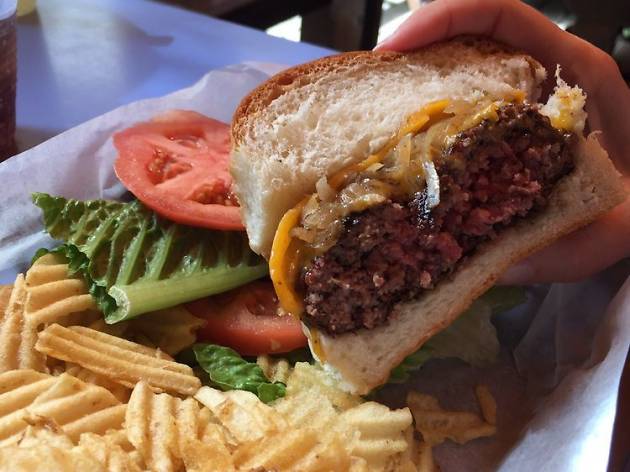 Photograph: Courtesy Yelp/Jim R.
7. Skinny Legs Bar and Grill
What is it? This open-air grill is so laid-back, it's got only a sail cloth for a roof. Over the past 20-plus years it's become a classic in Coral Bay, on the quiet side of the island. Do not skip topping your burger with blue cheese. Do not expect French fries, either—there's no deep fryer, so burgers come with chips.
Why go? You want a burger and a beer and the no-worries vibe that has regularly made this place one of Esquire's top 100 bars. But to prove you were there, you also want to take the mandatory cheesy pic with your heads in the cutouts above the famous "skinny legs" of the founders, Moe and Dougie.
Price range? Bargain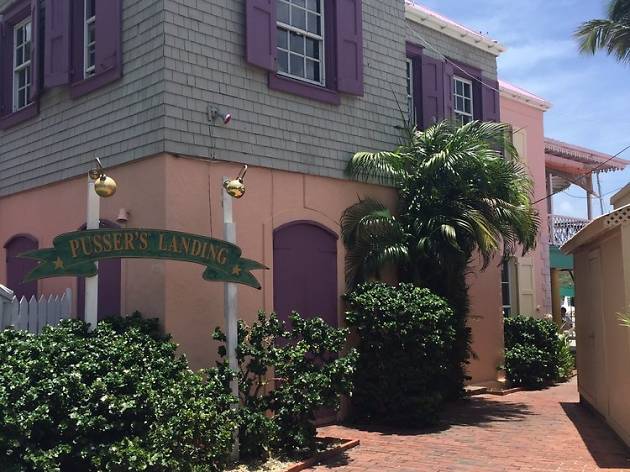 Photograph: Courtesy Yelp/Mikala M.
What is it? This casual Coral Bay bistro is known for its ponzu tuna, buffalo grouper sandwich, live music from local musicians, and full-moon views over the water.
Why go? Even within an island chain that suffered mightily from last season's hurricanes, Coral Bay seemed to get the eye of the storm. Go out and support its determined recovery in proper local style.
Price range? Average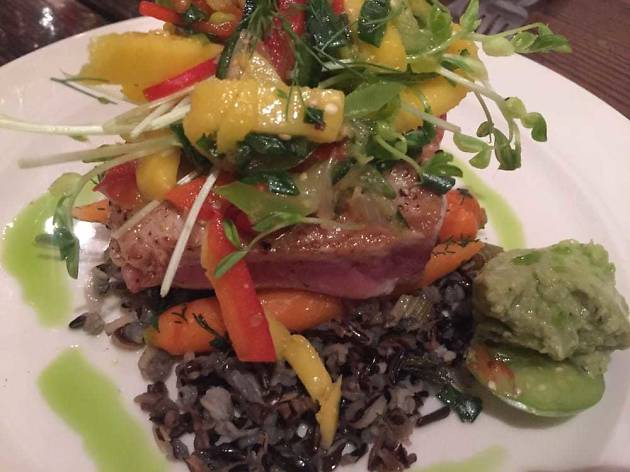 Photograph: Courtesy Yelp/Peter D.
What is it? Caribbean bellies up to a different cuisine, Spanish-Mediterranean, at the bistro La Tapa. Chef-owner Alex Ewald makes specialties like gazpacho, lobster bisque, and squid-ink linguini. Come dessert, you'll also appreciate her soft spot for cheese and port.
Why go? This is where celebrity chef Mario Batali reportedly eats when he's on-island. What else do you need to know?
Price range? Pricey
Photograph: Courtesy Yelp/Peter M.
What is it? You've heard of Irish-American pubs—well, this one bills itself as Irish-Caribbean. It's an ideal spot for a beer from St John Brewers, along with a "sloppy dog," a hot dog covered in messy ground-beef goodness.
Why go? This one is said to be a Kenny Chesney favorite, so watch for him—along with every other life form that passes by—from the pub's unbeatable second-floor balcony.
Price range? Bargain
Discover Time Out Market: the best of the city under one roof