5 great reasons to visit Landquart Fashion Outlet this spring
Discounted premium brands are just the start of the fun at this unique outlet, where you can turn your shopping trip into a unique holiday experience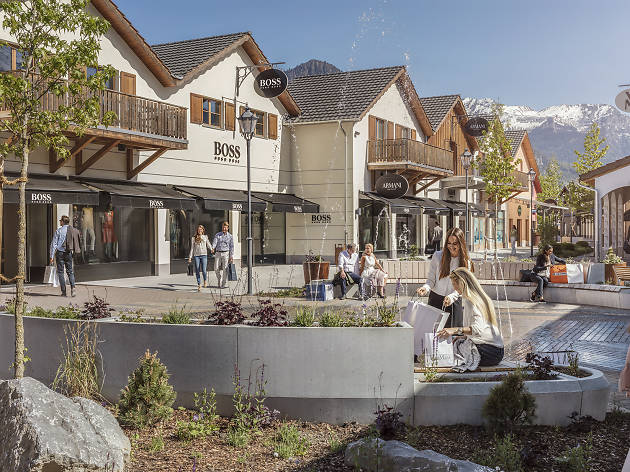 Shopping. For some people it's a way to relax and unwind, for others it can be a bit of a chore that eats into precious free time. Here's the good news: whatever your feelings on shopping, Landquart Fashion Outlet can deliver a great day out.
Located just 60 minutes from Zurich in the scenic Alpine region of Graubünden, this high-end outlet has over 160 fashion and lifestyle brands across almost 100 stores for shopaholics to lose themselves in, offering premium labels and more at discounted prices.
Crucially, though, Landquart doesn't have to feel like a regular shopping trip if you don't want it to. Alongside the stores, you'll find all kinds of dining and drinking options, plus a wealth of leisure activities in the surrounding area. This means that you can turn your visit into a fun day out or even a family weekend away, thanks to the venue's location on the edge of some beautiful Alpine mountains. It's the perfect opportunity for a mini-spring break for those wanting to get out of the city for a few days – and remember that Landquart is open on Sundays, too, meaning you really can make a weekend out of it.
As spring approaches, there are all kinds of reasons to pay Landquart Fashion Outlet a visit, so here are five to get you started.
1. Choose from over 160 fashion and lifestyle brands
Choice is everything these days and there's plenty of it at Landquart Fashion Outlet – choose from almost 100 stores offering heavily discounted designer labels, sportswear, accessories, home goods, and food and drink. Take your pick from Calvin Klein to Levi's, WMF to Le Creuset, Armani to Brooks Brothers, and many, many more, with up to 70% off some items and a minimum discount of 30%. Make sure you clear out your wardrobe before heading to Landquart, because – let's be honest – you'll be going home with a lot of new purchases.
2. Wine and dine in style
All that browsing and buying can be hard work. Luckily, there are plenty of opportunities to refuel along the way. Landquart features a range of restaurants, cafés and bars to relax in before, after or during your visit. Enjoy local Graubünden specialities like nut cake and pear bread from Ivan's Bündner Spezialitäten de Luxe, sweet treats from chocolatiers Maestrani, or choose from pasta, fish, pizza and more at Margaux, alongside wines, beers or even champagne to give your day a fizzy lift.
Landquart's prime position in Graubünden means you're just steps away from beautiful countryside, so why not make the most of your trip and turn it into something more? Nearby you can find all kinds of activities and sightseeing, making for an unforgettable holiday. There's the Rhaetian Railway, which has been running its seriously scenic 384-kilometre route for 125 years, plus numerous opportunities for exploring mountain villages and the surrounding Swiss Alps. Or for something altogether relaxing, head to Tamina Therme, a thermal spa where you can enjoy a sauna, massage or beauty treatment – or simply kick back and soak in the rejuvenating water.
If you do turn your shopping trip into a holiday, make sure you set yourself up in one of Landquart's recommended hotels. There's something to suit every budget and taste, including the sleek and modern four-star Hotel ABC, a wellness paradise in the mountains at Waldhaus Flims and the traditional and beautiful Romantik Hotel Stern. Or for something truly unique, try Sleep Barrels, a series of 8,000-litre wine barrels converted into cosy but luxurious accommodation with stunning mountainside views.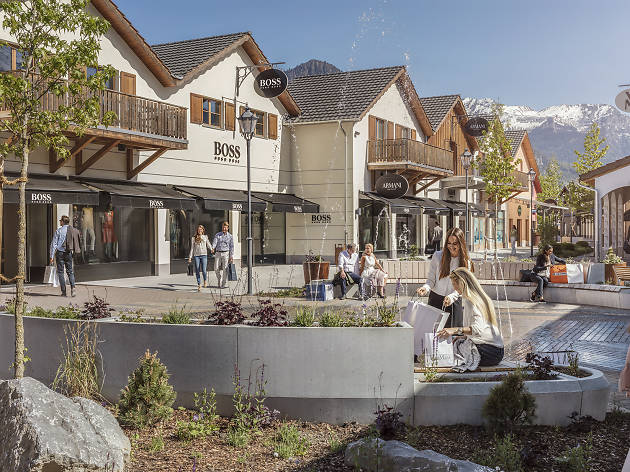 5. You won't feel like you're shopping
Cast off any thoughts of a drab, unappealing shopping mall. Landquart Fashion Outlet has been designed to look and feel like a Swiss chalet village with a modern twist. The streets that make up the site are pedestrianised and free of cars, and alongside the bars and restaurants, there's a playground to keep the children as happy as you'll be with all your bargains – and then there are those incredible mountains that you can't help but gaze at. It's anything but a regular shopping trip.
Tardisstrasse 20a, 7302 Landquart. Open Monday-Sunday 10am-7pm. Visit landquartfashionoutlet.ch for more information on stores and tourism around Graubünden.