Best things to in Ticino in the spring and summer
From lake cruises to luscious botanical gardens, the canton of Ticino has plenty of fun things to explore, revel in and do in this year's warmer months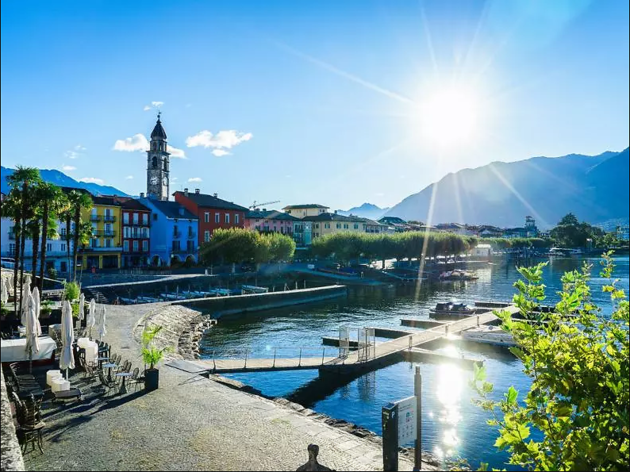 Warm sunshine, stunning views and joie de vivre … Ticino combines typically beautiful Swiss scenery – think jagged mountains soaring from romantic lakes – with an Italian flair that tricks you into thinking you're on the Mediterranean.
As well as natural beauty, Switzerland's Italian region boasts excellent food dished up in spectacular locations, as well as warmer than average temperatures and glorious beaches. It is quite simply the epitome of the Dolce Vita.
We've teamed up with Ticino Switzerland to give you a list of fun things to do in the canton.
Ticino
This newly constructed arts centre, which overlooks Lake Lugano, provides space for a rich programme of exhibitions, events, musical events and theatre and dance performances, along with a variety of cultural initiatives and a packed programme of activities for young people and families.
Read more
Located on a island in Lake Maggiore, this botanic park offers of exotic plants from various subtropical countries. Azaleas, rhododendrons, Japanese palm trees, numerous camellias, Japanese banana, bamboo, the Ginkgo are just a few of the species on offer to visitor. The Brissago Islands are part of the Gardens of Switzerland network, which brings together the most beautiful gardens of Switzerland.
Read more
Get set for a tidal wave of fun and, er, relaxation! Splash & Spa Tamaro has a huge amount of water-based activities on offer. First up, there's five exciting waterslides to try (we suggest the Gravity Killer!). After which, you may want to chill out on one of the sun terraces, or grab a drink from the in-pool bar before splashing into the wave pool or taking a dip in the outdoor panoramic pool. There's also a kids' water play area complete with slides, sprinklers, water spouts and inflatable toys. Then there's the spa section, with four different saunas including salt, chestnut-wood and outdoor options. Plus a Hamam with a range of indulgent treatments ranging from massage to facials.
Read more
Fresh, tasty and flawless fruits and vegetables, typical local cheeses, an exclusive charcuterie, traditional tasting breads and pastries, fine wines: Gabbani is not just a street market, or a provider of established activities such as innovative catering and excellent cuisine, it has now become a sacred space for food as it serves both as shop and a restaurant.
Read more
A shopping Mecca hosting 160 stores of the most prestigious brands for men's, women's and children's clothing, sport articles, household goods and accessories - all under the same roof. A successful combination of quality and low prices where manufacturers offer their surplus and garments from the previous season at prices discounted from 30% to 70% and where the dream of discreet and advantageous shopping becomes true. 1200 parking spaces, a casino and 7 food corners help turn a shopping spree into an unforgettable day.
Read more
Among the most famous monuments of Ticino are the impressive collection of medieval castles at Bellinzona, the capital of the canton, just north of Lugano. Castelgrande (home to an archaeological museum), Castello di Montebello and Castello di Sasso Corbaro are strung out along the original defensive wall, or Murata, which spans the Ticino valley. It's a reminder of the region's historic past at the centre of Europe and has been designated a World Heritage Site.
Read more
Ascona is Switzerland's lowest lying town, on the northern shore of Lago Maggiore. Ascona is famous for its mild climate, its Old Town and a lake promenade which is dotted with street cafés and boasts a Latin ambience. Ascona has always had a passion for beauty and for the pleasures life has to offer, always attentive to the quality of the service. There are many opportunities for excursions, hiking and biking in the beautifully wild scenery of the nearby side valleys of the Ticino such as the Valle Maggia and Centovalli.
Read more
As the name suggests, this family-friendly attraction shrinks down Switzerland's best known sights into one spot. You can go on top of Mount San Salvatore, look down and follow the slim curve of the bridge of Melide, watching cars and trains like ants cross the lake. Swissminiatur offers prefect remakes of famous buildings in miniature along with scale models of trains, funiculars and cableways to help you come up with future trips.
Read more
Experience close encounters with some majestic birds of prey at the Falconry in Locarno, where you will be able to observe and photograph eagles, hawks, owls and vultures. These beautiful birds will take you to a place where man and nature meet in a natural and animal friendly setting. Sheltered seating is provided and bird shows take place each day.
Read more
Where Lugano doesn't border the lake it's surrounded by mountains: Monte Brè, Monte San Salvatore and the Sighignola. At 912m and popular with climbers, dramatic Monte San Salvatore looms above the city, one side forest, the other sheer rock face. The view from the summit is, you won't be surprised to hear, spectacular; the good news is that a funicular railway will take you to the top. Seek out the mountaintop church and climb up to the roof for an even better view.
Read more
The Piazza della Reforma is Lugano's main square and is an inviting place for tourists and locals to relax as they enjoy the many bistros and restaurants.
Read more
Discover more great things to do