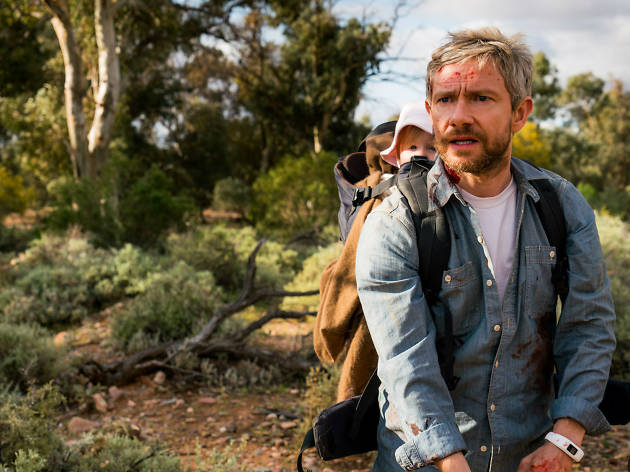 Nah, that's not a zombie apocalypse. THIS is a zombie apocalypse
The worst you can say about Cargo is that zombies, in genre terms, are well past their chew-by date. Hell, it's not even the first time we've seen zombies in the bush (the Spierig Brothers' scrappy 2003 debut Undead went there and did that). But boy oh boy, this debut feature from Yolanda Ramke and Ben Howling, expanding upon their admired 2013 Tropfest short film, packs a ripper of an emotional punch. Playing out like The Walking Dead: Oz, it's a grim and gruesome knuckle biter rippling with ironic subtexts on race relations. It's also wonderfully acted by the likes of Martin Freeman and Susie Porter as Andy and Kay, a couple who have fled the carnage of the city and commandeered a houseboat, making their way down a sleepy river with baby daughter Rosie. The food is running out, so when they come across a half-sunken sloop laden with supplies they think it's their lucky day. But there is something else on board less pleasant than that nice bottle of South Australian red.
There are echoes of the classic Walkabout when the film becomes a cross-country race against time and the Indigenous pre-teen Thoomi (newcomer Simone Landers) enters the picture (along with the actual star of Walkabout, David Gulpilil). There's also an avaricious fracker, Vic (Anthony Hayes), whose survival plan involves exploiting the local blackfellas. The idea that some Aboriginal Australians will be far better placed to ride out a global pandemic than anyone else – by simply walking into the bush – is the film's astute premise. The 'virals' and their habit of resting by burying their heads in the soil is a macabrely brilliant visual in a production handsomely lensed by veteran DOP Geoffrey Simpson. But Cargo's big drawcard is its sheer humanity. There's a lot of tragedy on show here, and you'll have to be made of stern stuff indeed to make it through this outback odyssey without a few tears.
Release details
Release date:
Thursday May 17 2018
Duration:
104 mins
Cast and crew