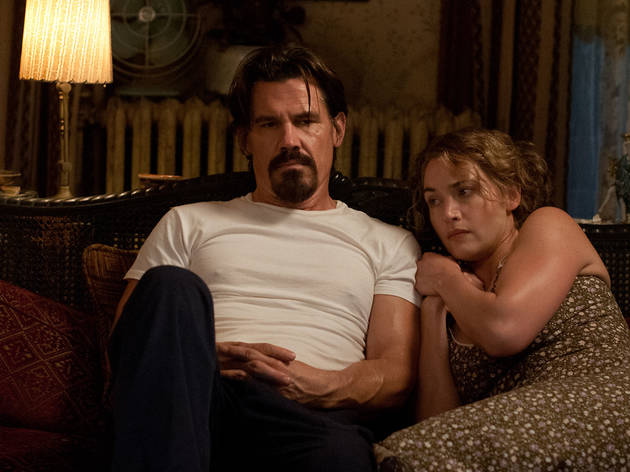 Time Out says
Depressed single mum Adele (Kate Winslet) takes in an escaped prisoner, Frank (Josh Brolin), over the Labor Day holiday weekend. He turns out to be a dream houseguest, making himself useful around the house, fixing creaky doors, cleaning out the guttering, and versing her 13-year-old son Henry (Gattlin Griffith) in the ways of manhood. And he bakes a pie – a sticky sensual scene that rises into an emotional peak like the peaches piled in the cake tin.
If you have even the tiniest cynical bone in your body, avoid. You'll find Labor Day more sugary than a Krispy Kreme. Based on a 2009 novel by Joyce Maynard, it's a shift in gear for director Jason Reitman, whose back-catalogue is filled with sarky-sweet comedies like Juno. What keeps this out of Nicholas Sparks bumper-paperback territory are terrific performances and Reitman's control of the drama. The early scenes are nailbiting. "This needs to happen," Frank menaces, wrapping his big hand around little Henry's neck as he forces himself into their home. For 20 minutes you don't know if he's going to murder Adele and Henry in their beds or scramble them some eggs.
If any other actress was playing Adele it would be the performance of a life. But this is Kate Winslet, who can pull off Oscar-grade without breaking sweat. Labor Day is not strong enough to send another Oscar nomination her way, but she is Revolutionary Road-brilliant – once again, somehow, making an epic the story of an ordinary woman. And Josh Brolin furrow his brows with manly determination.
Details
Release details
Rated:
M
Release date:
Wednesday February 6 2013
Duration:
111 mins
Cast and crew
Director:
Jason Reitman
Screenwriter:
Jason Reitman
Cast:
Josh Brolin
Kate Winslet
Tobey Maguire
Gattlin Griffith

Users say