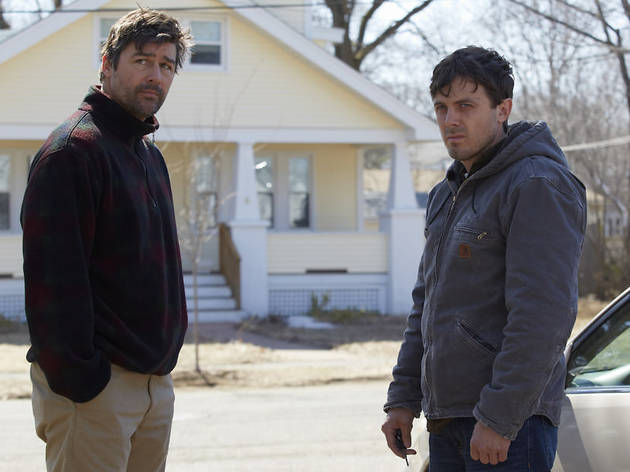 Time Out says
Actor Casey Affleck joins the ranks of giants in a tremendously moving portrait of grief from American writer-director Kenneth Lonergan
The proud white steeples and choppy waters of small-town New England offer an exquisite counterpoint to a devastating tale of buried trauma in Manchester by the Sea, an emotional powerhouse with the weave of great literature. American writer-director and playwright Kenneth Lonergan already proved his ear for raw domestic showdowns with his compassionate 2000 debut, You Can Count on Me. After that, he added sensitive teens to the mix via the sprawling post-9/11 New York drama Margaret (2011). To say Lonergan has evolved further with his third feature would be an understatement: he moves between this new story's various time periods with the relaxed mastery of Richard Linklater's 'Boyhood'.
And now Lonergan finally has a complex central performance to match cinema's all-time great brooders like Brando or Pacino. It comes from Casey Affleck, whose high, keening voice and fragility never suggested such ferocity. Affleck is Lee, a Boston handyman and caretaker. For all of Lee's quiet capability with a clogged toilet, you wouldn't want to cross this man, or he'll spit bile. Affleck burns off the screen in these early scenes, building up a depiction of a lonely one-room existence. The actor's long-stare gaze at a bar (soon erupting into violence) tells us he's long past giving a shit about anything.
Why? Well, that remains a mystery – for now. While you sense that Lee is exactly the kind of person who needs no more bad news, it arrives in the form of a heart attack that kills his older brother, Joe (Kyle Chandler, superb in the movie's many flashbacks). On the drive up to the wintry town of Lee's youth – to make funeral arrangements – we begin to see what makes this man ache.
'Manchester by the Sea' contains multiple detonations, the kind a lesser drama would save for its climax. In Lonergan's style, he sets them to classical music – the most harrowing to Albinoni's mournful Adagio in G Minor. But in a delightful surprise, Lee learns that he's been made legal guardian of Joe's boy, seen in happier days fishing off the back off the family's boat. Today, Patrick (Lucas Hedges) is a typical mouthy teenager, juggling two unknowing girlfriends, a pissed-off hockey coach and a rock band.
But Lonergan isn't making a film about rebounding so much as coping. That's what makes Manchester by the Sea so dark and courageous. It says that, for some people, there won't be any moving on. These sad people will walk into another day, perhaps with more openness and a nephew to bear the burden. For that honesty alone, almost unbearable yet expressed with rare poise, the movie is a deeply meaningful gift. - Joshua Rothkopf
Details
Release details
Release date:
Thursday January 26 2017
Duration:
137 mins
Cast and crew
Director:
Kenneth Lonergan
Screenwriter:
Kenneth Lonergan
Cast:
Michelle Williams
Casey Affleck
Kyle Chandler
Gretchen Mol
Lucas Hedges

Users say