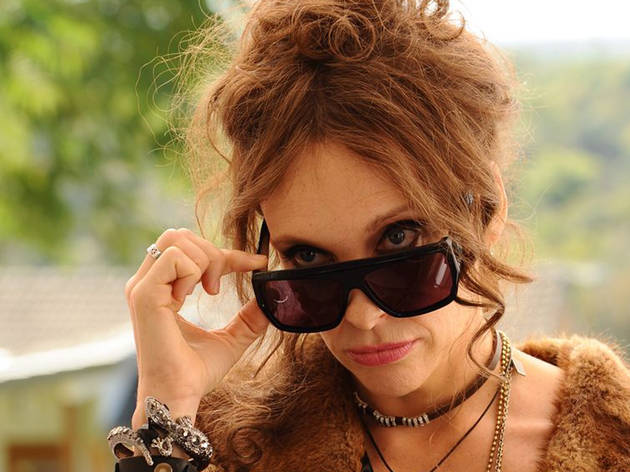 Time Out says
Shirley Moochmore (Rebecca Gibney) is on the verge of a nervous breakdown, obsessively singing songs from The Sound of Music. Daughter Michelle (Malorie O'Neill) is hearing scary voices and the other four girls are rushing to diagnose themselves as sociopaths and schizophrenics – no wonder their philandering politician dad (Anthony LaPaglia) is avoiding coming home at night. Enter Shaz (Toni Collette), a bong-smoking, knife-carrying hitchhiker, clearly a little bit unhinged herself, ready to whip their household into shape like a rough-as-guts Julie Andrews.
PJ Hogan's risk-taking return to the hypercolour universe of Muriel's Wedding (1994) has more nutjobs than a John Irving novel. There's a disapproving neighbour who scrubs her driveway with a toothbrush (Kerry Fox); an auntie who collects creepy life-sized dolls (Caroline Goodall); and a Steve Irwinesque shark hunter who owns a museum dedicated to the Great White that ate Harold Holt (Liev Schreiber with a startlingly perfect Ocker accent). Mental's manic episodes beggar belief but Hogan claims that most of it is true and happened to him growing up on the Gold Coast.
Just as Muriel over-exploited the Andersson-Ulvaeus catalogue for emotional cartharsis, Mental leans too heavily on the Rodgers and Hammerstein. But there's authenticity and a lack of condescension in its approach to mental illness and the shockwaves it sends out within a family and a community. The laughs here aren't cheap or safe; bodily outrages occur that will delight local audiences and ensure the film doesn't resonate in the US in the same way as Hogan's debut. Newcomer Lily Sullivan impresses as eldest daughter Coral, who mistakes the bugbears of adolescence – awkwardness, bullies – for the family madness, while Collette is a wiry, foul-mouthed force of nature, proclaiming and personifying the maxim that insanity is always subjective. There are unusual rewards for viewers willing to climb ev'ry mountain with this deranged guide.
Details
Release details
Rated:
MA
Release date:
Thursday October 4 2012
Duration:
116 mins
Cast and crew
Director:
PJ Hogan
Screenwriter:
PJ Hogan
Cast:
Liev Schreiber
Toni Collette
Anthony LaPaglia
Kerry Fox

Users say